Last Updated: Feb 19, 2021
Groundhog is a mobile newsreader application specifically for Android devices. It is free to download and has an interface that works great with touch screens.
Note: The developer's website is no longer active, and we can no longer locate Groundhog Usenet Reader on Google Play
Developed by Almarsoft company, Groundhog is open source and free of charge. To use this newsreader, you would need a valid Usenet subscription from a reliable Usenet provider.
Users should be aware, though, that this application has not been updated since 2011 and the last time we checked, the app was still in its beta phase.
Features
Based on our research, information on Groundhog is outdated. From the forums we have checked, the latest conversation regarding this mobile newsreader was from way back in 2016. Still, there are noteworthy details that we have gathered on Groundhog.
General Features
Groundhog was one of the few mobile Usenet readers available for Android devices. Its interface works well with touch screen tablets and mobile phones, and users have the option to adjust the text sizes on screen. Groundhog supports several languages including English, Russian, Chinese and Japanese. It is also capable of doing group searches and supports both multipart and uuencoded attachments.
Groundhog also makes use of color coded for its threads and has an online and offline mode.
Security
On your Groundhog configuration set-up, make sure to use a server that is SSL encrypted to provide you with secure access. Most Usenet providers have SSL ports and servers that you can use to guarantee privacy.
Pricing
If you are able to find an installation link for Groundhog, you can download it for free. However, from our most recent check, it is no longer available on Android app stores.
Usage Information
Groundhog was known for its ease of use with an interface that works very well on touchscreen Android devices and adjustable text sizing. From our previous research on this mobile application, there have been bug reports and several requests for assistance from users. However, the reports have been addressed by the applications author promptly. If you will be able to download this mobile newsreader, you should have a relatively decent experience using and navigating through the app.
Installation
Being an Android application, Groundhog can be downloaded from Google Play. No payment information is needed to be able to use this application. However, the Groundhog app is not visible on Google Play for quite some time now. We will keep you posted on updates if and when Groundhog is back for downloading.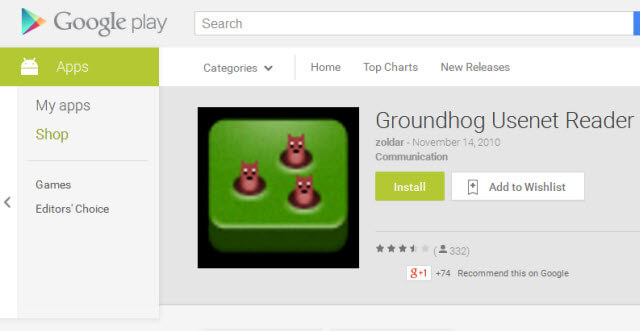 Configuration
On your Groundhog settings, supply the correct information needed to be able to start downloading. This would be the server name, ports and total number of connections, to name a few. All of these details will come from your Usenet provider.
Ease of Use
Based on previous testing on Groundhog and based on the feedback of other users, it is easy to use. However, there have been issues with regards to message sorting according to the user's needs, downloading of headers, and encrypted connections with certain providers.
Summary
Groundhog has not been updated for several years now. One major concern is that users currently cannot find Groundhog on the Google Play list of Usenet newsreaders. And while Groundhog has some pretty decent features when it was still readily available to users, this application has had several issues and flaws that we cannot simply overlook. You may want to check out other mobile newsreader applications that would suit your downloading needs or go for one of our top newsreaders.