Last Updated: Feb 19, 2021
HelloNzb is a java based newsreader that can run on any platform that can support the Java runtime system.
HelloNzb can download files from the Usenet server via NZB file. It is a full-featured NZB client that supports SSL connection, RAR repair, and extraction, and has a server built into it. This newsreader is small and easy to install. It is also a portable application that requires no installation when you use it from one device to another. Meaning you can simply install the app on a computer, save it on your USB or external hard drive and transfer or use it on another device.
HelloNzb also supports yEnc encoding and UU-decoding to efficiently transmit the binaries on Usenet. It is an open-source project that accepts drag and drop of NZBs from different sources to its window.
Features
General Features
HelloNzb is a Java-based application that runs on multiple platforms. It has a built-in yEnc and UU- decoding, as well as a built-in server for remote access (BETA). For security and speed ability, HelloNzb supports simultaneous and encrypted connections to servers.
Here are some of its highlights:
It has an auto-shutdown and speed limiting feature.
You can have an automatic archive extraction and repair of downloads.
It has an automatic archive check via PAR2 and MultiPAR.
It supports 6 languages (English, German, Dutch, Turkish, French, and Greek).
Easy to install and portable
Security
As mentioned, HelloNzb supports secure connection via SSL. You can configure this setting upon installing the program.
Pricing
Although HelloNzb has some remarkable features that other providers would gladly charge you for, HelloNzb is free to use. Donations are encouraged too, and you can support them via Paypal.
Usage Information
Installation
HelloNzb can be downloaded from the Sourceforge website and in this review, we used the latest version of the program which was updated last May 2019. Installing the app is relatively easy. Simply open the downloaded program, and start the installation. You can choose which components to add, and click Next.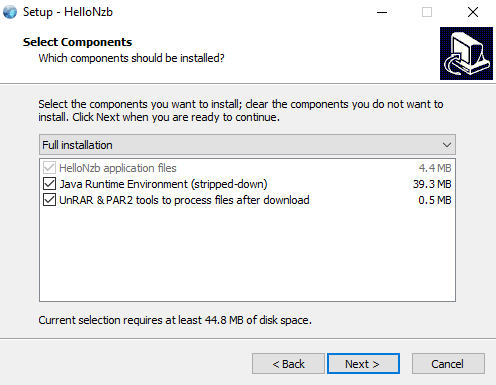 Select the folder you want your program to be saved in.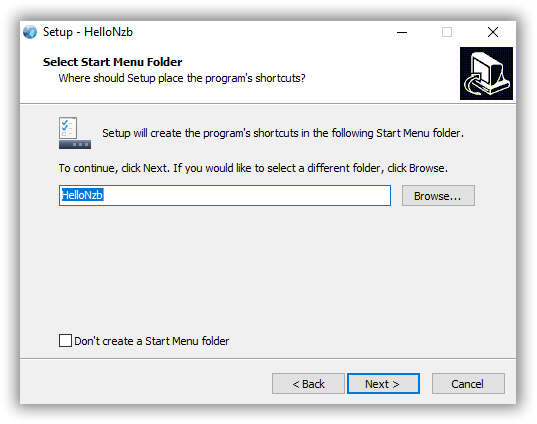 Add a desktop shortcut of the software if you want to.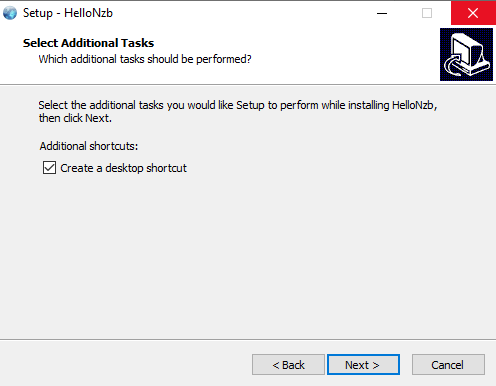 Read the package of the software you're about to install and click 'Install'.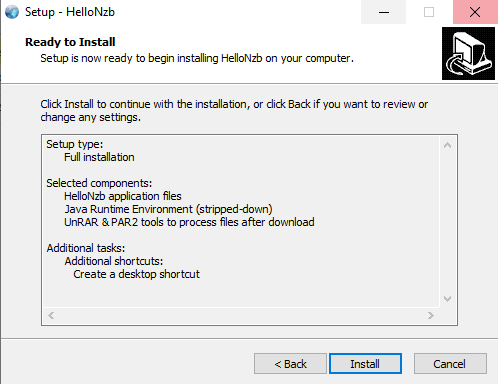 Once the Wizard Set-up is done installing, click the 'Launch Hellonzb' and click Finish.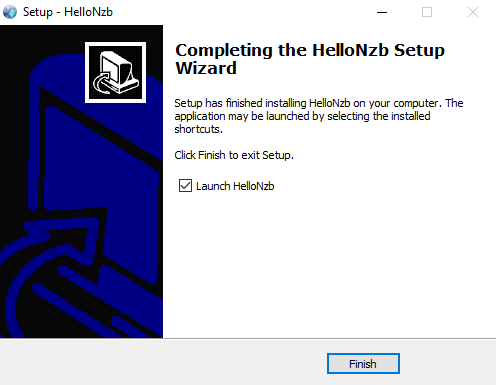 Configuration
To configure and connect your server to HelloNzb, Click the HelloNzb Tab in the upper right corner and click HelloNzb Preferences and look for the Server Settings on the second tab of the box. Configure your server settings according to your Usenet provider details which should include your server address, port, and connections. If required, you may need to enter the username and password associated with your selected Usenet service.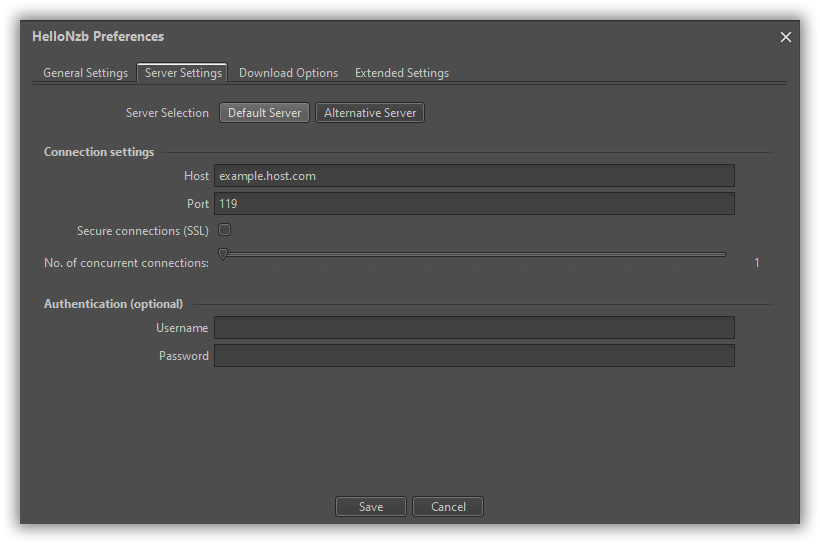 Ease of Use
HelloNzb is very light to use. Once you open the software, you can see a folder icon on its left most corner, and if you click it, it will open your files on the computer. You can open NZB files in this program, and it will download anytime you want it. HelloNzb has a smart and automatic shutdown feature once the downloads are done. The options available on the application are also few and quite self-explanatory, making it easier to do the command you want to.
HelloNzb supports 6 languages to help you work with the language you are comfortable with. They also have a Help section with general discussions and a problem directory directed to Sourceforge website. The developers value transparency by allowing users to view customer inquiries, submitted ticket requests, and comments. They also provide updates on software improvements and changes.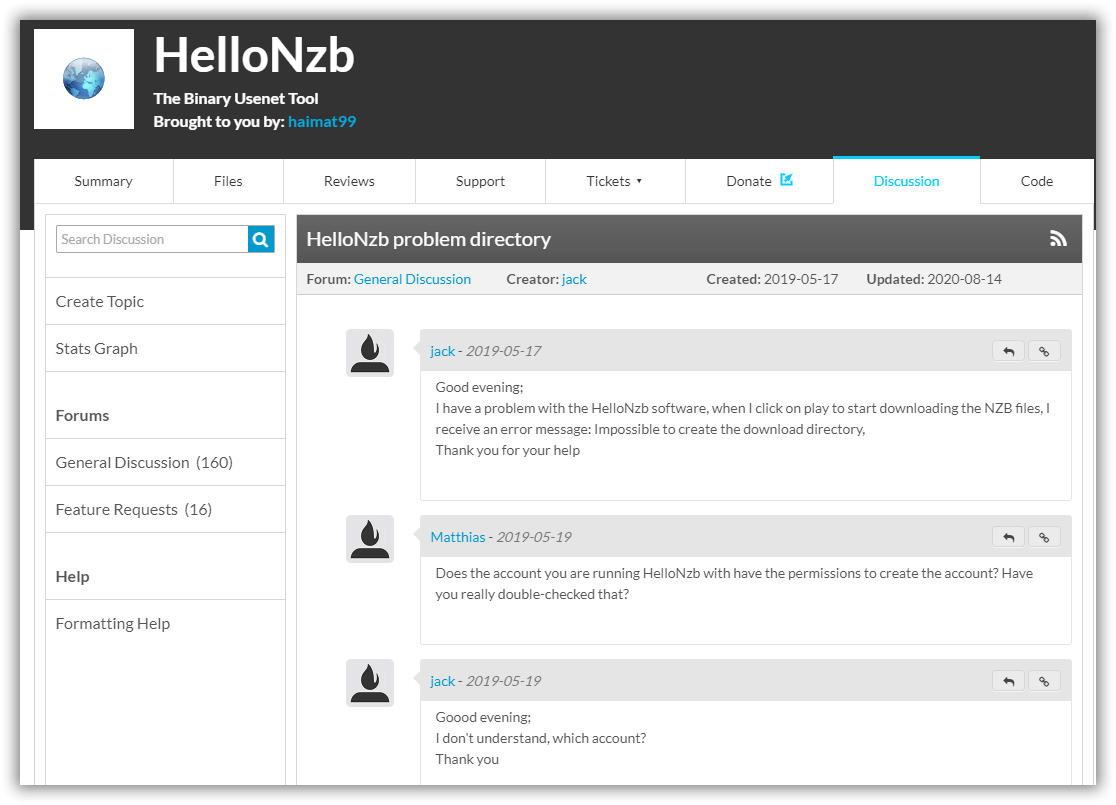 Summary
Although it is a simple newsreader that looks very basic, HelloNzb gets its job done and is efficient and competent enough to be considered as a reliable Usenet client. It supports multiple connections and has other decent features that enhance user experience. We believe HelloNzb is worth giving a try. Just be cautious about your source of downloads and make sure that HelloNzb is compatible with your operating system before installing it.