Last Updated: Feb 23, 2021
Klibido is a KDE program used for Linux devices that can download binaries from the Usenet news service. It is not a full-feature newsreader since it does not let you easily display articles – only their subject.
Klibido was initially released in 2004 and has since been known as a Linux binaries downloader. While it can download encoded articles from Usenet using the NNTP protocol, it is only capable of displaying the subject of these articles. Despite this limitation, Klibido is able to view any file supported by KDE and allows files to be put on queue for download.
NOTE:
It is worth mentioning, however, that this application is outdated and has not been further developed since 2006. The last version they released was 0.2.5 in March of the said year.
Features
As their website mentions, Klibido is not a newsreader since it is not capable of letting you display articles from Usenet. However, you can download these encoded articles from the newsgroups connected with your server and save them on your device.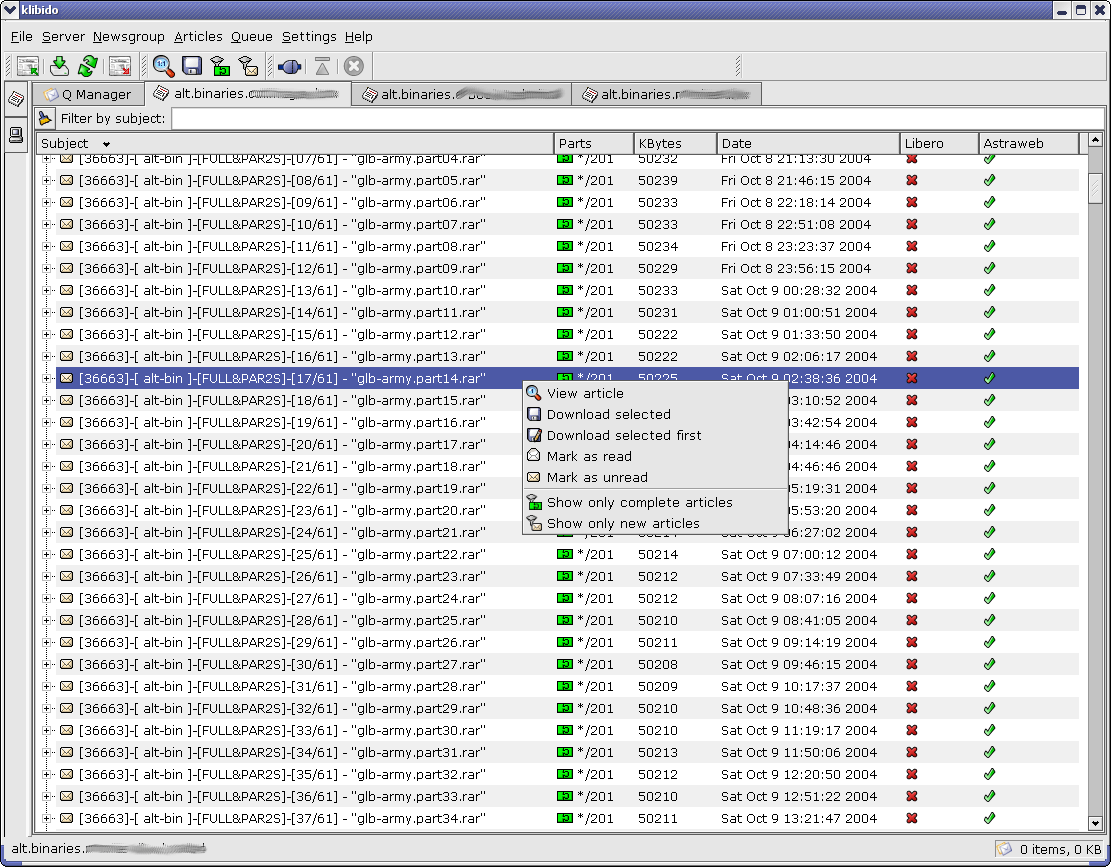 General Features
Klibido has basic features as a binary downloader. Most of the features this program has are also offered by other downloaders like NZBGet and SABnzbd. To give you an idea of Klibido's features, please see below:
Automatic joining of multi-part posts
Automatic decoding of posts, using the uudeview library (yEnc supported) or an internal decoder
Multiple servers support, with priorities and fallback if an article fails on a server and is present on another server
Queue balancing: KLibido spreads the bytes load across servers with the same priority
Multiple download threads per server support, with the ability to add or remove threads "on the fly"
Gracefully handles network errors, timeouts, disconnects and out-of-space errors
Acceptable (at least, by me :) memory usage (80-100 MB VMRss with several large groups open)
Filter articles by subject and state (read, unread, complete, incomplete)
Multi tabbed interface in IDEAl mode, to open multiple newsgroups at once
KParts interface for previewing posts (.nfo, images, etc…) inside the program
.nzb support
Download queue management:

Pause (and resume) the queue
Pause (and resume) the single posts
Drag and drop the items around to change the download order
Cancel download
Lists of finished and failed items
Granularity, with the ability to see the progress/status of the whole post and of the single articles of the post
The progress of the download is saved and survives program exits/crashes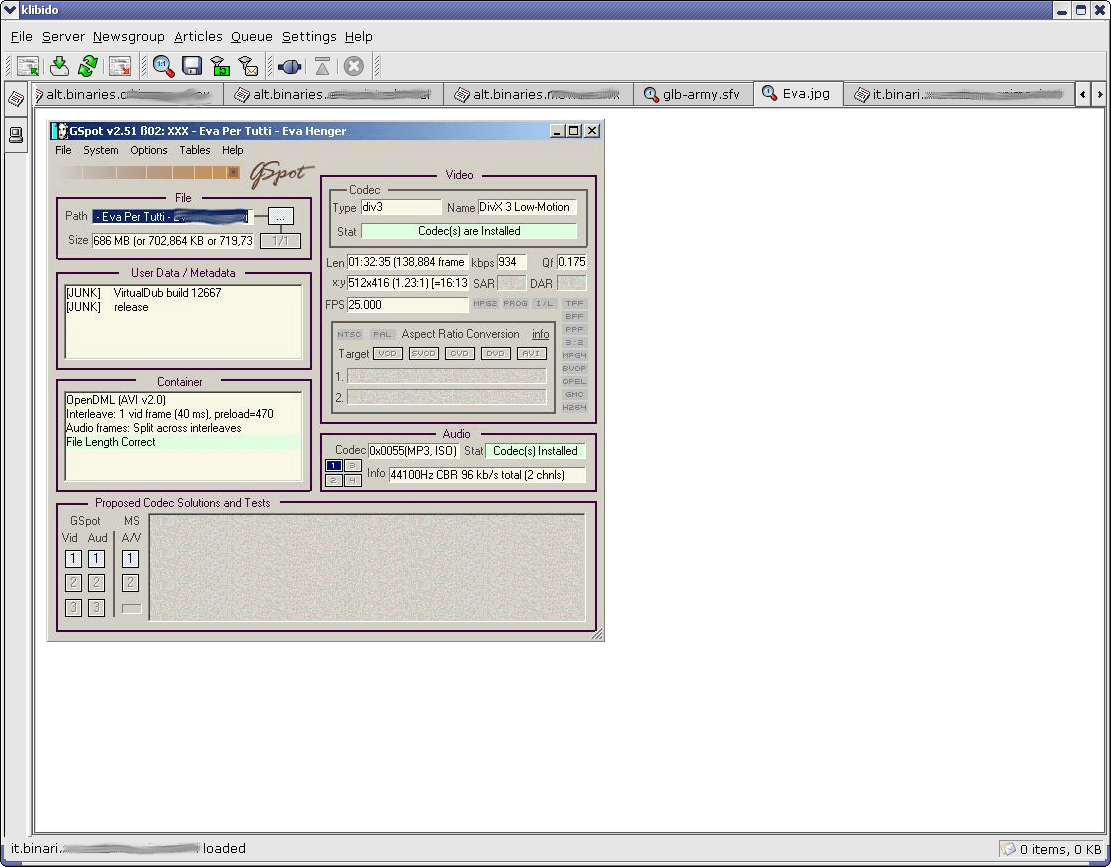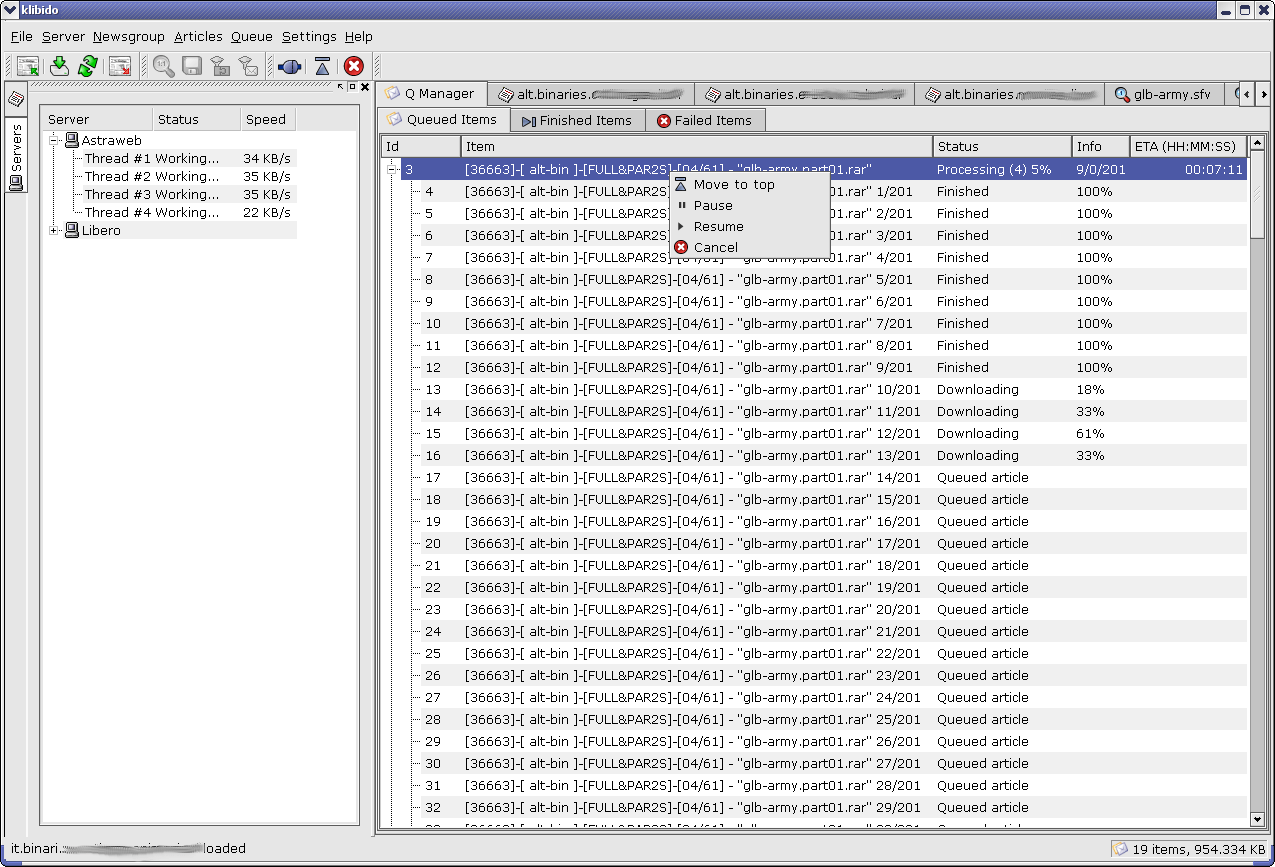 However, we'd like to note that a disclaimer was released by the developers of this app stating, "KLibido is in the beta stage. Some things are unimplemented, some don't work as expected, and others will probably cause the program to blow up".
Security
For secure and anonymous Usenet access, configure your server settings with the correct server address and an SSL port.
Pricing
Klibido is free to use and can be downloaded from a project page on SourceForge.
Usage Information
As a basic binary downloader, Klibido has decent features that may be enjoyed by users who are not looking for anything special or impressive. However, with Klibido being an outdated downloader, Usenet users may benefit more if they look into better options like NZBGet or SABnzbd.
Installation
Klibido requires users to have the following before installing the program on their computer:
You can then download Klibido from a project page on SourceForge.
Configuration
Before you start using Klibido, you would need to configure your server setting with the correct server information coming from your Usenet provider. Make sure you have an existing account with a provider before entering any information. If you have yet to decide on what Usenet service is best for you, make sure to check out our list of top Usenet providers in the industry today.
Ease of Use
Klibido is relatively easy to use since it has very limited features and has minimal capabilities. Its interface is pretty clean and decent and is easy to navigate through. However, we'd like to remind you of the disclaimer we mentioned above; that Klibido is still in its beta phase and some features may not work as expected and can cause the program to suddenly shut down.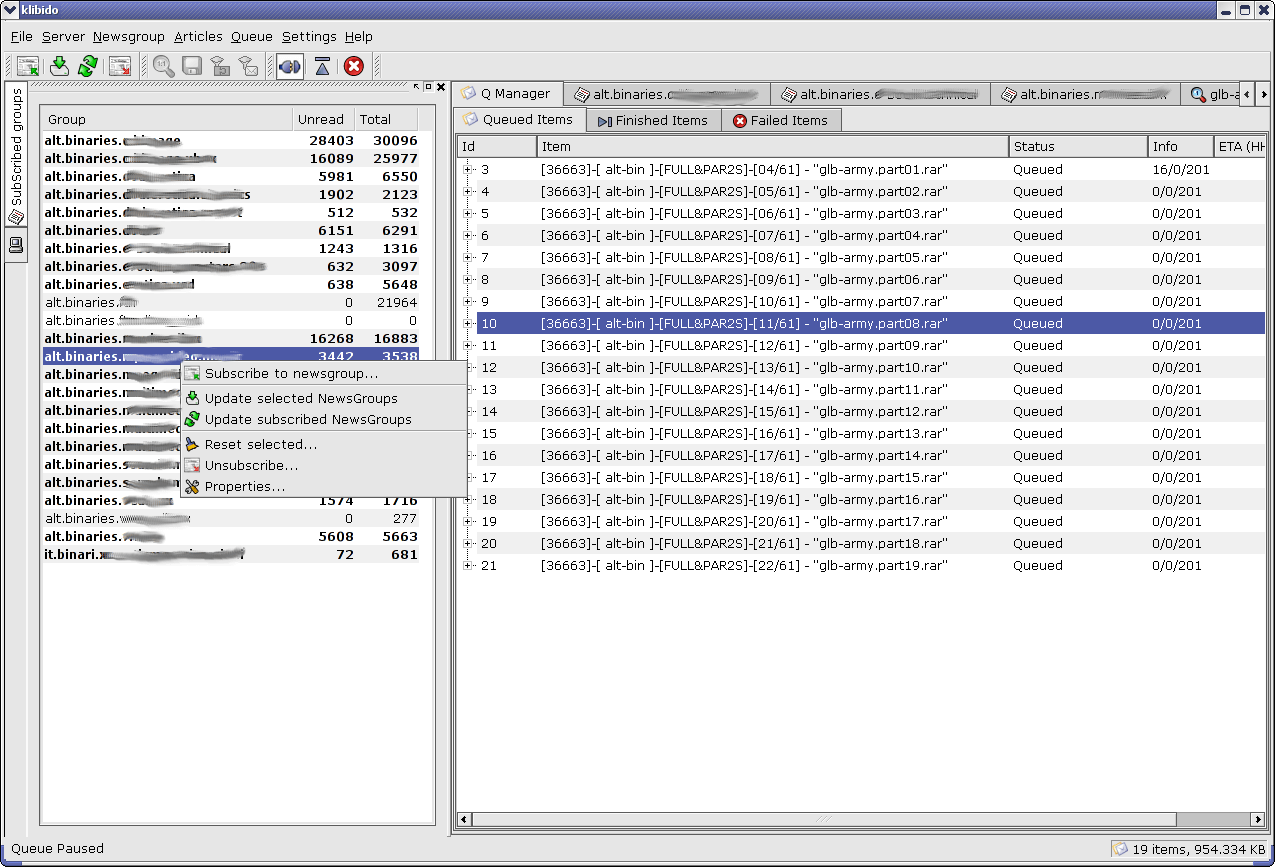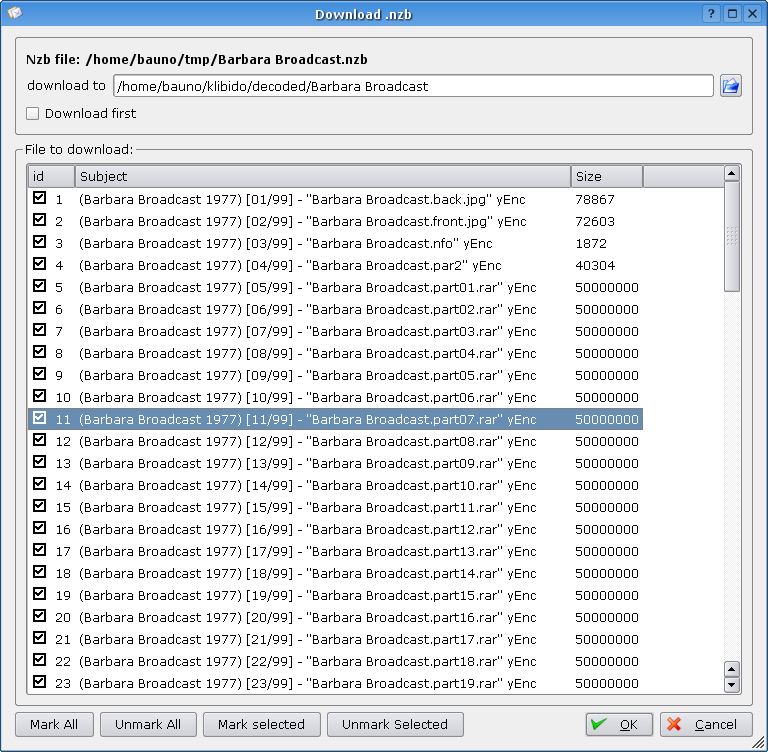 Summary
Klibido is not an application that we can recommend. As a basic binary downloader, they have decent features but have been in its beta phase for the longest time. The software has not been updated since 2006 and the developer's disclaimer regarding some unreliable features that may cause the program to blow up, is not something that would give confidence to users. There are more stable and competent downloaders existing like NZBGet, that give users an enjoyable and pleasant Usenet downloading experience.