Last Updated: Feb 22, 2021
MT-NewsWatcher is a Usenet client capable of reading articles on Usenet and has filtering, searching and sorting features. It is developed specifically for Mac devices.
MT-NewsWatcher is a newsreader for Mac users that works across multiple news servers. It allows you to search, filter and sort articles on Usenet. MT-NewsWatcher is also capable of viewing and extracting binary files on Usenet. However, based on our recent installation test, MT-NewsWatcher does not work on recent operating system versions of Mac. From what we've researched, this program works on version 10.5 (Leopard) and lower.
Features
MT-NewsWatcher has several features that makes them a decent newsreader for Mac users. However, this software may not be compatible with all versions of the operating system. For those who will be able to make this software run, you can enjoy standard newsreader features plus additional functions that enhance user experience.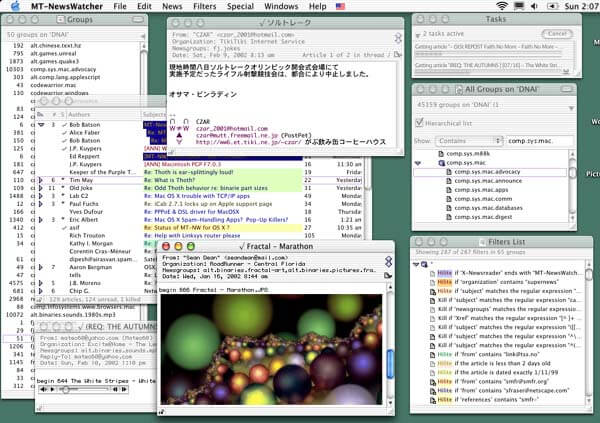 General Features
Like other newsreaders, MT-NewsWatcher allows users to search, filter and sort through Usenet articles. It can also extract binary files and has a preview function to assure you of the file you are downloading.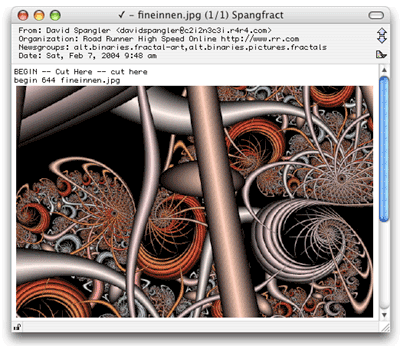 It is capable of multi-threading, can filter junk articles and has a speech recognition function that allows the program to respond to certain spoken commands. This is very useful for those with disabilities or those who simply want to rest from their keyboard.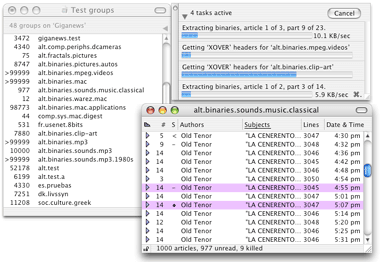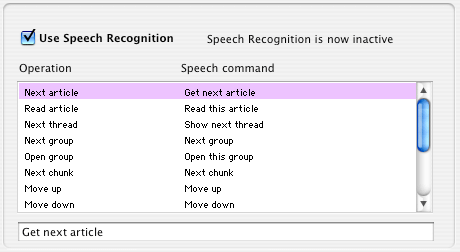 MT-NewsWatcher also supports different languages and can decode and display articles posted from around the world. You can also create personalities on MT-NewsWatcher to present yourself in different appearances in various newsgroup postings.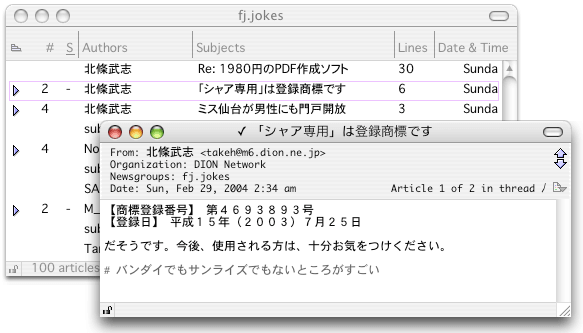 Security
Make sure you use an SSL-enabled server and port coming from a capable Usenet provider to keep your Usenet activity anonymous. You can do this by adjusting the server settings on your MT-NewsWatcher app.
MT-NewsWatcher also added SMTP authentication and SMTP over TLS and SSL for secure mail access. This is configurable on the mail server tab.
Pricing
MT-NewsWatcher is completely free.
Usage Information
MT-NewsWatcher is not the best newsreader option for new Usenet users. While installation and configuration may be simple, using the program itself poses a few difficulties due to confusing processes and cluttered windows when you do several commands.
The interface is also dated and could use further enhancement and development. Probably the reason why MT-NewsWatcher is not running on latest versions of Mac OS, is because the application has not been updated for quite some time.
Installation
To install MT-NewsWatcher on your Mac devices, simply go to their website and click on the download button. This transfers a .dmg file on your computer, which you could just click easily and then follow the usual steps on app installations on Mac. However, as previously mentioned, MT-NewsWatcher is not compatible on latest versions of the Mac operating system. Based on what we've read on their website, MT-NewsWatcher 3.5.2 works on Mac OSX 10.3.9 or later, but upon testing, we could not run it on Mac Catalina (10.15). Hence, we've concluded that this newsreader has not been updated for several years now.
Configuration
Users can easily set-up multiple servers through the server settings of MT-NewsWatcher. There you can customize protocols and allow a number of connections that you can use depending on the Usenet provider you are subscribed to.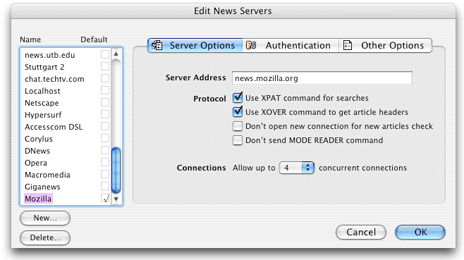 Ease of Use
While this newsreader has some pretty good features, they are outdated compared to other newsreaders especially when it comes to their interface. Initially, when you enter MT-NewsWatcher, it has a simple look when configuring your settings or when you are customizing it according to your needs. But when you are actually using it already, it can get a bit cluttered with several windows opening every time you start a function. Nevertheless, if you get used to it, this newsreader can still be a decent option for the features it has.


Summary
Although MT-NewsWatcher has decent features that would allow you to have a pretty good Usenet experience, we cannot ignore the fact that this program has not been updated for quite some time. As mentioned, it does not work with the most recent versions of Mac OS and based on what we've read on their website, the last upgrade they did was a beta version for Mac OS X 10.5 (Leopard) which was released back in 2007. It's been 13 years and no updates have been done for this newsreader since. This is also probably the reason why the MT-NewsWatcher interface is not as user-friendly as compared to top newsreaders. This unfriendly and outdated look is also evident on their website which, although is loaded with information, seems too cluttered and can be confusing especially for new Usenet users. We suggest that you take a look at our top newsreaders list for other Usenet clients you can use.