Last Updated: Feb 25, 2021
News Rover is a light newsreader that supports multiple server connections and posting on Usenet newsgroups.
News Rover is a newsreader that allows you to post text and binary files on Usenet newsgroups. It has a built-in address book so you won't have a hard time entering the email address of your frequent recipients.
News Rover is an ideal client for extracting articles from Usenet. It is also a good option for downloading JPG pictures, movies, and MP3s.
In addition, News Rover has a built-in picture gallery and enhanced security options that will protect your privacy while online.
Note:
The News Rover website has been having connection issues recently. Upon checking, the site can't be reach or takes too long to respond. However, details on this newsreader can be found on other Usenet related services and websites.
Features
Built-in PAR/RAR processing;
Handles NZB;
Built-in spell checker;
JPG picture gallery;
Header support;
Search filter;
Address book;
SSL connection support;
Password protection and encryption options;
SPAM elimination;
Organize file folders based on category;
Three modes of operation;
NZB file downloader app included;
Multithreaded program;
Supports multiple servers;
Assigned audios for notifications;
Download scheduler.
General Features
Duplicate Copy Elimination- News Rover maintains a copy of the files and ID strings that you have downloaded. Once the program receives the same file again, it will eliminate the duplicate files that you have already seen. This feature that you can either enable or disable, can also help scan and filter SPAM.
News Rover automatically extracts and repairs missing and damaged files, and reconstructs them into a complete file.
Multiple Servers - News Rovers can support up to 32 Usenet news server connections. You can also set the priority server in the settings.
Picture Gallery- News Rover has a built-in JPG picture gallery that allows users to view thumbnails or full sizes of a file. It also has a slideshow function that makes it easy to scroll through the pictures.
News Rover lets you post text messages and binary files to Usenet newsgroups. You can reply to the article you are reading, and you can also compose an original message.
News Rover supports NZB files, and like other newsreaders, it has an automatic PAR/RAR extraction and repair.
News Rover has three operations that can be used:
Global Usenet Newsgroup Search- allows users to search by keywords. It scans through newsgroups to look for the keyword in subject and messages. This is the easiest and the fastest way to search for files in newsgroups. Simply double click the article that you want to download.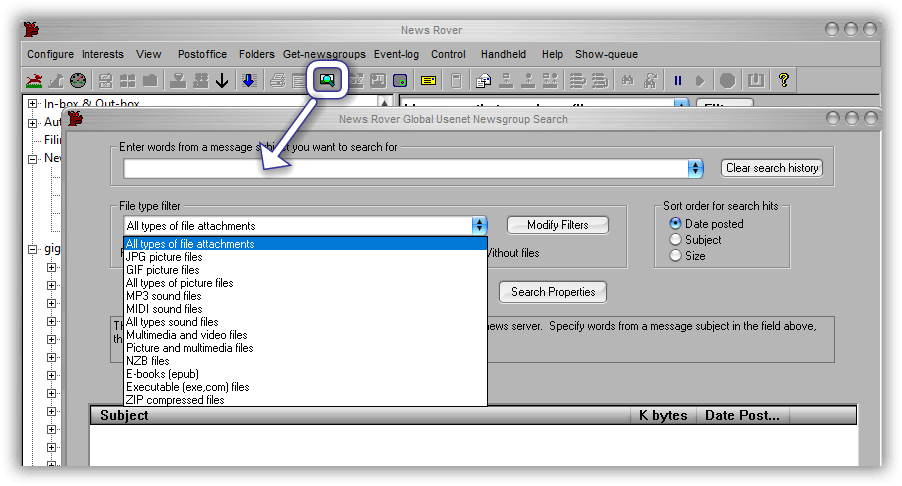 Subscribed newsgroups- this is the traditional way to browse Usenet newsgroups. When you are subscribed to a specific newsgroup, you can download all the messages it contains.
Autoscan- Set 'Interest Groups' to specify which groups are to be automatically scanned to look for the articles you want to be downloaded.
Security
News Rover supports SSL connections to keep your browsing and downloading activity secure and anonymous. . It also has an enhanced security feature that can protect a designated newsgroup by providing passwords and encryption options that you can configure in the settings. The messages and files in these certain newsgroups will be hidden unless the user enters the password.
Pricing
News Rover offers a 30-day free trial. To continue using the newsreader, you need to register an account that costs $29.95 one time payment.
Usage Information
As of writing, the News Rover website is not working. If you wish to download a News Rover installer, you may check out other secured sources. We'd also like to note that upon installation, you can easily configure the program to automatically start when you turn your computer on.
Installation
After downloading the News Rover installer, open the downloaded News Rover folder and double click the News Rover application with the dog icon. A Welcome pop-up wizard will be displayed;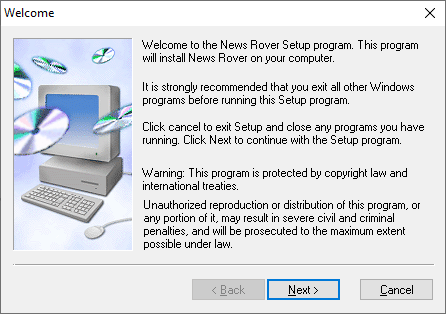 Allow changes in your computer;
Read the license agreement and tick the 'I accept the terms of the license agreement' box, and click Next;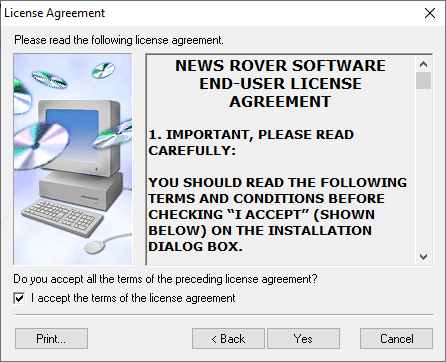 Choose a destination folder of your download;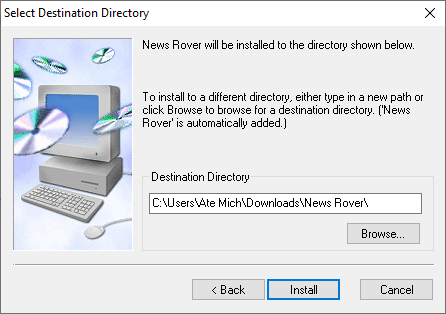 Tick the 'Launch Program File' box and click Finish.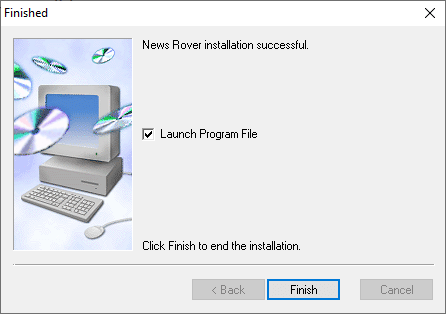 Configuration
After you launch the newsreader, a pop-up box will appear and ask if you will log in using the 30-day free trial version, or log-in via registration key. Log-in to your account, if you have. You can also log-in through the third tab.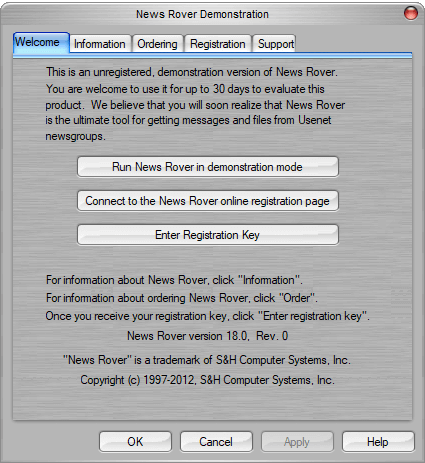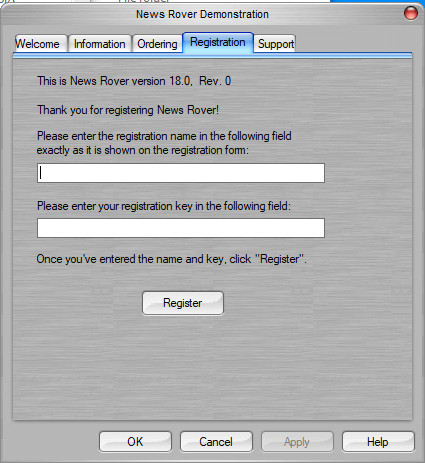 If you do not have an account, feel free to continue as a guest by running a demonstration mode. Create or subscribe to any newsgroup you're interested in and click Subscribe to add it to the list of your newsgroup. Click Finish.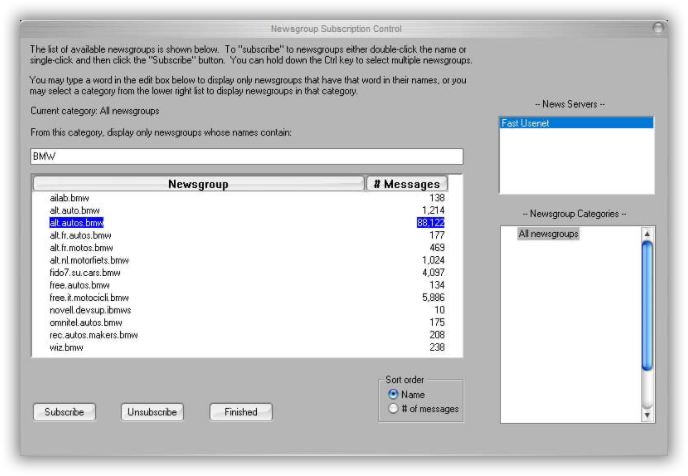 You can also configure and add your server in the Configure tab.
Or Configure> Server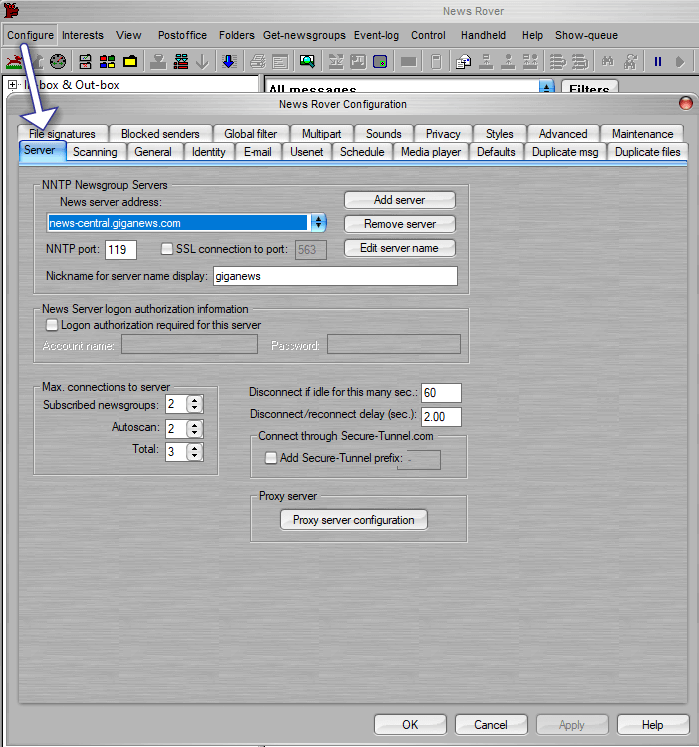 Ease of Use
The current version of News Rover (version 18/ 32-bit) is quite modern-looking. Some of its styles are copied from iTunes and Le5.
It supports multithreaded programs that work simultaneously while you download, decode, and browse on Usenet newsgroup.
It understands your needs by enabling you to step away from your device once you set its download scheduler according to your preference. In addition, News Rover's "Statistics and Limits" page allows you to set daily or monthly limits.
News Rover also has a spam elimination and an email address blocking function that keeps you away from uninteresting posts and malicious content from newsgroups. This feature skips messages/articles posted by spammers or those whose email address you've blocked.
The newsreader also comes with email support and a guide included when you download the newsreader.
Email: roversupport@sandh.com, or you can send your concerns on the platform itself. Just click Help> Email support.
Summary
News Rover is one of the more decent full-featured newsreaders in the market today. It has a lot of functions that enhance user experience.
News Rover has a modern-looking interface with many basic terminologies. Aside from that, we can get a lot of FAQs and guides from its developers. However, other users still find this software quite hard to configure, so it is recommended that the manual or instructions downloaded together with the program be read, to have a better understanding of how to use News Rover and appreciate all of its functions.
If News Rover still seems too complicated for you, there are top newsreaders that you can consider using which are less complex and easier to configure. A lot of these Usenet clients are also free and can work on other operating systems.