Last Updated: Feb 18, 2021
Newsbin is one of the most popular and most downloaded newsreaders that has been around since 1997. Newsbin is a software that runs on Microsoft Operating Systems that downloads files and binary content from Usenet newsgroups. It is built by an image and database viewer.
Newsbin is one of the most popular Usenet clients to date. In fact, this is one of the very first Usenet clients created with the exclusive purpose of downloading binaries from Usenet. Newsbin was the first to adopt the NZB file format and consistently leads the way with technical innovations that help make Usenet experience better.
Newsbin's search service searches for over 3500 days of binary retention, and it has an auto PAR feature that automatically downloads the required files in the set and repairs the broken and missing files.
Newsbin runs on Windows XP and any newer version on both 32 and 64-bit machines. For you to be able to use it, you will need to configure your settings to a proper Usenet server address to be able to start searching for files.
Features
General Features
Newsbin has a free trial for anyone interested in their service. The free trial keys can be requested and are available up to 15 days with full access to Newsbin Internet Search. This way, you can test out the full features of the service without paying. You can either purchase a lifetime key for $20 or convert your trial key to a lifetime key by choosing any tier of the Newsbin Pro Internet Search Service (available in the Pricing section).
Some Downloading and User Interface features of Newsbin include:
Built-in image database and viewer- Preview images as a thumbnail as you browse and download them;
Advanced spam filtering: Hide garbage posts, and blocks password protected RAR or PAR files containing viruses and trojans;
Supports multiple servers (Proxy): Different servers can go through different proxies if they want since Newsbin supports SOCKS 4, SOCKS 5, and HTTP proxies;
Built-in Scheduler: Time scheduler for pausing and imposing the speed limit;
Newsbin Shutdown: Shuts down your computer when Newsbin finishes downloading;
Compressed Header Support: Downloads headers 10x faster if your news server supports XFeature header compression;
File organizer and MP3 organizer: Uses the ID3V2 tag to keep them organized;
Built-in RAR/PAR and Split File Processing: Automatically processes your RAR and PAR files after download. Uses AutoPAR to combine the RAR and Master Splitter files to extract the contents. Damaged and missing files are automatically repaired;
Download prioritization: on-the-fly and important download first, automatic download while you sleep, and download management for your 'wish list' to download later;
Automatic header updates: periodically updates the header from all selected newsgroups;
Newsgroup organization and posting capabilities and interface customization.
Offers one of the longest retentions to binary and text of up to 3500 days.
Security
Newsbin has SSL encryption and security features. Make sure to configure your settings with the correct server information and use an SSL port to keep your downloading activity secure and anonymous. You may also be asked for your username and password depending on your chosen Usenet provider.
Pricing
Newsbin has a 10-day free trial with full functionality. However, the Trial Keys are only good for 15 days. You can avail of a lifetime key for only $20 or $30 for Newsbin Pro with Usenet Search. You can also sign up for another plan for Newsbin Internet Search Service available after your trial key expires.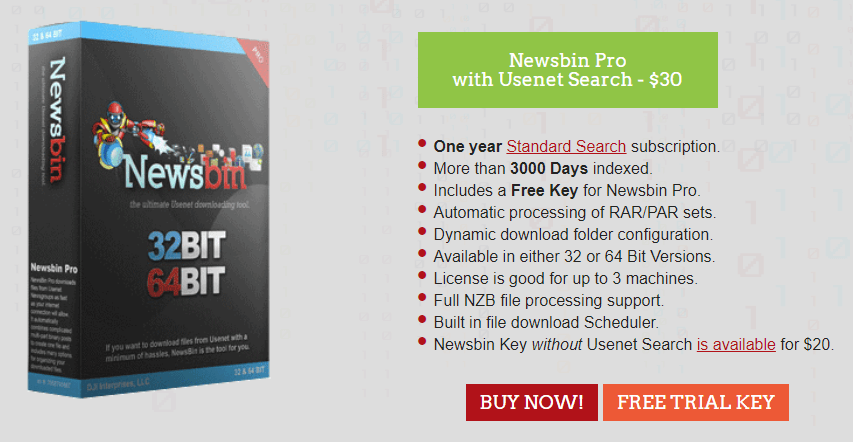 Newsbin Pro

Newsbin Pro Usenet Search Service
Usage information
Installation
Newsbin needs a connection to a news server to get you going. If you do not have a server yet, check the best news service and be ready to install by following these steps:
Download the latest version of Newsbin and run the installation program. There are ample options to choose from in the wizard set-up, but the default options are usually the best.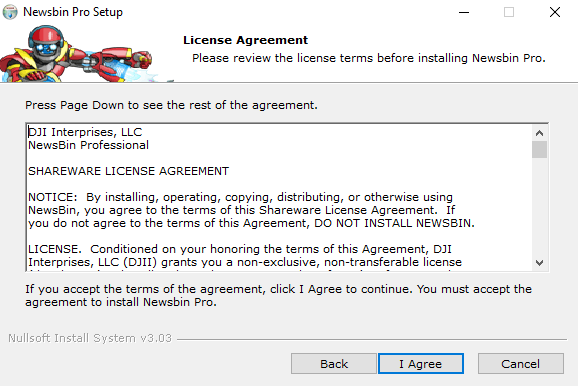 Make sure you read the agreement before you proceed.

Put the location of your download on your computer.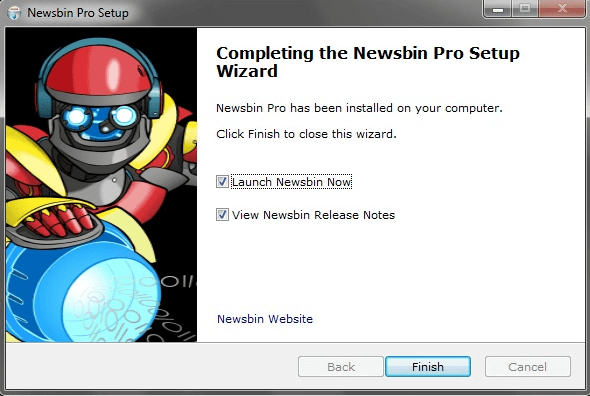 You will see this box once the installation is already finish. Tick the 'Launch Newsbin Now' and click Finish.
Unfortunately, Newsbin is only available with the Windows Operating System and can run on 32 and 64-bit machines. For newsreaders that work with Mac and Linux, check our alternative listings here.
Configuration
Once you install the Newsbin for free users, go to the Help Menu bar, and click Register/Update Key. Input the information and the key registration sent to you via email, and Click 'Finish to Registration' to start browsing and downloading.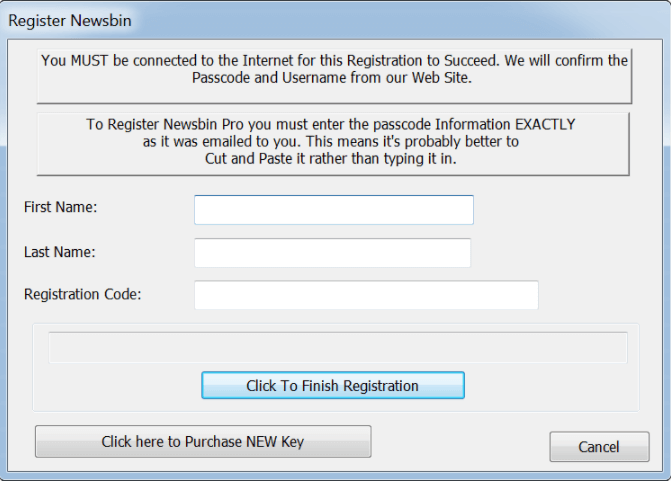 If you have an account with Usenet Storm, the full retail of Newsbin is already included in your package. You will be redirected and automatically licensed when installing.
Or you can log in to the Newsbin Control Panel page after purchasing Newsbin. You don't have to change anything with your Newsbin configuration. It supports proxy servers like SOCKS 4, SOCKS 5, and HTTPS proxies, configurable by your news server.
Ease of Use
Newsbin is easy to use. Downloading the software is easy as well. The language for installation is written in English, and the terminologies used are not complicated. You can also customize the software by configuring the application look which can be found in the 'View' tab. You can also delete the download history, detect files that have been downloaded, and many more.
For lost registration key:
Go to Newsbin Help-> Control Panel and it will display your key; or
Send them your email address used when you registered, and they will send you an email to reset your password and to create another key.

A lot of Technical problems can be resolved through the provided Newsbin Troubleshooting Facts, or by posting or searching through their Forum section. Any technical support request will be answered within 24 to 48 hours of submission.
Additionally, tutorials are provided for its large community of users. They include most of the information that you need in this section.
Summary
Newsbin is the first provider to support NZB file format, which generally helped to advance Usenet to what it is today. It is an impressive piece of software with a lot of essential and efficient functions that enhance user experience. There are many options for fine-tuning your connection and working with your downloads, and it has an integrated search option and spam filters that are very useful.
The price is low and reasonable for its service. We believe Newsbin is worth using and considering as the best partner of your Usenet provider.