Last Updated: Feb 19, 2021
Newsflash Plus is a free binary newsreader available for Windows and Linux 64-bit versions. It is a software application that allows users to search and download a large volume of content.
Newsflash Plus is a binary reader that promises increased performance, faster browsing, and more control through the embedded Python engine. At present, it is only compatible with Windows and Linux for 64-bit, while Mac is not yet supported.
Newsflash Plus has many popular tools, managers, and media players integrated into it. Newsflash Plus pre-processes all the headers to give you faster loading and search times. This preprocessing is particularly helpful when you have heavy volume newsgroups. You can also manage your download speed to the server settings.
Newsflash also has SSL support for secure and private Usenet access.
Features
General Features
Fast regex and regular searching.
Quick sorting and view filtering.
Access and full-detailed history log
Bookmark and keep track of your favorites
Support for nzb.org built-in.
Multiple servers and TCP connections are supported, which makes this application faster to load and download
Advanced connection and download management.
SSL encryption support
Integrates well into almost any media player, image viewer, or tool.
Python built-in.
Can browse files as old as 3461 days.
Integrated Search: Download content easily and fast.
Fast Browsing: No need to worry about the large volumes of groups while searching. Newsflash Plus pre-processes all headers to fasten the load and to hinder the choking of your PC.
Full Download Control: Newsflash Plus has multiple TCP connections and concurrent servers. It has advanced and complete download management down to a single download.
Tool Integration: Feel free to play and view the audios and video from search results to your media player while browsing for the results. Newsflash has integrated this feature to allow users to preview each file. It also enables users to set-up an extension of preference or open files with the preferred applications.
Security
Newsflash Plus provides SSL support which means you can configure your server settings with an SSL-enabled server and port to keep your download activity safe and secure.
Pricing
As a free newsreader, Newsflash Plus will not cost you anything to be able to use its full features. However, it has some advertisements present on their interface which helps support the developers' expenses. Aside from that, they also encourage users to donate via credit card so that they can keep their website and software running and provide customer support.
Usage Information
Installation
Newsflash Plus is available on both Windows (2000, XP, Vista, Win7) and Linux (Ubuntu 16.004 and newer) Operating Systems.
Installing Newsflash Plus is very easy. You simply go to their website and download the latest version of the software.
For Windows installation:
Extract the package and run the newsflash.exe file.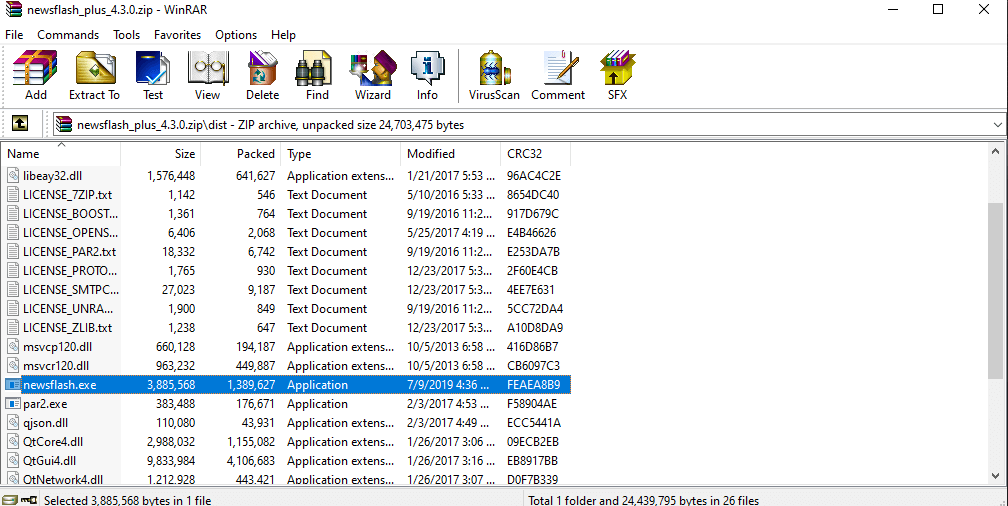 Read the agreement and set the file destination of the download;
Read the instructions until you reach the 'Finish Install' button.
For Linux users:
extract the package- for example with "tar -zxvvf newsflash_plus_3.2.0.tar.gz"
Run the dist/newsflash.sh shell script
Configuration
To be able to use Newsflash Plus, you would have to configure your server settings with information coming from your Usenet provider. Supply the correct server details, port and, if required, enter your username and password.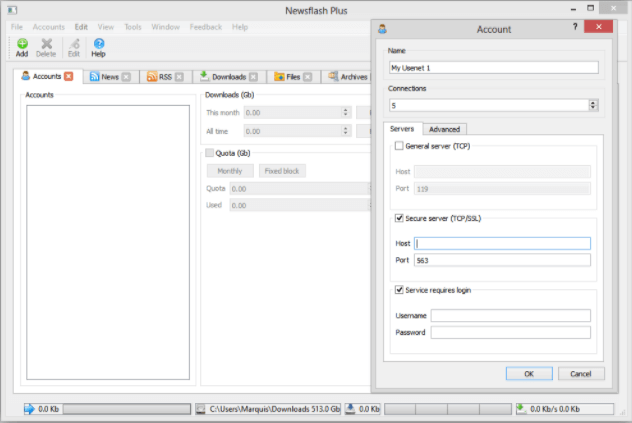 You can also customize the application's interface by going to the Newsflash Plus settings sections, and also choose a different skin for the app to make it visually more appealing to you.
Ease of Use
Newsflash Plus interface has several tabs available that make it easier to navigate through different functions and settings. The download tab has an easy monitoring feature for your downloads and connections.
In addition, Newsflash Plus provides a contact form on its website to cater to concerns of users. You can also access the forum to see the latest posts and topics posted by its members.
Summary
Newsflash Plus is quite useful, especially for multiple accounts. It has an advanced download manager, and it is built in the C++ program, enabling your research to be fast based on its search pattern.
Newsflash Plus supports NZB files and extracts and repairs RAR files. However, it cannot manage ZIP files. Also bear in mind that this application does not have an automatic download feature that can run in the background. Overall, we find their features very useful and decent as a newsreader.