Last Updated: Feb 19, 2021
Newshosting's newsreader runs on multiple platforms, including Mac, Windows and Linux and enables you to visually view search results.
Launched in 2011, the Newshosting newsreader is an easy-to-use software that enables users to download from Usenet and can run on any operating system like Windows, Mac and Linux. This newsreader is included free when you subscribe to Newshosting. It was designed to make downloading experience easy with its multiple features that included integrated search, speed controls and automatically packing and repairing downloads.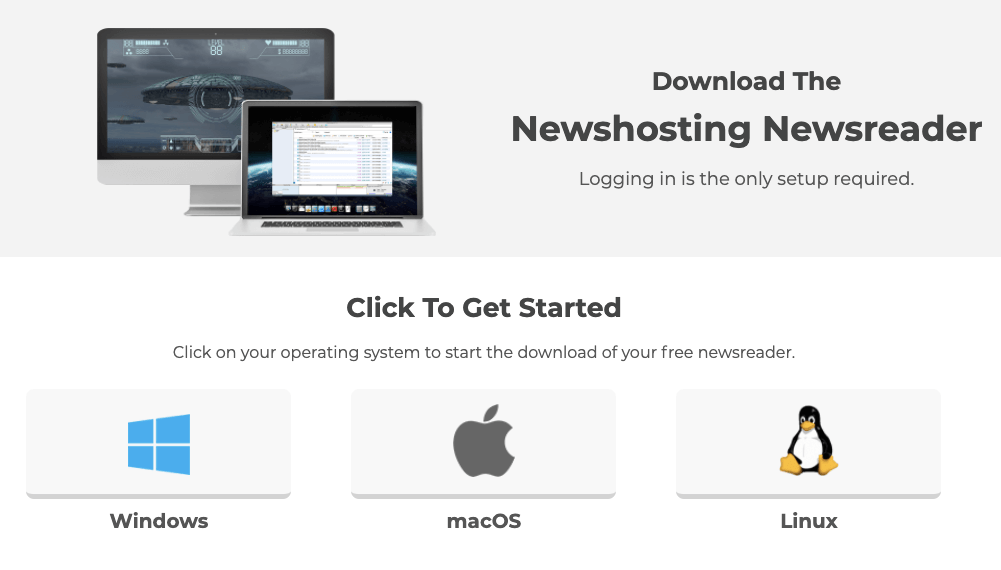 Features
The Newshosting newsreader has a lot of impressive features that most users can enjoy. They are a popular downloader of choice in the Usenet community mainly because of it easy-to-use interface and integrated search feature that pushes user experience to the next level.
General Features
Searching for files is easily done via their integrated search feature, which browses through multiple newsgroups. Users can also browse through latest file groups, search via newsgroup list, or do automated searching.
To make sure that you are downloading the file you want, you can preview image and video downloads prior to downloading them.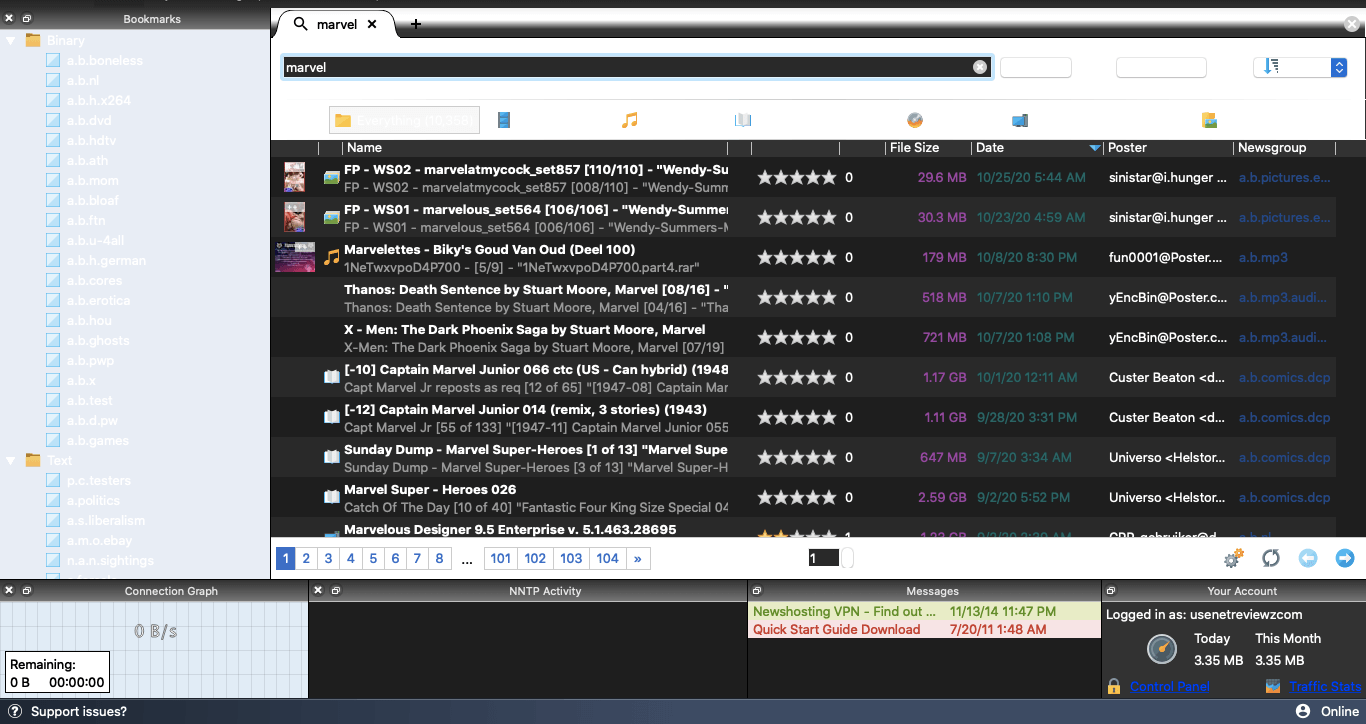 Integrated Search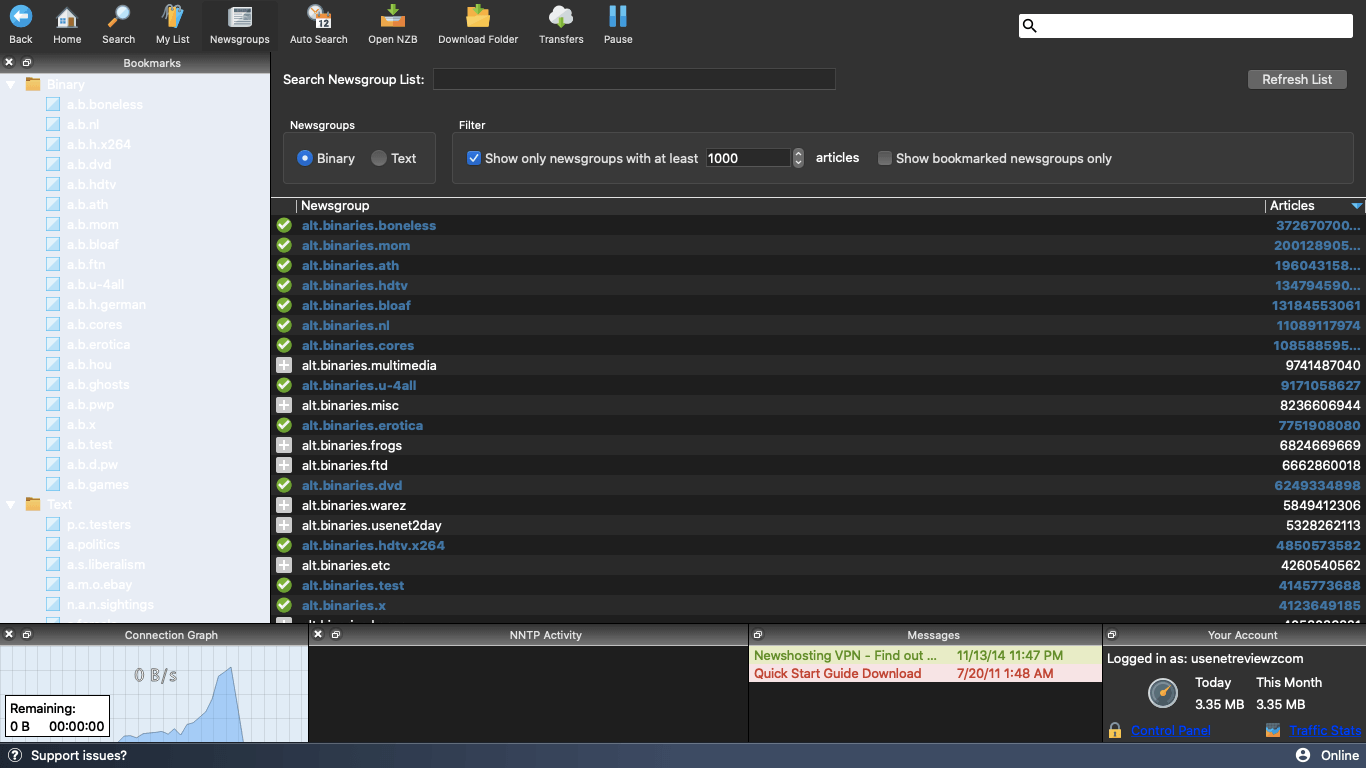 Search by Newsgroup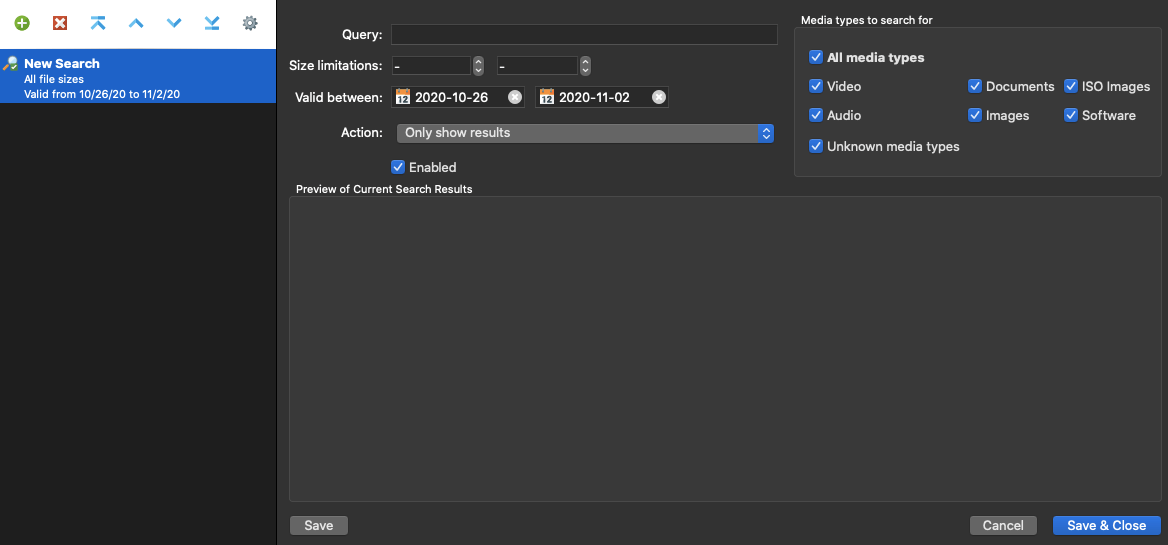 Automatic Search
Retention & Completion
Users can search through the entire Newshosting retention, which is currently at 4455 days with 99% completion rate.
Security
It is secured with SSL encryption and can automatically unpack your downloads, and repair downloads if necessary.
Speed & Connection
Newshosting has one of the highest number of simultaneous SSL connections available that allows you to maximize the speed of your internet service provider. They offer unlimited download speed with up to unlimited downloads and up to 60 connections
Pricing
This newsreader comes completely free with your Newshosting subscription. Newshosting offers several plans that vary on the number of downloads and allowable connections.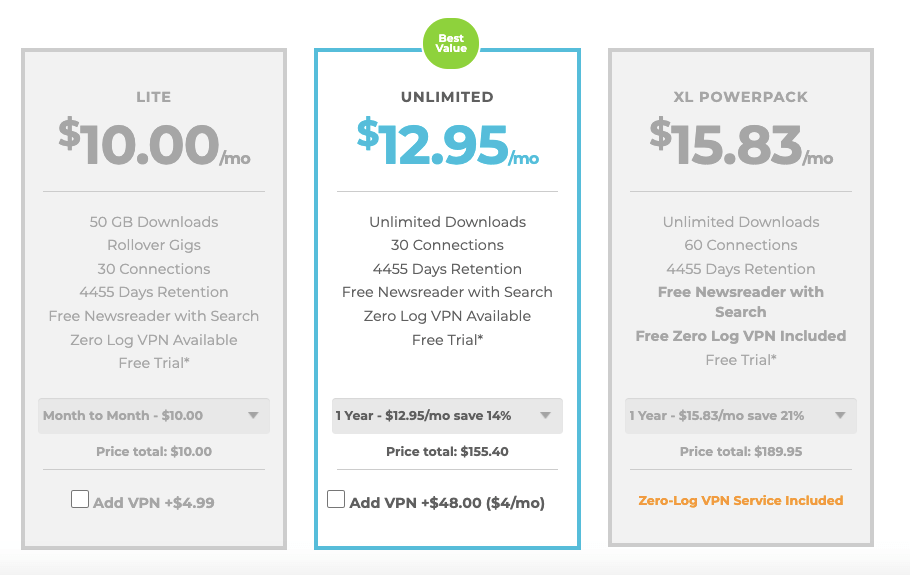 You can pay for your Newshosting subscription through credit cards and PayPal.
Usage Information
The Newshosting newsreader was designed with ease-of-use in mind. Once you have installed this software, settings are conveniently configured automatically. This allows users to instantly explore and use this newsreader.
The interface of the Newshosting newsreader is very easy to navigate and use. Functions are at the topmost part of the software and are labeled well to easily describe each button. You can also customize the windows that you want to see on your newsreader. You have the option to include or exclude bookmarks, connection graph, and NNTP activity from your window.
For any support issues, this newsreader provides a link to their web support page which has sections that include usage and troubleshooting, billing and payment concerns, set-up guides and, of course, Newshosting newsreader information.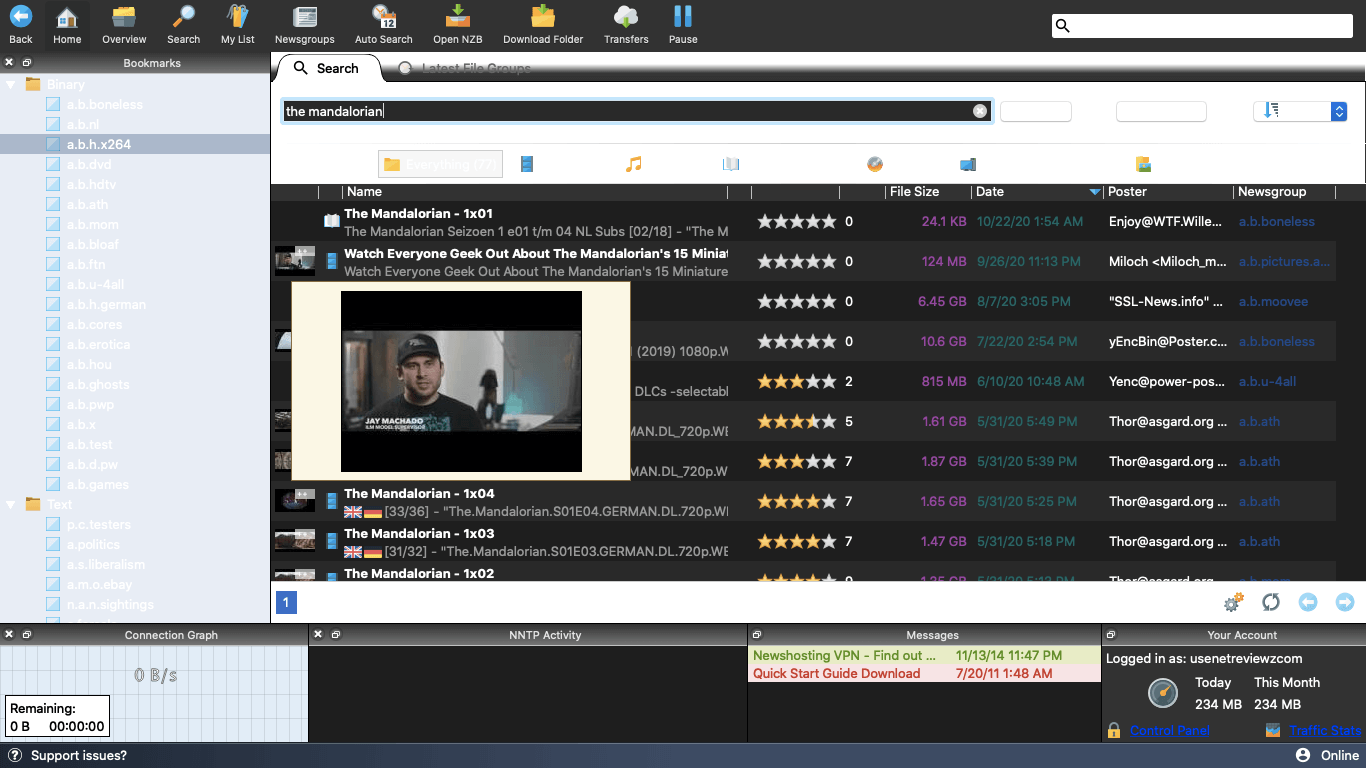 Installation
The installation process for the Newshosting newsreader depends on the platform you use. For Mac and Windows, it is pretty easy to install.
For Mac users download the client and then click on the .dmg file you've just downloaded to start installation. After which, you drag the Newshosting app to the Applications folder through the window that pops up. Once installation is complete, just launch the client from the Applications folder.
Installing on Windows is pretty much the same with that of Mac users – download the client, launch the newshosting_setup installer and just click through the next steps and launch the client once you're done downloading.
For Linux, there are several steps you would have to follow.
Download the client once you've logged in to your Newshosting control panel
Open terminal and navigate to download window

cd Downloads/
Change permissions to allow execute
chmod 770 newshosting-2.8.10-linux-x64-installer.run

Execute installer

./newshosting-2.8.10-linux-x64-installer.run

Walk through the rest of the installation process
Launch the application from either the desktop shortcut or the command line.

~/newshosting-2.8.10/newshosting.sh
Configuration
As previously mentioned, the Newshosting Newsreader is automatically configured once users have logged in to the application with their username and password. Standard settings for Newshosting newsreader are as follows:
Hostname: news.newshosting.com
Port: 119
Additional NNTP Ports: 23, 25, 80, 3128
SSL Ports: 563, 443
Newshosting also offers other server options if users feel they might be able to get better connectivity that way. The abovementioned NNTP and SSL ports also apply to these optional servers:
Geographic auto-select hostnames:

IPv4: news.newshosting.com
IPv6: news6.newshosting.com

United States hostnames:

IPv4: news-us.newshosting.com
IPv6: news-us6.newshosting.com

Europe hostnames:

IPv4: news-eu.newshosting.com
IPv6: news-eu6.newshosting.com

Netherlands hostnames:

IPv4: news-nl.newshosting.com
IPv6: news-nl6.newshosting.com

Germany hostnames:

IPv4: news-de.newshosting.com
IPv6: news-de6.newshosting.com
Ease of Use
As mentioned, Newshosting has developed a newsreader which is easy and convenient to use. Compatible with multiple platforms, the Newshosting newsreader can be utilized by any user whether they are using a Mac, Windows or Linux machine.
This newsreader functions like a one-stop shop since the application has an integrated search feature that not all newsreaders have. Simply look for the files you need through your search option of choice, download the NZB file, open the downloaded file and start downloading.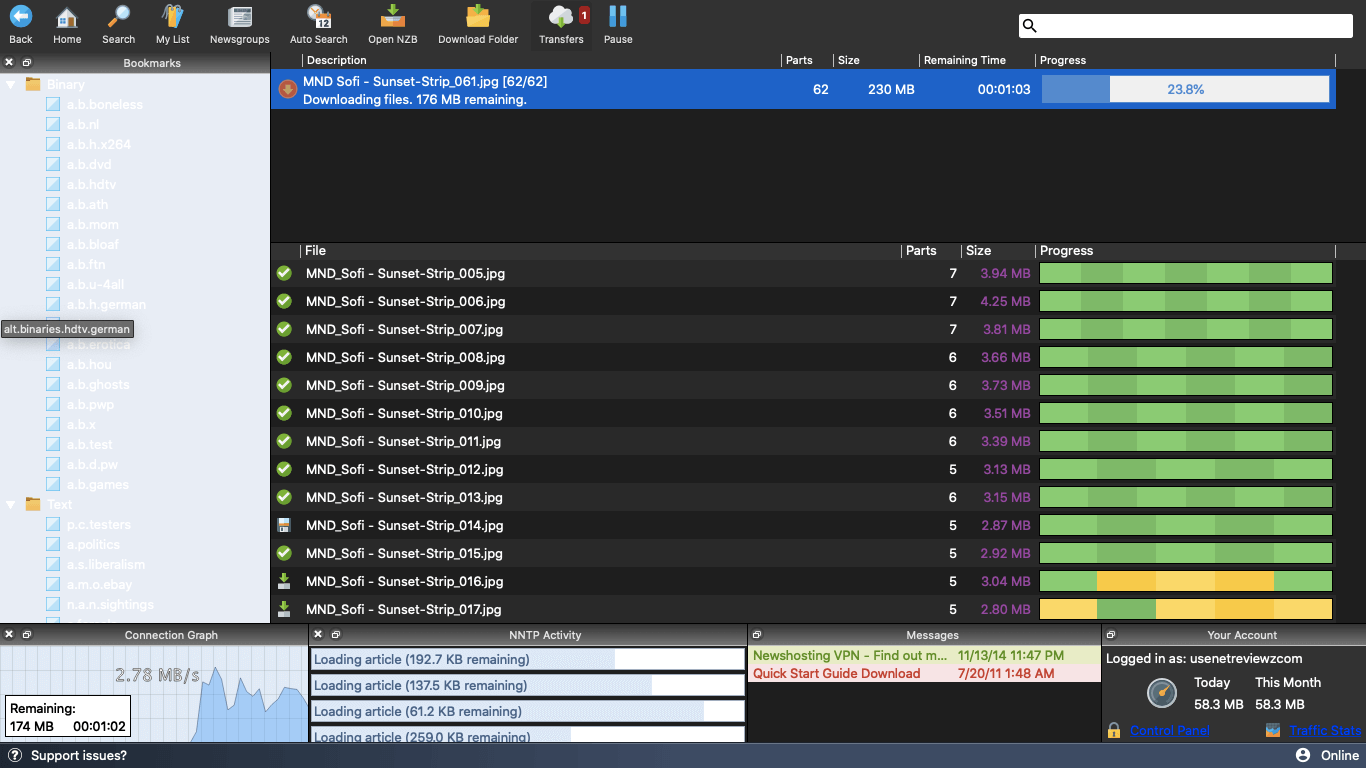 To check the status of your download activity, just check out the Transfers button on the menu list, but this really isn't necessary since this newsreader has an alert system that lets know you know once your download has been finished.
Summary
Newshosting is one of the best Usener providers in the industry today. And with the addition of their free newsreader service, Newshosting has an additional edge over other providers. That being said, their newsreader application is also one of the better options out there. With search capabilities integrated within the software, users can do everything within the Newshosting newsreader, from manual searching, browsing through a variety of newsgroups and even automatic search.
Their newsreader allows you to preview files which assures you that you are not wasting time downloading incorrect ones. It is also capable of automatic unpacking and repairing your downloads. With all the mentioned features this newsreader has and with the other amazing inclusions that Newshosting provides, subscribing to their service is definitely a good investment that you will not regret.