Last Updated: Feb 25, 2021
NZBLord is an easy-to-use web tool that works as an NZB downloader. It can be accessed and instantly used through your favorite web browser and does not require users to configure settings with Usenet provider details.
NZBLord is quite unique when compared to other more popular NZB downloaders like NZBGet and SABnzbd. This fast and simple web tool requires no installation and no configuration. Users do not need to have a Usenet provider account to be able to use NZBLord. You can directly download files via several methods on their website and manage everything from there. However, unlike the mentioned popular downloaders, NZBLord comes with a price. Most users would still opt to use top newsreaders or NZB downloaders that have a proven track record that shows efficiency and reliability.
Note:
According to their website, NZBLord is currently closed. You can reach them via email at support@nzblord.com.
Features
Upon going to the NZBLord site, you will be pleasantly surprised by the simplicity of how you can use this web tool. It has very straightforward features and an interface that could easily be navigated by even the most novice of users.
General Features
With NZBLord, you can download NZB files in a number of ways. You can either download files that are currently saved on your device, through the URL address of an NZB file, or paste the content of the NZB file directly into the form provided. All of this can be done through the "New Task" tab on the web tool. Then you can check out the "My Downloads" section to see the file and view the NZB.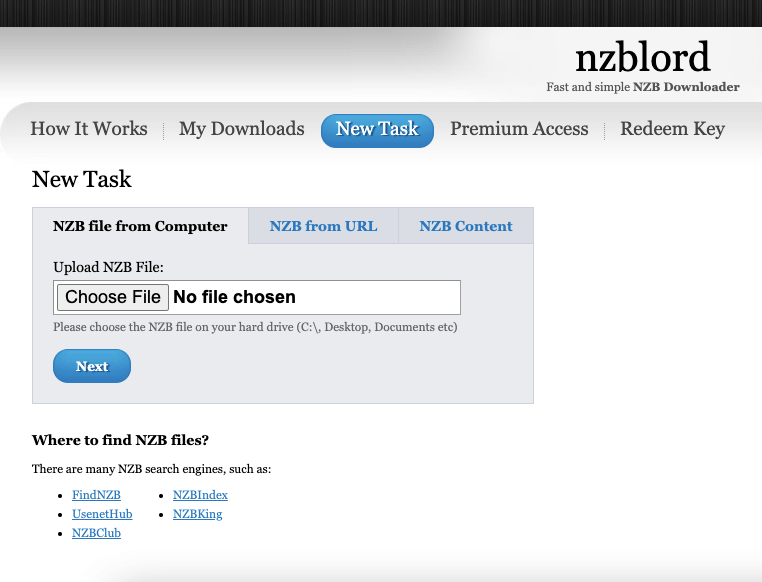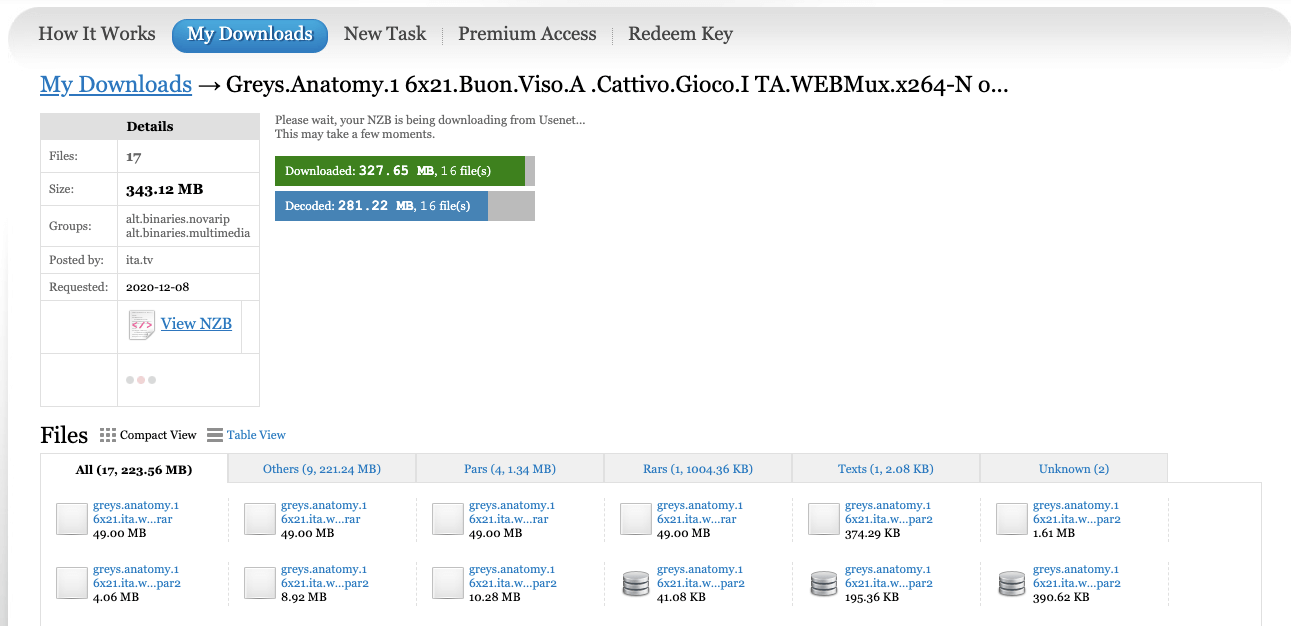 NZBLord is capable of doing simultaneous tasks, including multiple NZB downloading. It also has a notification feature that alerts you when a task is complete. It provides multithreaded downloading of files to your computer and archiving and easy download or large number files.
Other features include:
Spyware that scans all the files you are going to download
100% operation with web-browser with no need to have the Usenet Provider account
Responsive and friendly Support
Easy to use interface via web-tool
Multiple Premium Access packages

Unlimited Traffic
Varies in duration, NZB Max size, NZB Max Files Amount, Speed and Security
Security
One of the biggest concerns with this web tool is security. Since there is no configuration required, there is no area where you can use an SSL port to keep your downloading activity anonymous. The NZBLord website itself is labeled as "not secure". We advise possible users of this tool to avoid entering sensitive information like passwords and credit card information.
Pricing
NZBLord is not a free web tool. While it does have a free trial option which you can instantly try out when you first visit their site, it is quite unclear how long this free access lasts. Their cheapest plan is priced at $6.95, as mentioned in their homepage. You can also check other packages on their Premium Access page, which features plans that offer unlimited traffic but differ in duration, NZB max size and NZB max files amount.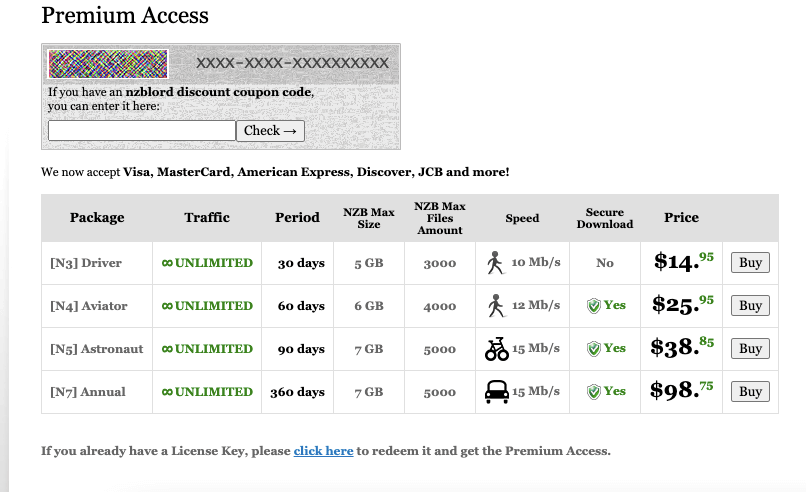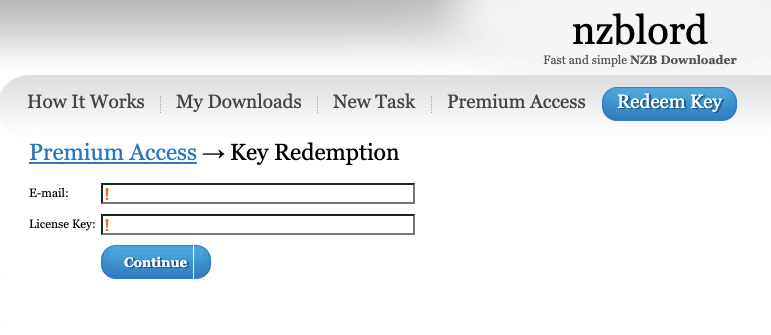 Their plans also mention "secure download" as part of the packages except for their 30-day plan. However, it is quite unclear what security features NZBLord has.
Usage Information
NZBLord definitely is a fast and simple NZB downloader. With simplicity as the keyword, this web tool does not require any installation and configuration. Once you have purchased a license key from them, you can instantly and easily download NZB files through the methods available. Make sure that you get your NZBs from a reliable NZB site or Usenet Search engine.
Installation
As mentioned, NZBLord does not require any installation. You can simply start downloading NZBs from their website.
Configuration
NZBLord does not require users to have a Usenet provider account. Unlike other NZB downloaders or newsreaders where you need to configure server settings with information from your chosen Usenet service, NZBLord can be used right away once you're purchased a license key from them. Just get the files you want from your favorite NZB site and plug it in on the NZBLord web tool to download.
Ease of Use
NZBLord lives up to its tagline of being a "fast and simple" NZB downloader. This web-tool is very easy to use. Although it is quite different from other NZB downloaders, first time users would not have a hard time figuring out how to use NZBLord. You have the option to download NZB files either by getting the file from your computer, pasting the URL address of the NZB file, or copying the content of the NZB file on the space provided in the web tool.
Once you finish downloading from Usenet, it should come out on the "My Downloads" tab and select some files for download to your computer or you can download them all together using the archiving function.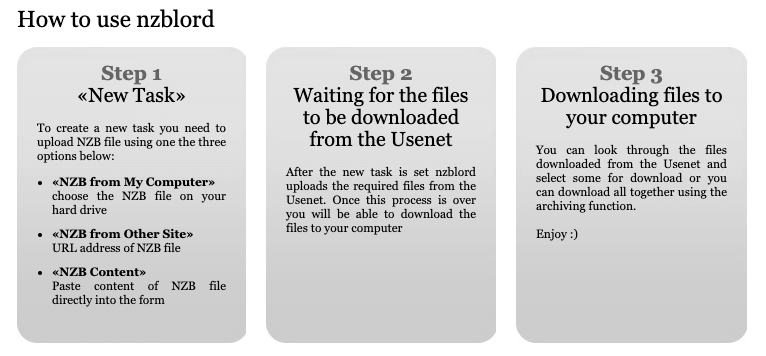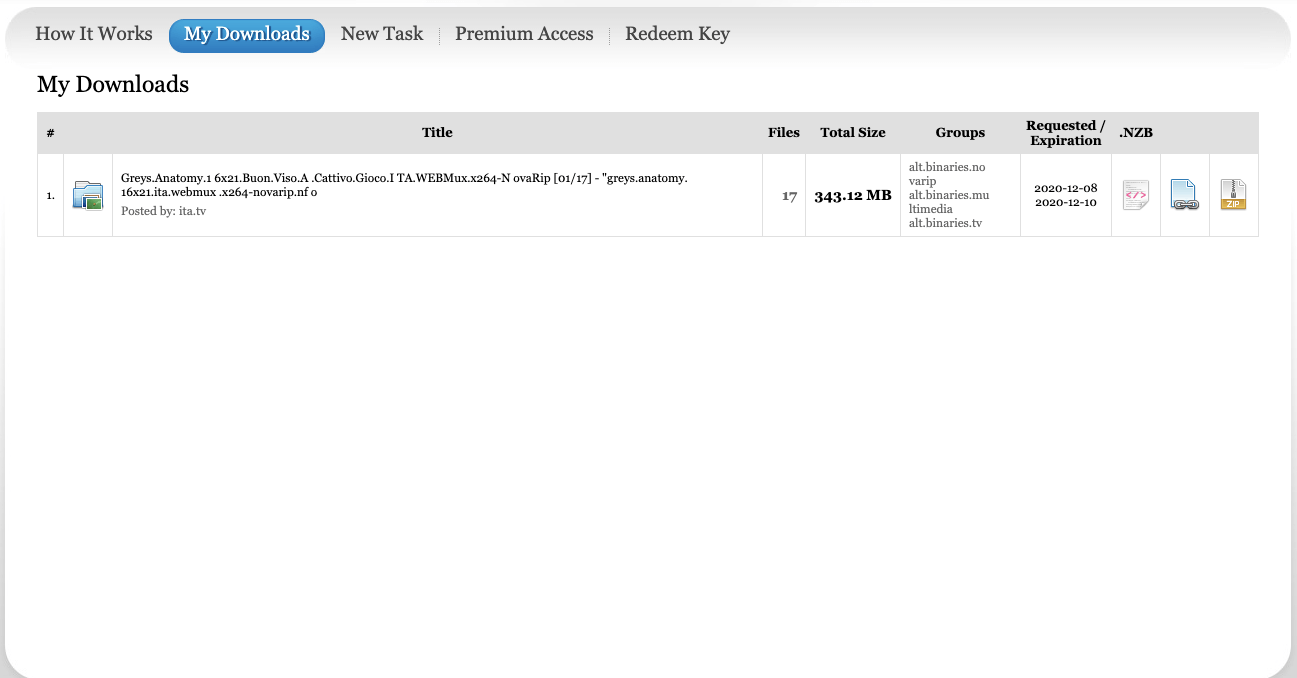 Summary
First impressions on NZBLord are good. We like how simple and easy it is to use that even the most technically challenged individual will have no difficulty figuring out how to use this web tool. And with its multiple means of downloading NZB files, users are somehow given the flexibility to download files according to how they want to do it. However, when you dig deep into it, there are major concerns with NZBLord. First is its security. While it is mentioned on their website that several of their account plans feature secure downloading, it is quite unclear what security features this web tool has. As mentioned, Usenet provider accounts are not required. So, there are no settings to configure where you can enable downloading using an SSL encrypted port. Another perilous indication is that the NZBLord website is labeled "not secure". Aside from this, users would have to pay several dollars to access the full features of this web tool. And while they do offer a free trial, it is unclear how long that lasts. There are more reliable newsreaders and NZB downloaders that are free to use and would give you the comfort that your downloading activity is safe and secure. We recommend checking out NZBGet and SABnzbd, which are more popular options as far as Usenet downloaders are concerned.