Last Updated: Feb 23, 2021
Pineapple News is a Usenet newsreader developed for Mac OS X. Although it has features and a user interface that makes it relatively easy for online use, it is primarily an offline reader.
Pineapple News was initially developed back in 1999 to run on BeOS, which is an operating system positioned to compete with the classic Mac OS and Microsoft Windows. A Mac OS X version was then released in 2005 and since then the developers have focused on improving the software specifically for Mac users.
To use Pineapple news, you would need a device running on Mac OS X version 10.3.9 or later. However, upon our testing, the software is not working on the latest versions of Mac. Active development and support for this software has been discontinued since the last update the developers had with this software was back in 2007.
Features
Pineapple News has very basic functions as far as newsreaders are concerned. It can read newsgroups and is able to decode binary attachments in several file formats. However, it cannot download NZB files.
General Features
With Pineapple News, you can connect to multiple servers and use them simultaneously. Users will be able to create different personalities or identities, each with your own unique signature file. You will also be able to switch between your different identities.
As mentioned, Pineapple News is able to decode several formats of binary attachments like Yenc, UUENCode, MIME base 64 and MIME Inline. It can automatically search all downloaded messages in a certain newsgroup if an attachment is spread across two or more message files. It then finds the needed parts and stitches them back together. However, Pineapple News currently cannot deal with RARs, PARs or NZB Files. According to the developer, they will probably support them in the future if there is enough interest by their users.
Other Pineapple News features include:
Individual Groups for Headers only or Full Article downloads settings
Creation of storage folders
Cross-post detection – no more reading the same article twice
Killfile capabilities – to ignore unruly posters
Distinctive colors for quoted texts
Color customization
Searches text for URLs and email addressed and highlights them as clickable links
Multiple language support
Message viewer font customization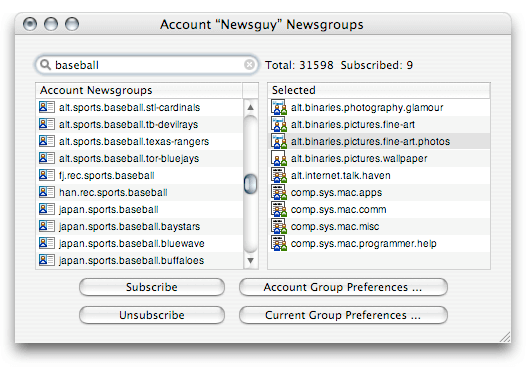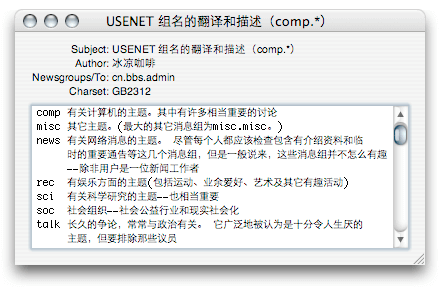 Security
To be able to use Pineapple News you would need a connection to the internet and, of course, an account with agood Usenet provider. Use the server of your selected Usenet service and make sure to use an SSL-enabled server to keep your Usenet activity safe and anonymous. You can configure this on the program's account preferences section.
Pricing
Pineapple News can be downloaded and used for free. Their website does not provide any information if they need monetary support in the form of donations.
Usage Information
Pineapple News was developed with ease of use in mind. The process of installing, configuring and using the program is very simple and easy. The developer even mentioned on their website that a person who has never heard of Usenet before was able to get Pineapple News up and running after only asking one question, which was answered in just a few sentences.
Installation
Pineapple News does not have an installer. Instead, you can download an archive (zip file) fromtheir website. Once you open the downloaded file, it will automatically show the program which you can move to your applications folder. It consumes about 80MB from your disk space and can run on Mac OS X 10.3.9. But as previously mentioned, upon our testing, Pineapple News does not work on the latest versions of Mac OS. This is due to the fact that the app has not been updated since 2007.
Configuration
To start using your Pineapple News program, you would need to configure your account preference according to the server details of your chosen Usenet service. You may also need to enter your username and password if your server requires a login.
You can use multiple servers with Pineapple News and also set multiple identities when using this program.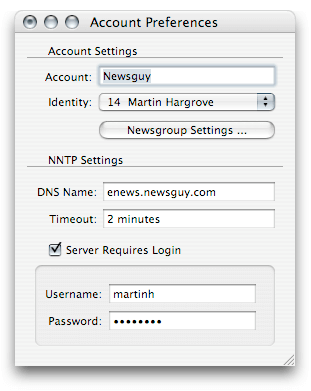 Ease of Use
Since it was developed with the idea of making Usenet experience pleasant, especially for new users, Pineapple News is very easy to use. As mentioned, installation and configuration can be done in just a few simple steps. And once you're in the program, you get to see a clean-looking interface with not a lot of confusing tabs or buttons. Since Pineapple News' features are pretty straightforward and are limited in other functions when compared to other newsreaders, your basic Usenet experience will also be as stress free as the program is.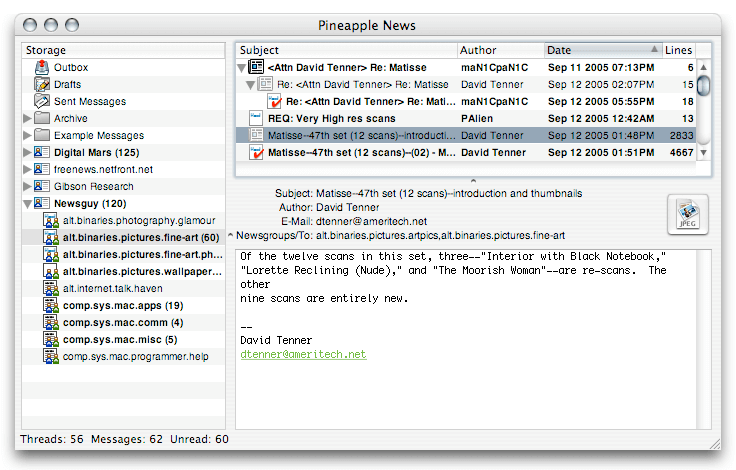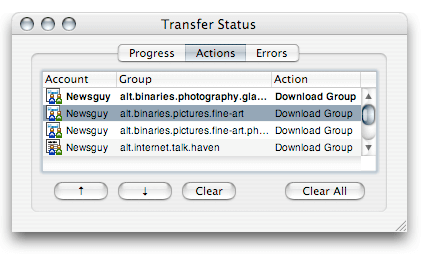 Summary
Although we like the simplicity of Pineapple News, there may be such a thing as too simple. Yes, it functions well as a basic newsreader, but most users these days are always looking for more features that could enhance their Usenet experience further. Pineapple News does not deal with PARs, RARs and NZBs, which is an important feature nowadays when newsreaders are concerned. And while the developers mentioned that they would likely support these mentioned files in the future, active development on Pineapple News has ceased since 2007. That being said, you may want to look forother newsreaders that have full features and have been updated recently.