Last Updated: Feb 24, 2021
PureNZB is the official newsreader of Z51.biz and Unliminews Usenet providers. It integrates popular NZB search engines like Binnewz and NZBindex.
Being the official newsreader of Usenet providers, Z51.biz andUnliminews, PureNZB requires no configuration when you download the software. Simply log-on with your credentials and you can immediately use this newsreader and enjoy its full features. If you do not have an account with them yet, you are free to create one to try out and explore the interface and functions of PureNZB.
PureNZB is free to use with the help of subscribing to its official Usenet providers (which cost a minimum fee). You can also purchase plans available on both Z51 and Unliminews websites.
PureNZB has integrated some NZB search engines to help you maximize your searching capabilities. PureNZB has a modern-looking interface that stands out from the rest of the newsreaders.
Features
Pre-configured server access
Simplified but faster searches with the help of built-in search engines
One-click to download
Free for Z51 and Unliminews paying customers
24/7 email support available
Video Streaming and Media Center available
General Features
As mentioned, PureNZB has integrated NZB search engines like BinnewZ, BinSearch, NZBIndex,NZBSearch, Goggle, and Google Groups. You can also use NewzBin, NZBMatrix, and U4All by logging in to your account. However, please note that some of the mentioned NZB sites and search engines are already inactive and non-functional.
BinSearch provides an easy search via its Newsgroups, while BinnewZ helps in providing its database for Category search.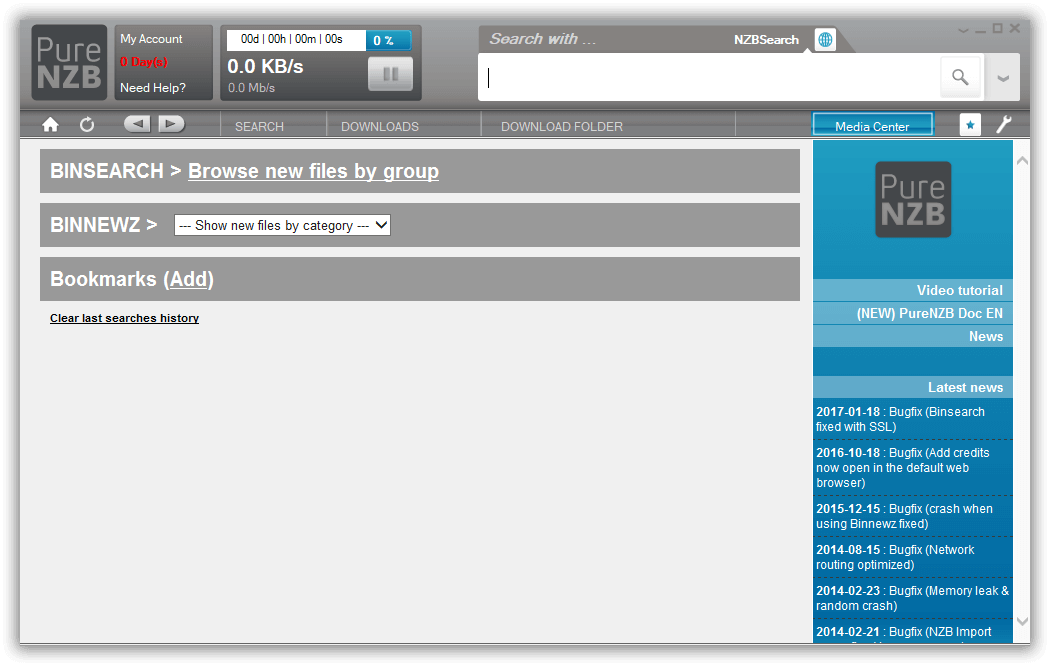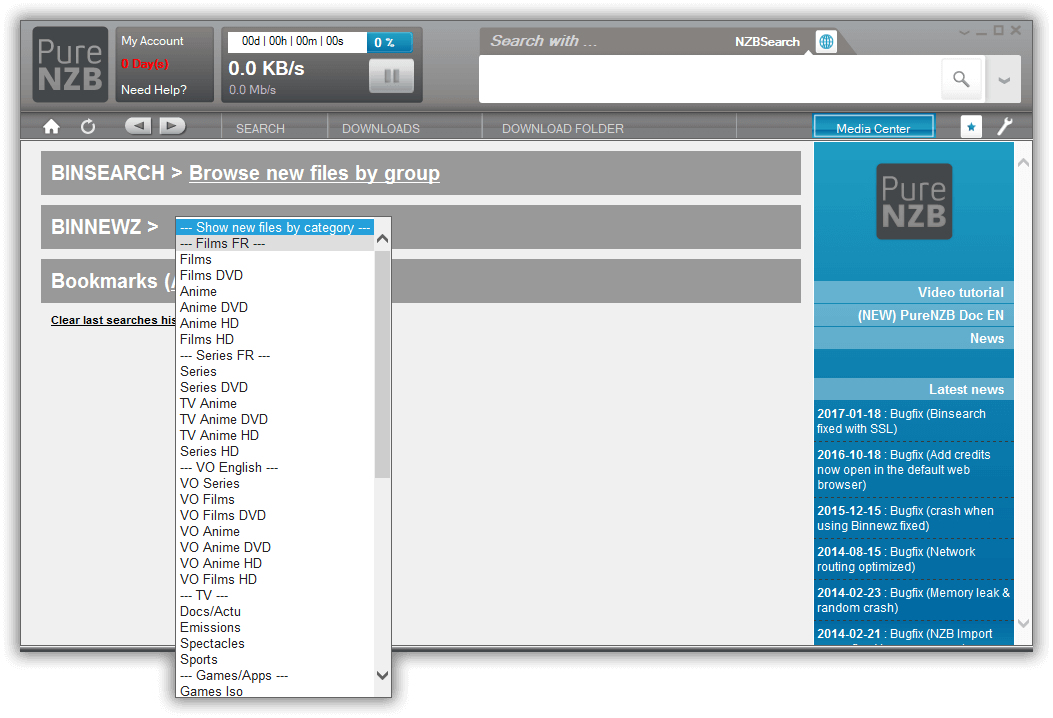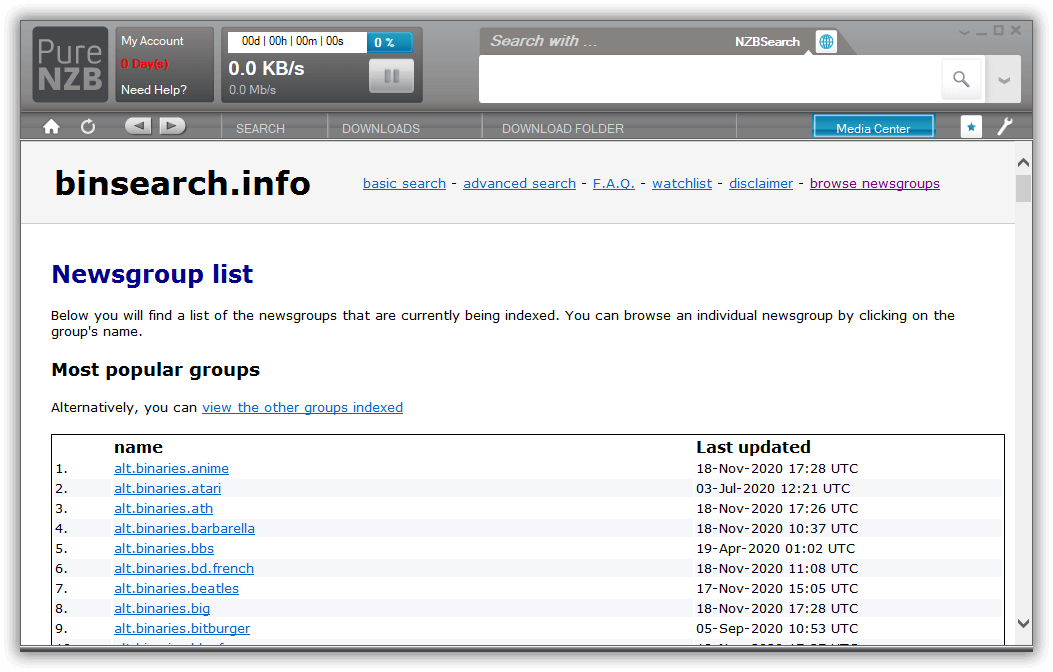 PureNZB is capable of automatic repair for missing and damaged files, and also decompresses files if necessary. PureNZB automatically updates the software when a new version is available - no need to manually install each version to access new functionalities.
You can choose to shut down or hibernate the computer after downloading the files it just downloaded.
And lastly, it has a streaming feature for videos while it is being downloaded. A Media Center on its right corner is also available for you to check some videos via IMDB, Google, Cinemotions, etc.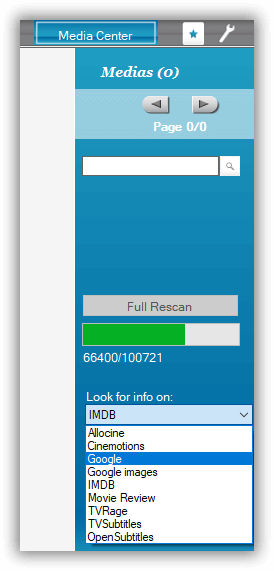 Security
PureNZB newsreader supports a 256-bit connection. This is a standard technology that keeps your browsing and downloading activity private from other users.
We noticed that the websites of the Usenet providers that host PureNZB are not secured. There are some risks in installing the program. Some computers detect that the software might cause some harm to your computer because of its unknown publisher and other technical discrepancies.
Pricing
PureNZB newsreader is free for Z51.biz and Unliminews users. You don't necessarily buy the newsreader per se since this is a free software that you get when you subscribe to their plans.
If you're planning to purchase or subscribe to any of their plans, you may refer to the following links for your guidance.
Usage Information
As of writing, the PureNZB newsreader is only available for Windows operating systems. It supports Windows XP, 2K, Vista and Windows 7.
Installation
Installing PureNZB does not require technical skills. You just simply need to download the installer and run it.
Allow changes on your computer;
Add the destination folder of the download and click 'Install';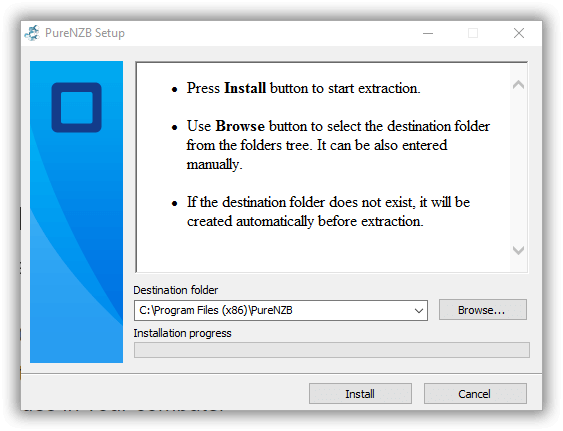 Log-in your Z51 and Unliminews credentials;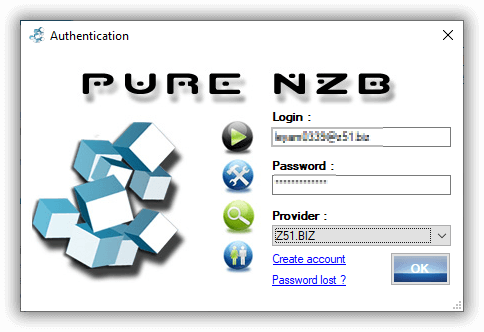 Click OK.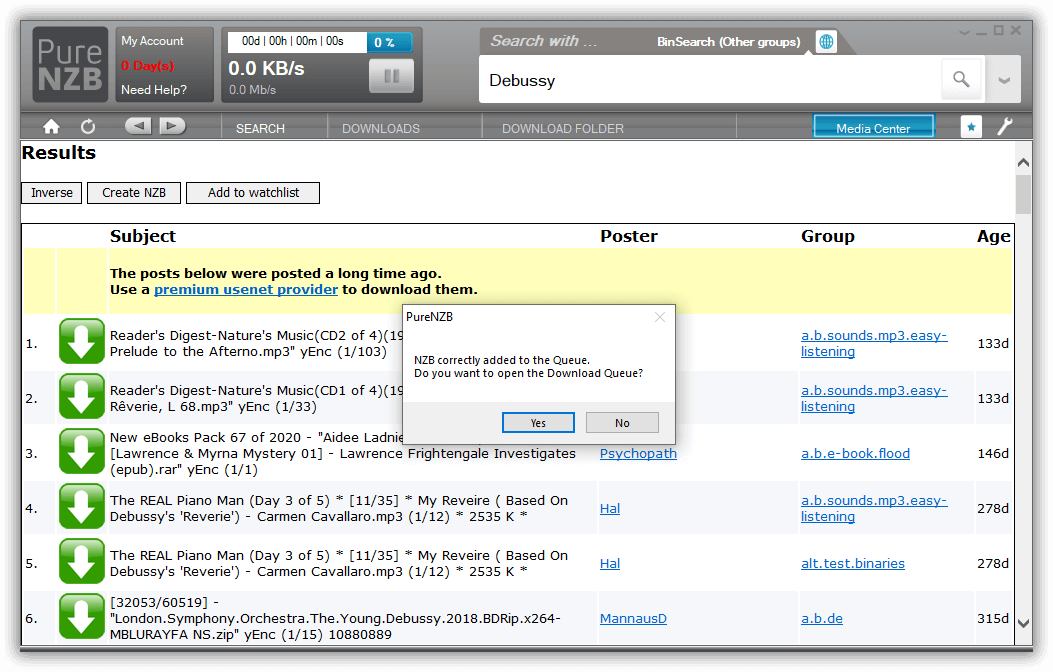 Configuration
PureNZB is already pre-configured upon installing the program, so you won't need to configure your server information again.
To refine your search and download capabilities, go to 'Option' settings.
The speed limit, maximum slots, preferred search engine, repair settings, and the preferred folder for your cache and extracted files can be found here. You can also import an NZB file from your PC in this setting.
Ease of Use
PureNZB is easy to install and use. It has some basic functions and labels used in its interface. Tutorials and support forms are also available.
If you have some questions, click the 'Need Help?' option in the upper left corner of the page. A new page will open for you where you can supply the necessary information like your OS, newsgroup client and the internet provider you are using, as well as your email address and the type of concern you have.
Summary
PureNZB is a free newsreader for Unliminews and Z51 users. It comes with a nice and unique interface with built-in search engines to help you maximize your searching capabilities. While this newsreader contains some desirable features that a newsreader should have, PureNZB cannot be used together with other Usenet providers. A subscription to Z51 and Unliminews is required to access this newsreader. In addition, there are several mentioned search engines or NZB sites that are integrated within the PureNZB software, but we'd like to mention that some of those mentioned sites and search engines are either inactive or obsolete.
We would like to reiterate that PureNZB is a great choice for Z51 and Unliminews users. However, there are better newsreaders that have no affiliations with specific Usenet providers that you can explore.