Last Updated: Mar 05, 2021
SABnzbd is a well-known free newsreader that runs on Windows, macOS, Unix and NAS devices. SABnzbd can be accessed and managed using different devices from the web browser of your computer to your tablets and mobile phones.
SABnzbd is popular in the Usenet community for a lot of reasons. It is completely free and is dedicated to downloading binary files almost exclusively. You would need to install SABnzbd to be able to access its web interface. You can also manage your downloads on any device; from your desktop to your tablet and even through your mobile phones. SABnzbd is also available in 16 different languages including Deutsch, Spanish, French and Portuguese, to name a few.
Features
This NZB downloader requires a little bit of learning when it comes to its usage, but it is definitely worth the effort. When correctly configured,, users can have a good downloading experience with this newsreader.
SABnzbd is consistently monitored and upgraded. Just recently, they released a stable version 3.2.0. They also put out testing releases with latest features. However, these beta releases are unstable and may contain bugs.
General Features
As previously mentioned, SABnzbd runs on different operating systems including Windows, Mac, Unix and NAS devices. And with their responsive Glitter interface, you can access SABnzbd through your laptops, mobile phones or tablets. There are also existing applications that allow you to manage SABnzbd like NZB360, LunaSea and nzbUnity.
SABnzbd can read and process RSS feeds, activate scripts and notify you after downloading has been completed. You can also automate your download process by integrating several apps like Sonarr, Radarr and Headphones with SABnzbd. Other features of this newsreader include small-screen scaling, easy overview of history details, and management of individual files.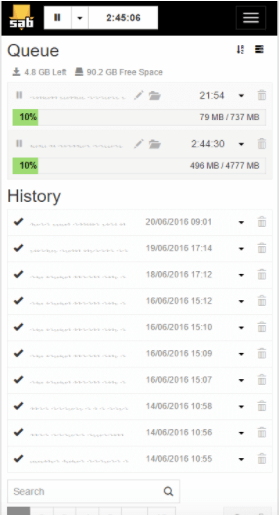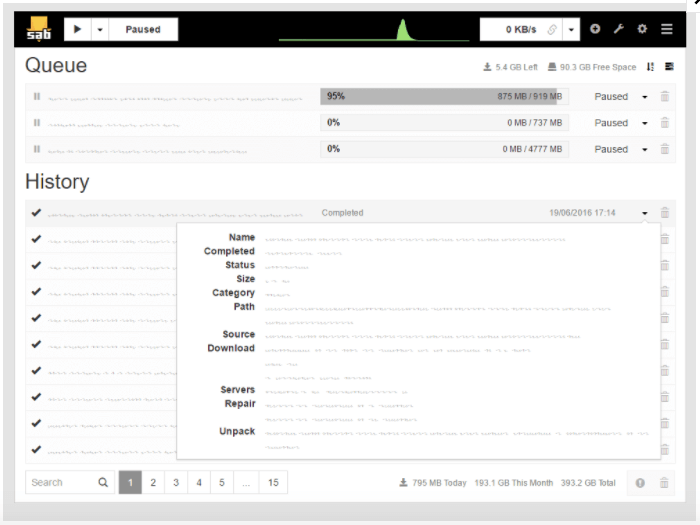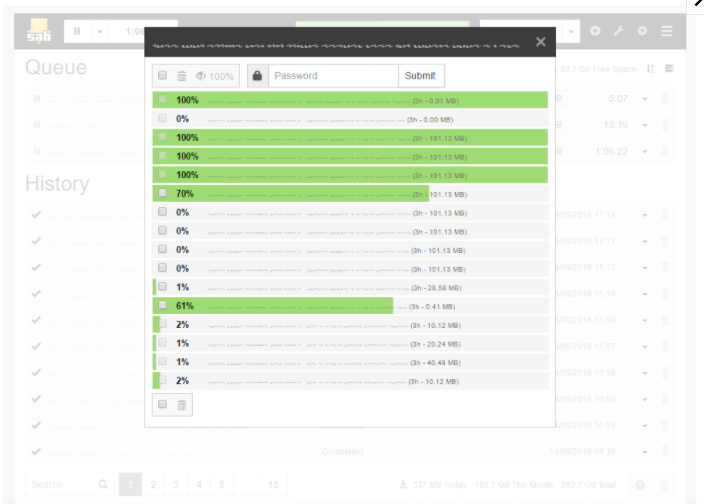 The download speed and connections you have would depend on the plan you're using from your chosen Usenet provider. Most Usenet services can maximize the bandwidth of your internet service provider, but SABnzbd allows you to set the speed limit of your download if you wish.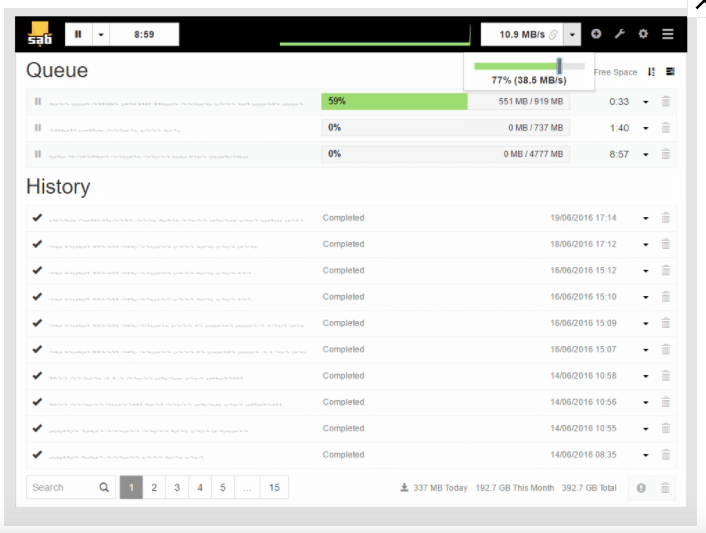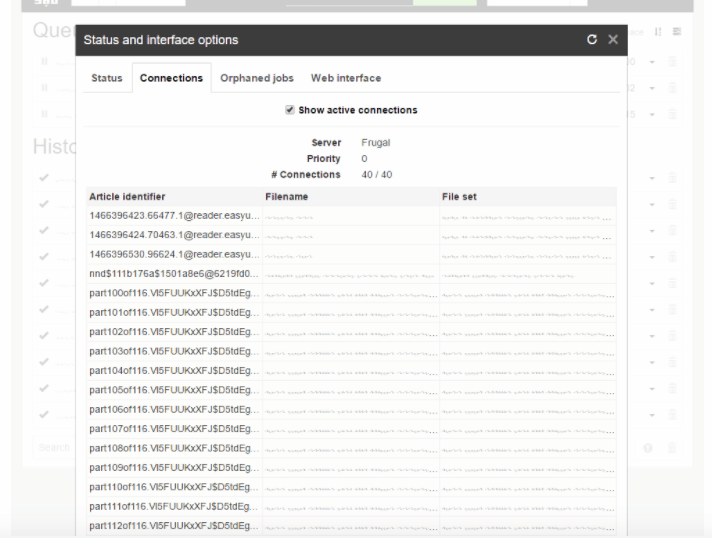 Security
To securely download from Usenet using SABnzbd, make sure you use SSL encrypted servers and ports which you can configure on the settings part of the newsreader's web interface.
Pricing
While SABnzbd is completely free, they do encourage users to donate to them to help them continue developing the software. Donations can be sent via PayPal, credit card, Bitcoin, Ethereum and Litecoin.
Usage Information
SABnzbd has a web based interface that will look the same on all platforms. It has a very low impact on your computer and under normal conditions will require minimal resources such as CPU and memory usage. If you do notice your computer slowing down then consider NZBget as an alternative
The web interface itself is designed neatly and is not over cluttered with loads of menus and tabs. You can also customize your interface through the status and interface options.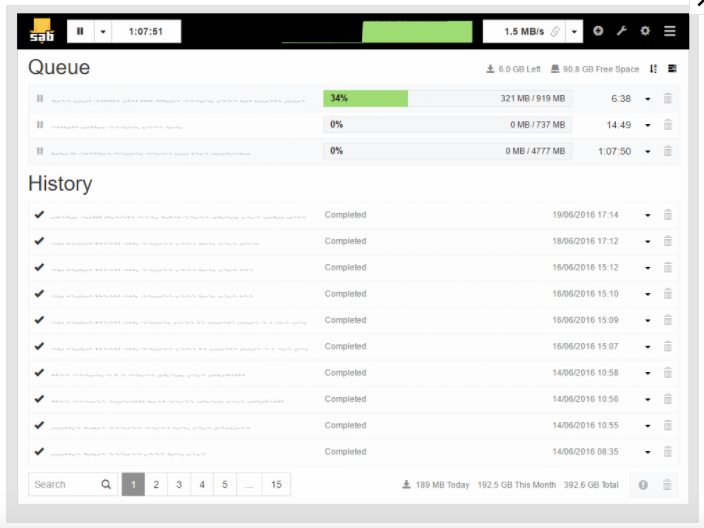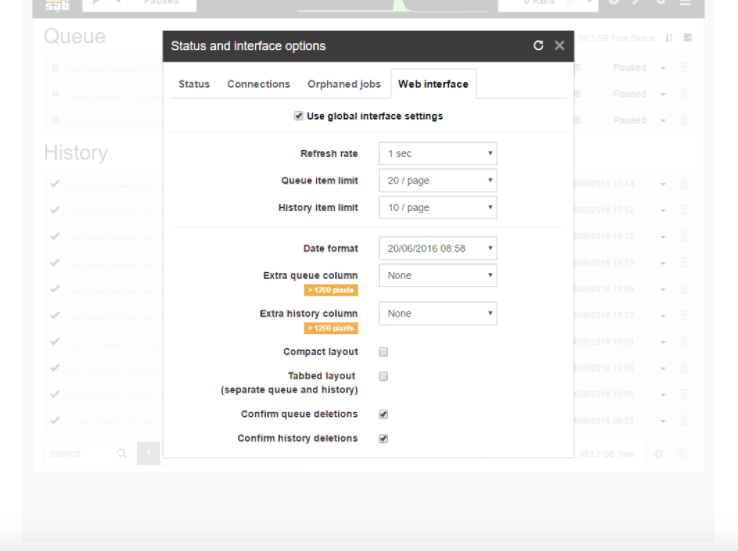 Installation
Installing SABnzbd is very easy. Simply download the installer you need for Windows or macOS and do the usual and necessary next steps. Once you've downloaded SABnzbd, just click on it from the folder it was directed to and it will automatically open the web interface. Next thing to do is to configure the settings.
For Unix/Linux, you would need to install several Python modules. If you have these modules, you can unpack the SABnzbd-version.tar.gz file and install it where you want it. Then, from the command line, start SABnzbd.py and the software will startup and open a web browser to show you the web interface.
For complete installation details, you can check the SABnzbd site's documentation page.
Configuration
This newsreader comes with defaults when you open the web interface for the first time. However, you can make changes and customize your settings according to your needs.
Configure your settings according to the standard details supplied by SABnzbd and the details given to you by your Usenet provider like server information and connection limits. To fully customize your settings, you can check out the web interface's general configuration settings.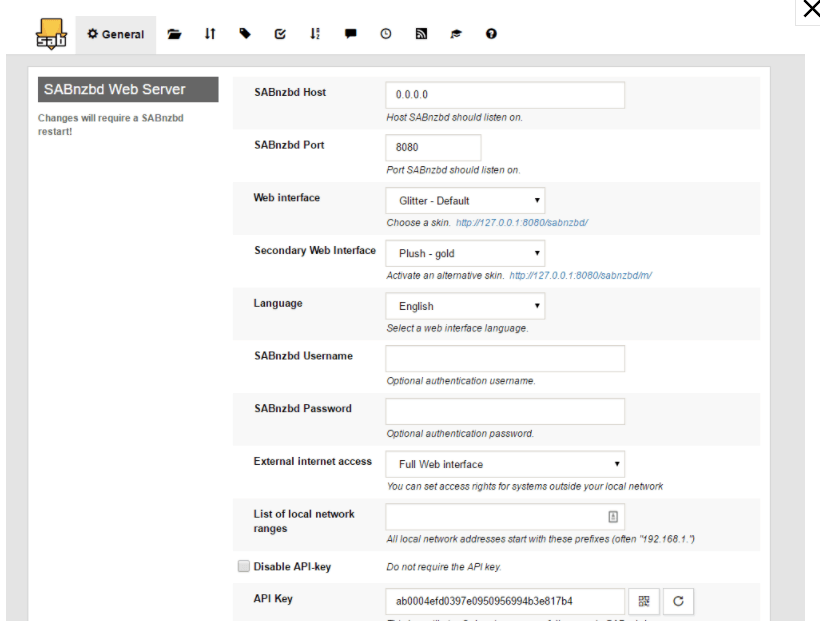 Ease of Use
SABnzbd is remarkably easy to use. With its clean-looking web interface, users can easily navigate through the different menu options and tabs available and have a pleasant downloading experience. To download files, fetch an NZB file from either a URL or look for a file in your device and upload it. SABnzbd also integrates with other tools like Sonarr, SickChill, Headphones, Radarr and Lidarr so you can automate your download process.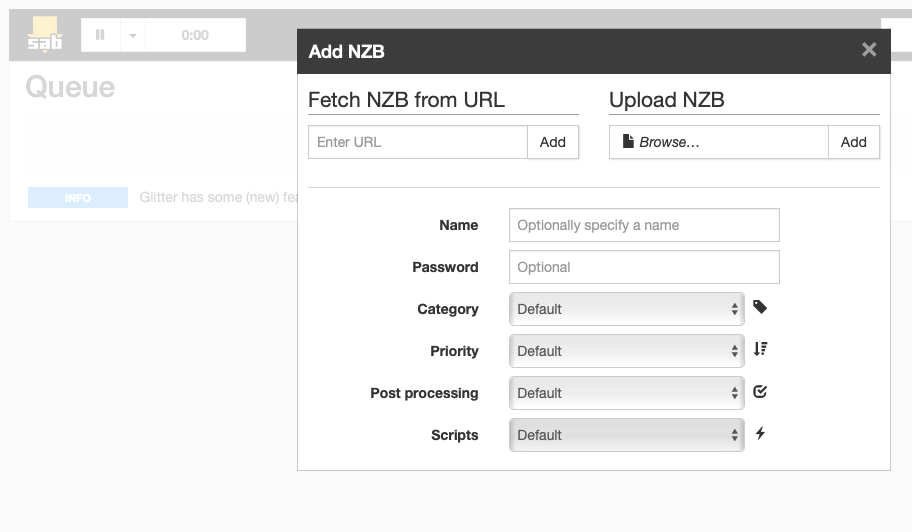 Aside from simple downloading, SABnzbd provides even more convenience with easy to find buttons to check your system and quickly change settings.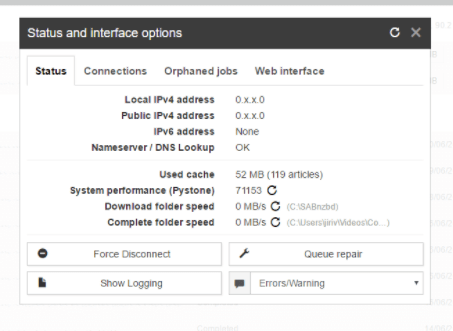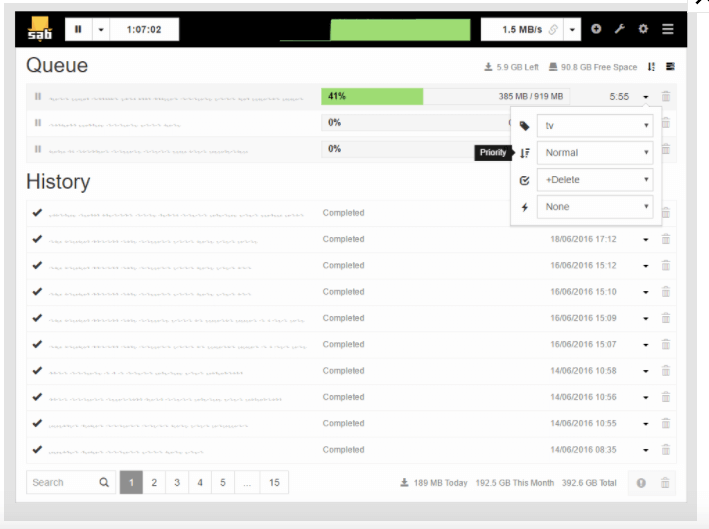 Summary
SABnzbd is one of the best there is when it comes to NZBdownloaders. They are popular in the Usenet community for a good reason, mainly because of their good features and how they have constantly been updated and improved. Currently, their 3.1 version is available for download on macOS, but they also have existing installers available for Windows, Linux and other platforms.
Aside from the pretty good features that we've already mentioned several times above, SABnzbd also has a good amount of support options available for users. On their website, they have a significant amount of information like FAQs and tutorials on how to use their software and how to troubleshoot possible technical issues. They also have an active forum page and a live chat participated by a good number of members. While SABnzbd is often compared to NZBGet, both have impressive features and a good standing with the Usenet community. You can check out our review on NZBGet to compare the two. Whichever your preference is, both are reliable NZB downloaders and are considered as one of the best nzb downloaders/ newsreaders in the industry today.