Last Updated: Feb 19, 2021
Unison is a Usenet newsreader specifically developed for macOS devices. Previously a paid software, Unison no longer requires a purchased license for users to be able to use it.
Unison is developed by Panic Software and won the Apple Design Award for Best Mac OS X User Experience back in 2004, as well as a runner-up position in the Best Product category. In 2014, Panic Software released the final update to Unison with version 2.2. This newsreader used to cost $29. However, since work on this software was discontinued, Unison is now completely free to download, and the latest version is automatically unlocked for all users with no serial number needed. That being said, Panic Software no longer offers support for Unison 2.2.
Features
In its heyday, Unison was one of the best macOSX newsreaders. It was designed for reading newsgroups and downloading binaries with automatic unpacking and repairing of downloads.
General Features
Unison has an integrated search browser function that allows users to search for files and NZBS. It is also capable of group browsing, segmenting and error checking utilities.
Users can define their own rules for managing groups and will be able to preview files to assure that they are downloading the files that they really need. The Favorites sidebar also makes finding specific groups easy and files are automatically grouped by file type.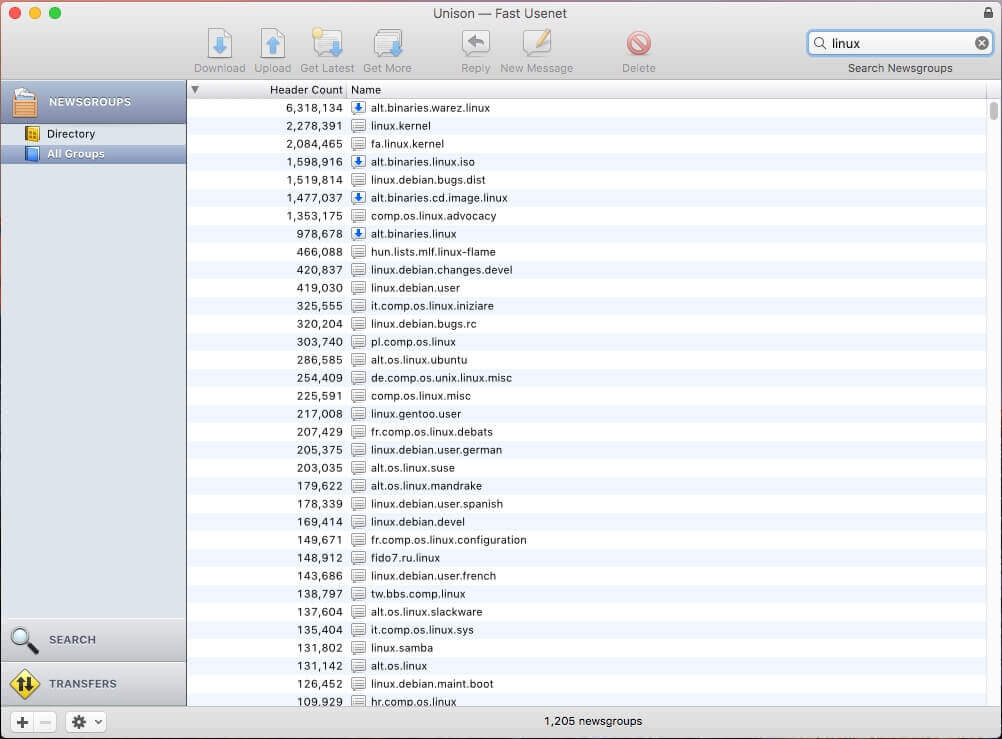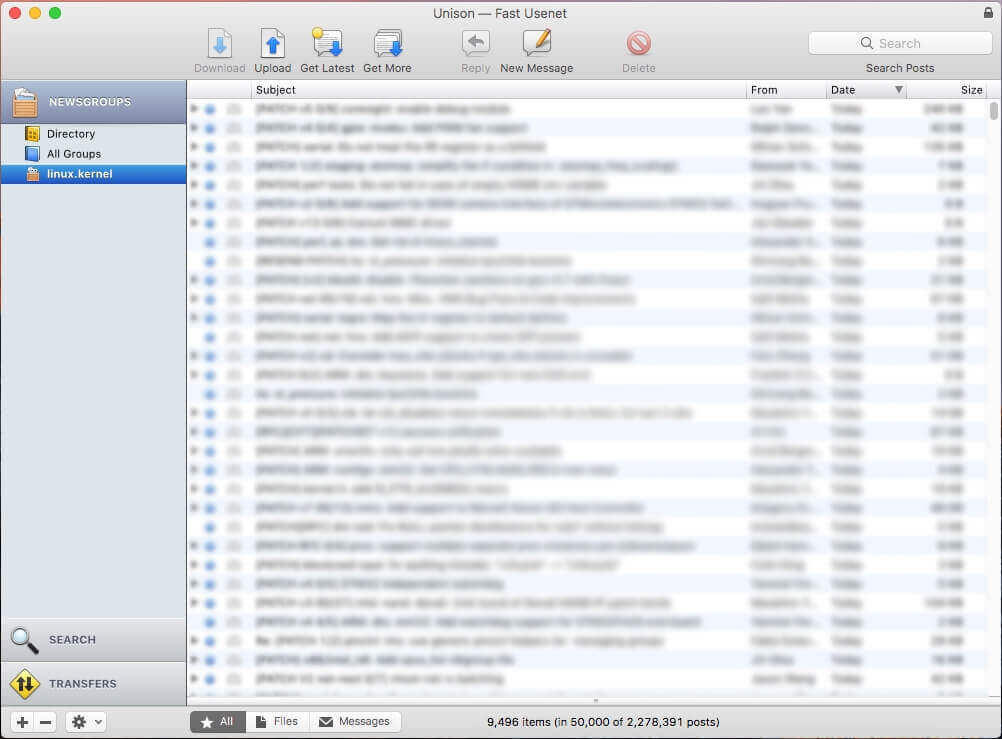 If you are doing several online-based activities, you may want to consider adjusting your download limit of your Unison app. You can do this on the server settings and look for the "Limit to" section.
The final update of Unison also includes multi-connection downloads for faster transfers and more Retina assets for newer Mac devices. Outstanding bugs and quirks have also been fixed.
Security
For a secure and private access to Usenet, use an SSL server and port. You can configure this on your Unison server settings and type in the necessary information coming from your Usenet provider. Be sure to check the "use SSL" box on your settings page.
Pricing
As mentioned, Unison was formerly a paid software costing $29 to use. But since the discontinuation of this newsreader's development and since Panic Software no longer offers support, Unison is now completely free.
Usage Information
As of November 2014, version 2.2 of Unison was released as the latest and final version of this newsreader. Since work on the software has been discontinued and with the emergence of other new Usenet downloaders, Unison may be dated if compared to other constantly improved newsreaders. Nevertheless, using Unison is still a treat. With its clean and simple interface and decent features, users will still get to have a good downloading experience with this newsreader.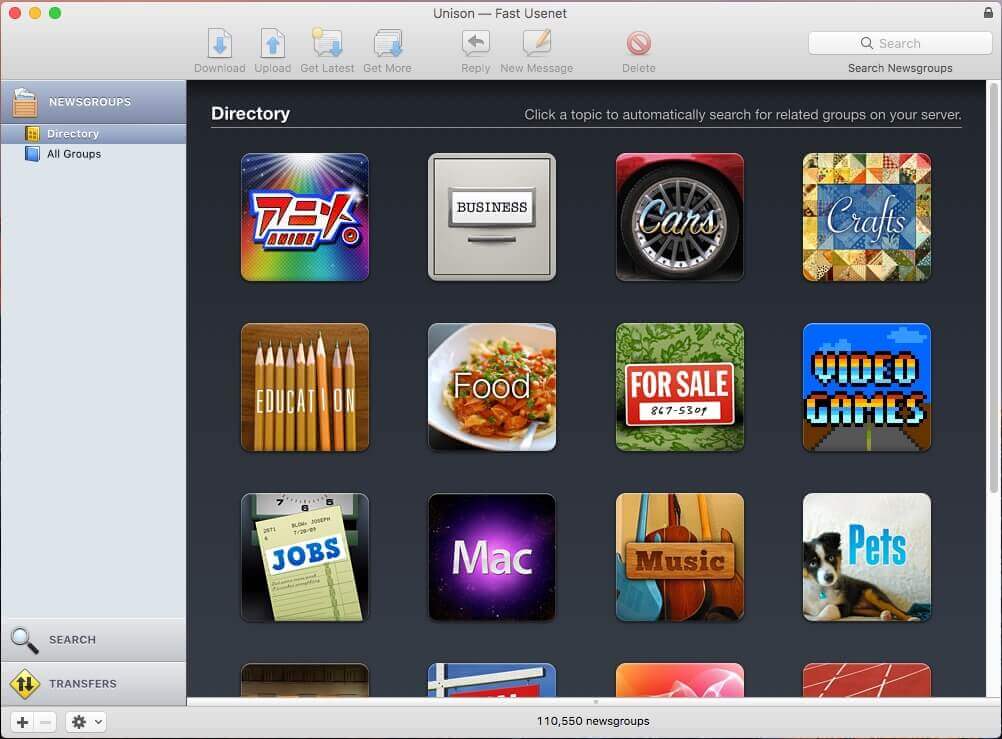 Installation
You can download the version 2.2 zip file of Unison on the Panic Software website and simply unzip it after downloading. Open the Unison application and start with your configuration process.
Configuration
Once you are on the main page of the Unison software, click on the "I have a usenet server already" button. This will direct you to the server settings, and from there you should enter all the necessary information you need to start downloading.
You would need to check your active server and type in your server nickname, server address, port, your username and password provider by your Usenet service, and back-up server if there's any. Also supply the maximum number of connections your Usenet provider allows and limit your download speed if you want to.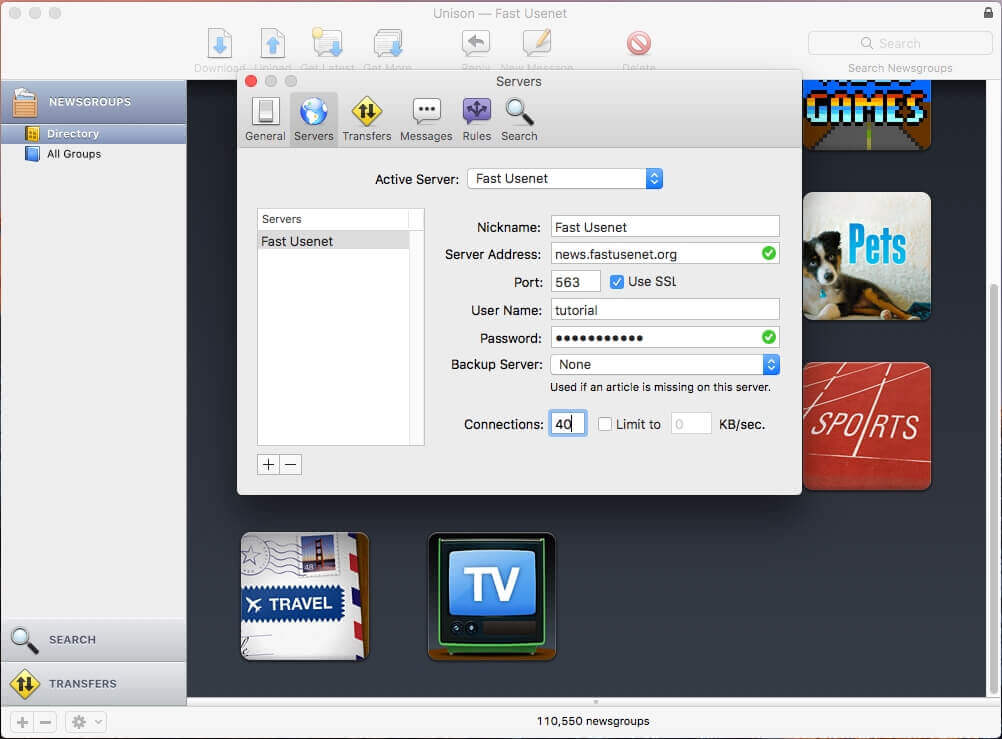 Ease of Use
For first time users, you will be redirected to a categorized directory on newsgroups when you're done configuring your server settings. This would help you look for groups that you may be interested in. You also have an option to see all the available newsgroups. You can use the search box available to search for files within these newsgroups, and it will quickly generate results so that you can start downloading the articles you need.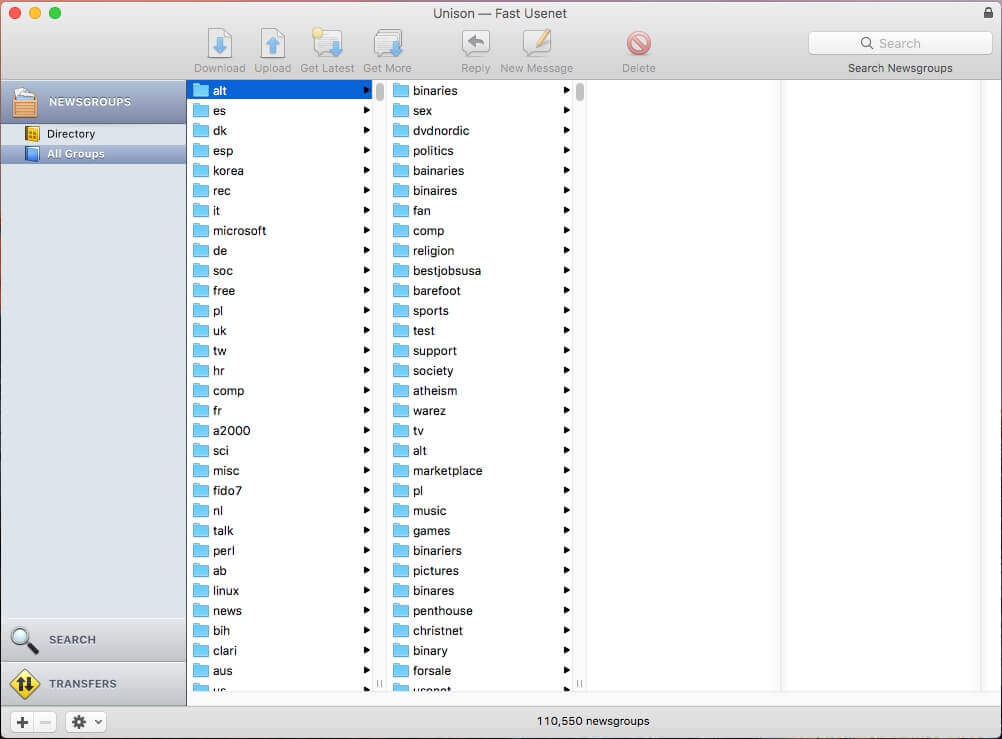 Once downloaded, you can now view and post to the newsgroup. The newly downloaded articles should appear on the right menu of the interface.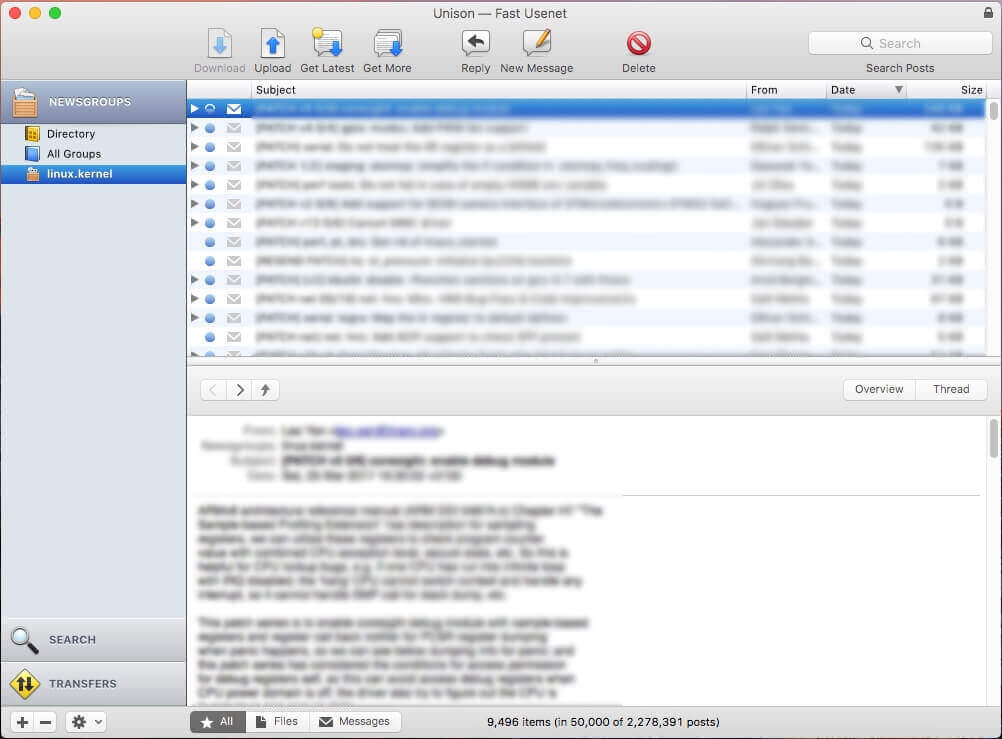 Summary
Although work on Unison has been discontinued for several years now, this newsreader still has several good features for Mac users. Unison has an easy-to-use interface that can be navigated well by even new users, and it has solid features that can compete with other newsreaders out there. However, with the constant updates of other existing newsreaders and the rise of new NZB downloaders, Unison might get left behind due to concerns of users with it being unsupported and outdated. Nevertheless, this newsreader has been award-winning for good reason–it provides good user experience and is a decent product for binary file downloading.