Last Updated: Feb 22, 2021
Usenapp is a paid Usenet client designed for Mac OSX users. It requires a v10.11 version of the operating system or later.
Developed by Xorox Software, Usenapp is a relatively new newsreader. But that doesn't mean that this Usenet client cannot compete with other top newsreaders in the market today. However, Usenapp was only developed for Mac users and cannot run on other operating systems like Linux and Windows. That being said, Usenapp offers some pretty good tools to optimize Usenet usage.
Features
Usenapp is a 64-bit Usenet client that has the basic features of a newsreader plus several additional features that could enhance user experience.
Usenapp requires payment and a MacOS v10.11 or later for you to be able to download this application.
General Features
Usenapp allows you to browse newsgroups and take part in threaded discussion by downloading headers quickly and efficiently. This newsreader also supports a huge number of indexers, including Spotweb and Newznab sites, for you to be able to search for NZB files easily.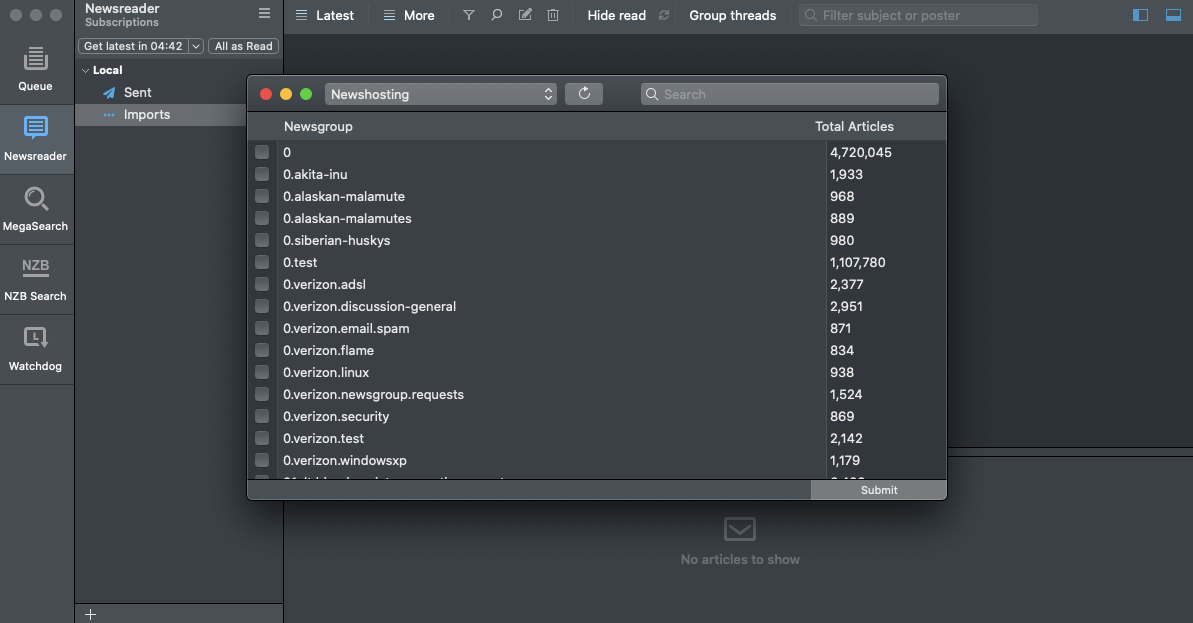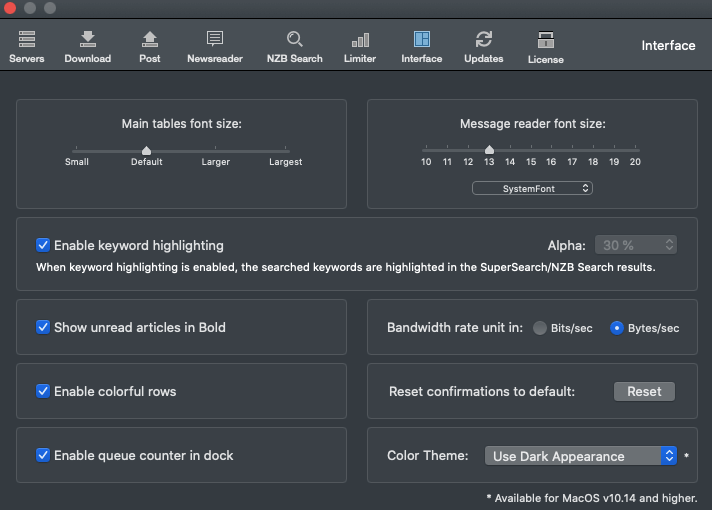 It has what they call a SuperSearch and MegaSearch feature that allows you to search Usenet in the last 30 days and 11 years ago, respectively. And like most newsreaders, Usenapp can fix your downloads by repairing, merging and extracting your downloaded files in a fast and efficient manner. It also has an auto download feature called Watchdog, which instantly checks indexers for content and downloads them immediately after it has been posted. You would simply need to enter the search entries you want.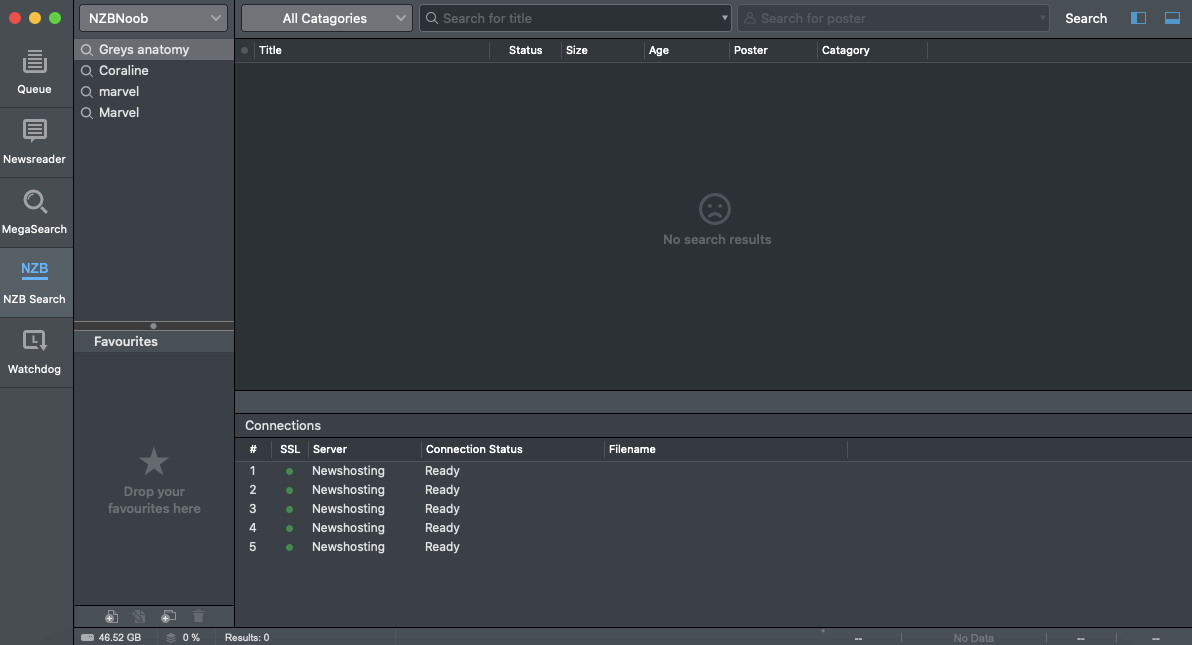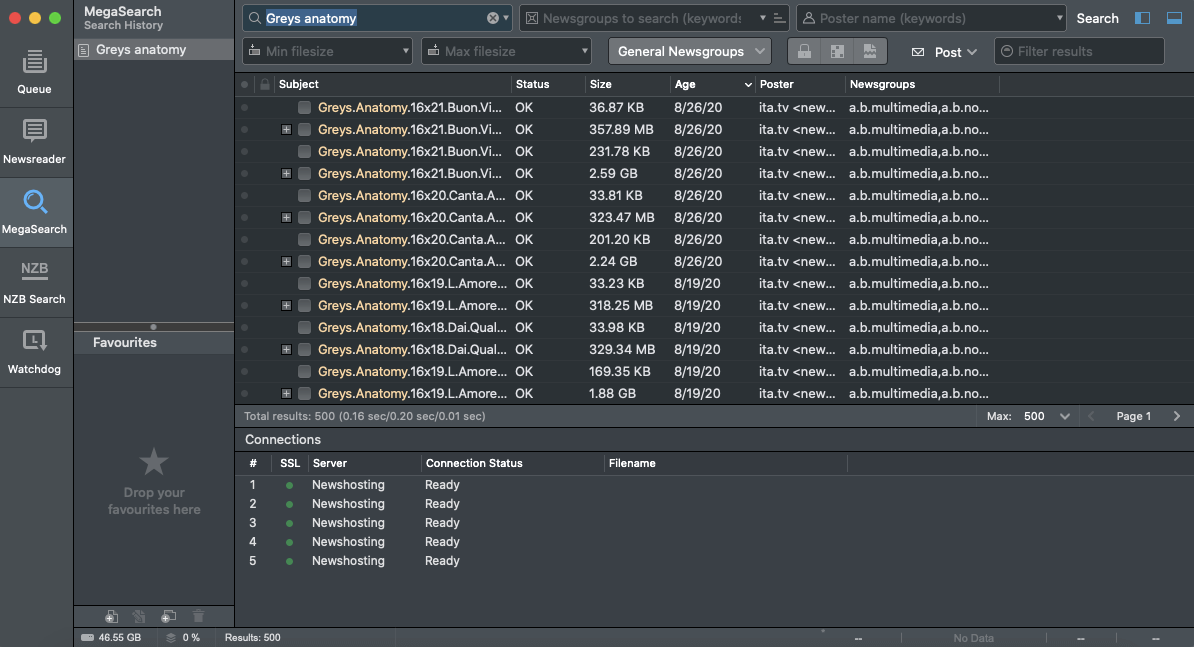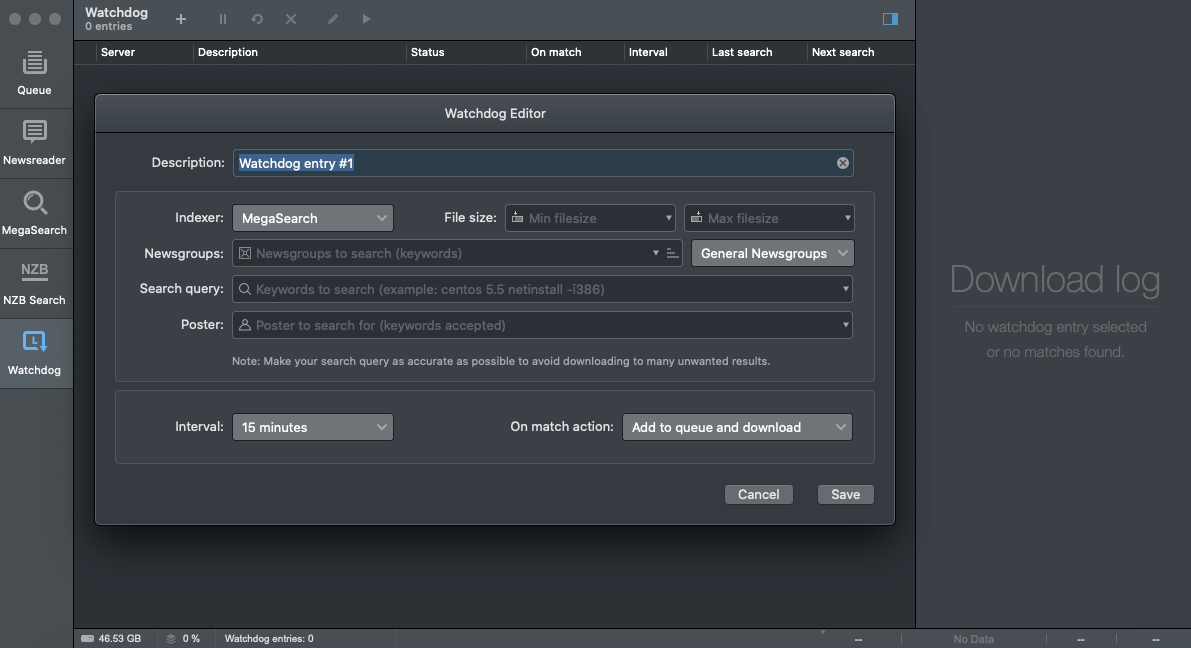 With Usenapp, you can set up as many servers and back-up servers as you need, and the number of connections, of course, would depend on your Usenet provider of choice. We recommend that you use one of the top providers to assure you of the best browsing and downloading experience. However, your download speed would also depend on how fast your internet connection is. Downloading binaries can go up to full speed and maximize your bandwidth, but Usenapp has a built-in speed limiter that allows you to adjust the download speed at any time of the day.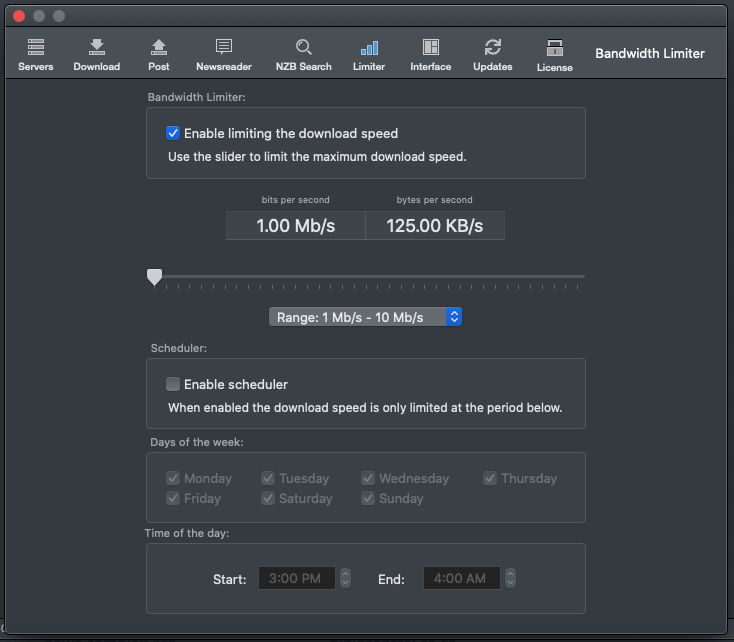 Security
For secure and private access on Usenet, set your port on your Usenapp server settings on SSL enabled. This would automatically change the key to the SSL port of your server.
We would also like to mention that Usenapp does not log any of your search queries, posts or downloads.
Pricing
Once you've downloaded the app, you can use Usenapp for free for the first 7 days. After that period, you would need to purchase a Usenapp license which costs €29.98. This includes:
· Usenapp license
· SuperSearch license (free)
· MegaSearch included for 3 months only
· License key can be shared and installed on a maximum of 3 devices
As of writing, Usenapp is offering a 30% discount when you purchase their license. And since MegaSearch is only free for the first 3 months, you can continue with this feature upgrade starting at €1.99.

Usage Information
Usenapp was developed with customer experience in mind. With several great features specifically catered for Mac users, usage for this newsreader is easy and searching and downloading can be done quickly and efficiently.
There is a bit of a learning curve when configuring settings on Usenapp, since there are several settings you would need to fix prior to fully using the app. But once you've figured it out, the whole user experience is good.
Installation
Like most Mac applications, you would simply need to download a .dmg file to be able to install Usenapp. Simply go to the Usenapp website and look for the download button. This will automatically download the latest version of this software. After that, open the .dmg file. Once opened, move the Usenapp icon to your applications folder and open it there. A usage and license agreement will pop up, so just agree to the terms and you can instantly configure your settings and use the Usenet client.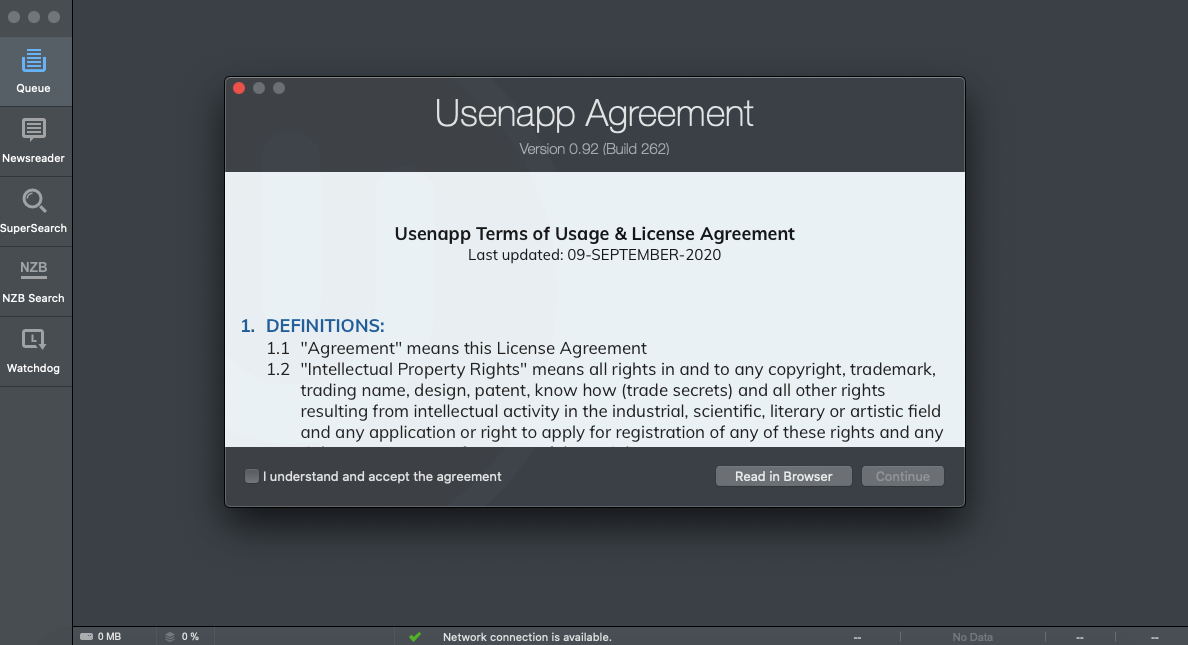 Configuration
Once you're in Usenapp, it will prompt you if you want to fix your server settings. On the settings page, just type in your server name, server address, port number and maximum number of connections allowed by your Usenet provider. You would also need to enter your account details as given by your Usenet service. You will also be able to test your server settings to check if it is working or if you entered the correct information.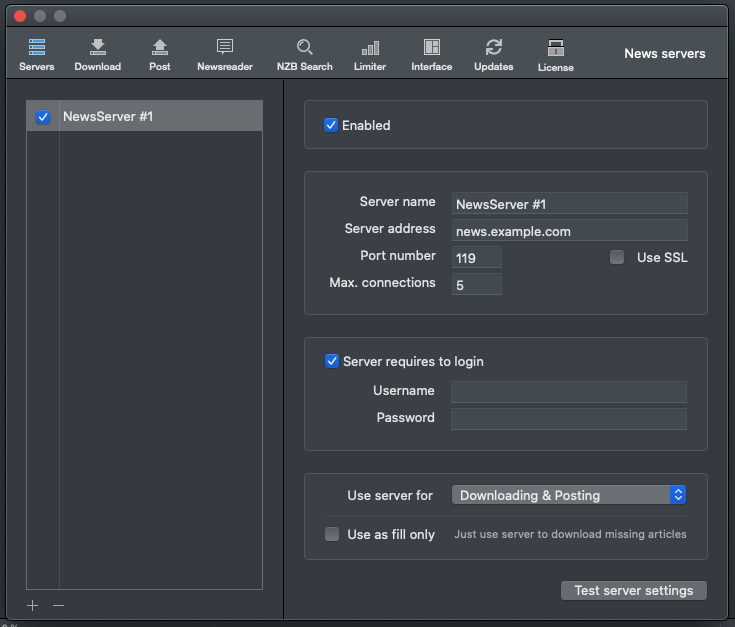 To be able to use NZB search, you would need to add an indexing site to the Usenapp system. It will present you with an option between Newznab or Spotweb index site. You can input several indexing sites and use those sites when you search for NZBs.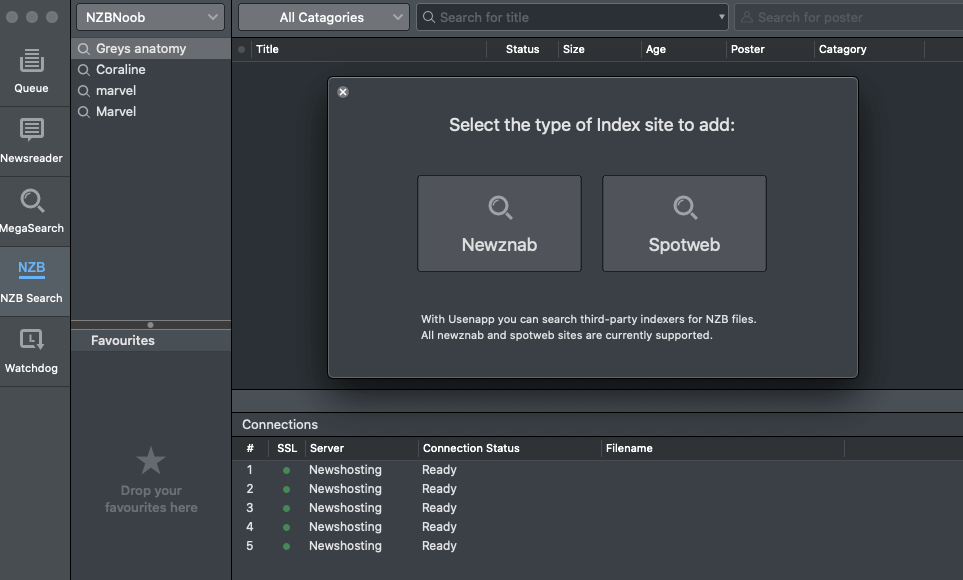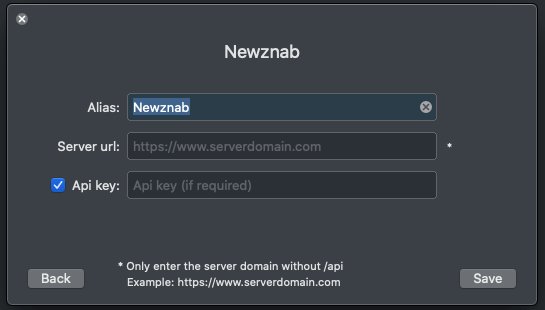 Ease of Use
If you are a veteran newsreader user, then figuring out how to use Usenapp will be a breeze. Basic functions and advanced features are easy to understand and know how to use. However, if you are a beginner, you might need to explore and navigate through all the available buttons on this application to better understand what each is for. But once you get the hang of it, you would have no other problems using Usenapp.
Searching for files or browsing through the newsgroups page is as easy as doing a google search. You can also easily download files by clicking on the search result of your choice and It will automatically put the file on queue for downloading. And as previously mentioned, you can also use the Watchdog feature and enter the search entries you want so the software can automatically download the files you want as soon as it becomes available.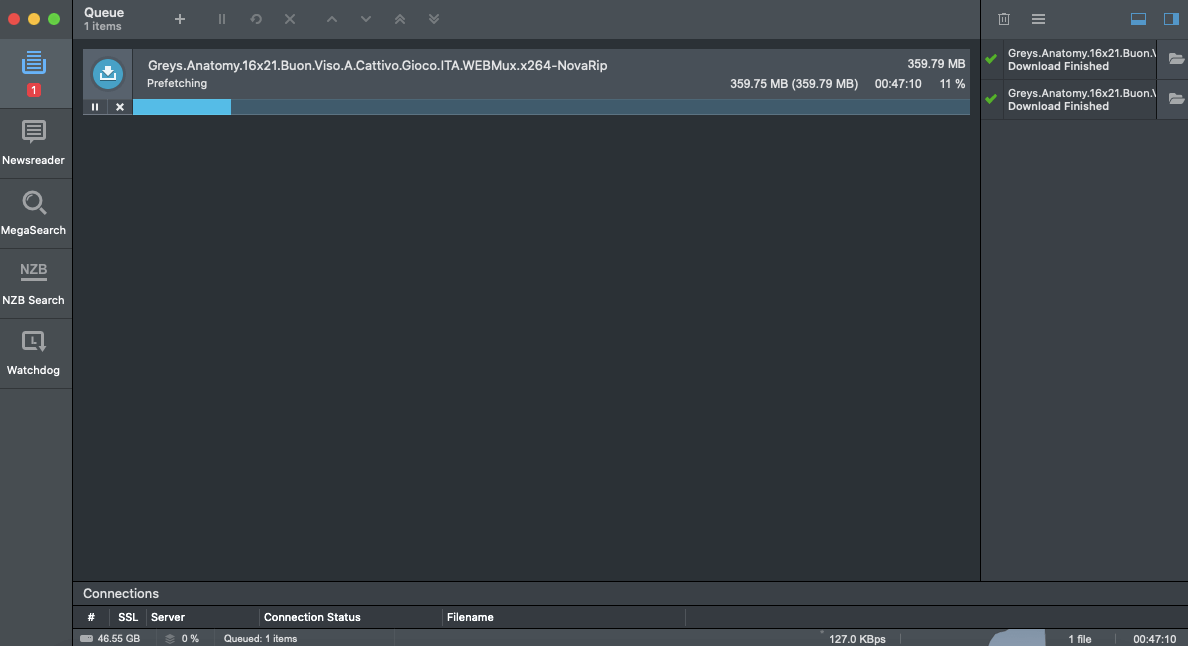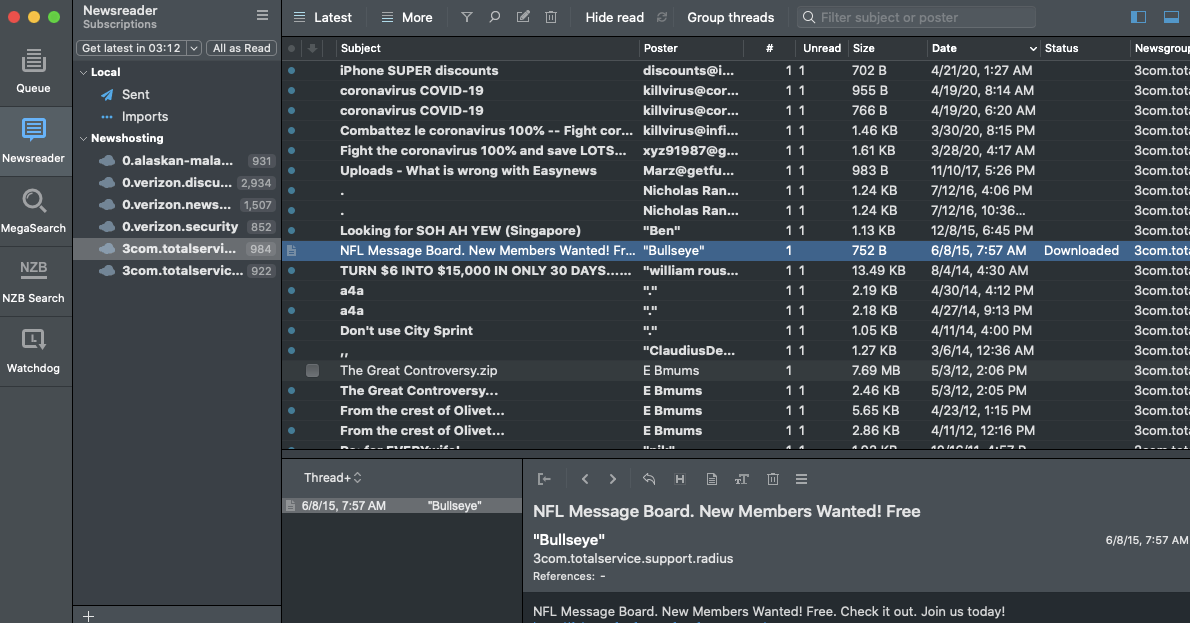 Summary
While Usenapp is relatively new and not so popular in the Usenet community, this newsreader has some pretty good features that would suit the needs of users. However, this Usenet client is only available for Mac users. Despite that, Usenapp can compete well with other newsreaders that only run on MacOS. We especially like their MegaSearch feature, which allows users to see and download files that have been posted up to 11 years ago. But probably the question now is if this newsreader is worth the amount you are paying for. To know if this newsreader is right for you, download Usenapp from their site and try it out for free for 7 days.