Last Updated: Feb 24, 2021
XNews is an online Usenet newsreader that is inspired by NewsXpress Newsreader. It supports multiple servers and has an advanced filtering feature.
XNews is a newsreader that was written to reflect the preferences, habits, and sensibility of the developer. It is a freeware program that can be downloaded by anyone interested.
XNews is 100% Good Netkeeping Seal of Approval (GNKSA 2.0) compliant, and the codes are written in Delphi which runs in an executable file.
Features
Storage feature;
Optional header and article caching;
Supports multiple servers;
Score file for advance filtering;
Manual pages available;
Downloads binaries (mime, base64, UU-encode);
Plonk file;
Customizable .ini files;
FAQs and Manual supported.
General Features
XNews supports multiple servers. You can open up to 4 servers (maximum) at once.
The storage feature will enable you to retrieve headers you visited recently. This is a pseudo-offline feature that is like a permanent cache so you won't have to load headers the next time you visit it.
Quick Filter/Regex will only show the articles whose subject/author matches your searches.
The scoring system was also inspired by Slrn newsreader, from which the developer gets the idea. Basically, every article is assigned a score from -99999 to 99999. Articles with a score of 99999 or more are marked and considered important.
The following settings may be overridden and customized under the .ini file:
Name
Email
Public EMail
IDToken
Organization
SigFile
MultipartThreading
SortOn
SortOrder
ColumnLayout
ExpandAllThreads
FullScreen
AttachDir
DecodeDir
Archive
Queue
NewsAttrib
MailAttrib
ForwAttrib
OnOpen
OnLoaded
AltServers
Security
XNews does not support SSL connection within the reader, but it can be added using a service like Stunnel's open SSL library for cryptography. It is also advisable to always use a VPN to protect your browsing and downloading activities when online.
Pricing
As mentioned, XNews is free to use and download. Make sure you visit a secured downloading site before you download files from the internet.
Usage Information
XNews is composed and built with an endless Beta version. The developer favors frequent updates than stability. XNews is a 32-bit newsreader for Windows operating systems. It was last updated in July 2005 and is used heavily in the United States, United Kingdom, and Australia.
Installation
There is no installation process for using XNews, just unzip the downloaded file, and the program will automatically open.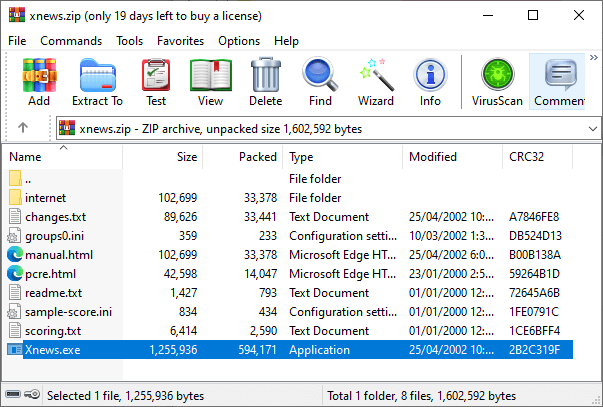 Configuration
After you run the .exe file, a pop-up dialog box for the news server will be displayed. Enter your news server details, and click OK.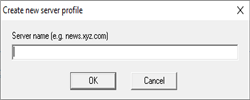 The next dialog box will ask for your Alias. Enter whatever nickname you want, and click Next.

A Setup dialog box will be displayed, and click 'Servers' and enter your Server name and address, Username, and Password. Note: The SMTP (Send Mail) is not required.

Enter 119 in the Port Number.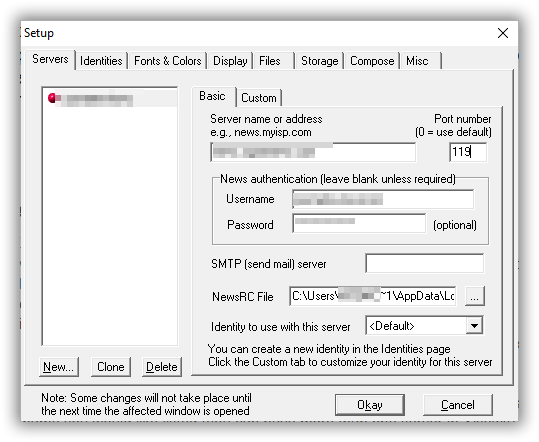 Select the 'Identities' tab and fill out the details, and click OK.
A pop-up dialog box will appear saying, "Retrieve the entire list of newsgroups from the server?" Click Yes.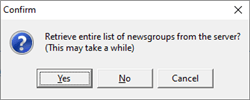 You may visit the other tabs in the Setup settings for customizing the text styles and background color.
Ease of Use
You can use different email addresses from personal to public. Public Email is what you use when you post on Usenet. In contrast, a personal email is what you want to use when you would like to reply to a private message.
ID Tokens help the newsreader track your posts and alert you on any updates and notifications.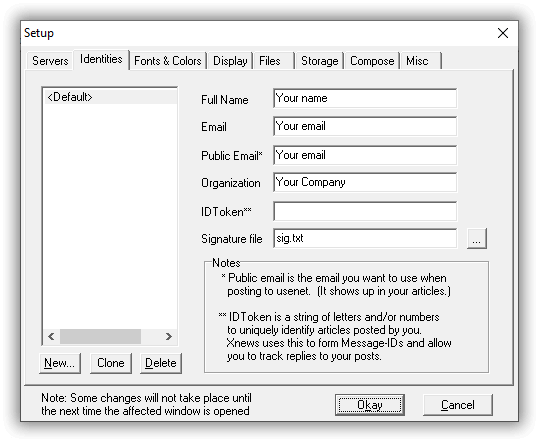 Once you've installed the program, an online manual is included in your download. This is where the developer explains the not-so-common features of his newsreader. This is not a basic step-by-step guide, but more of an explanation of why he chose a particular feature to be included in the program. It would also be beneficial to pay attention to pop-up hints. This newsreader has some tips and tricks on how to use it. The available manual also contains dozens of shortcut keys to perform several functions.
Overall, the interface of XNews newsreader is very old-looking. It's a bit quirky, and if you are not familiar with some basic technical terms i.e. purging, scoring, xpat, catching up, etc., you will likely be confused with the more difficult functions and processes of this newsreader. Although this newsreader lets you customize its interface, XNews remains too difficult to navigate.
Summary
XNews is a newsreader that downloads binaries and supports multiple servers. It is fashioned after NewsXpress newsreader, which is no longer in development. The interface is very old-looking and is not as user friendly compared with other newsreaders. Although there are a lot of negative impressions in terms of its interface and functions, we should remember that this newsreader is made based solely on the developer's preference and not the immediate needs of most Usenet users.
XNews newsreader is a freeware program that can be enjoyed by anyone interested to try. And although there are times when the program is slow and some terms and functions are not intuitive at all, we think XNews is one of those newsreaders worth trying especially if you have the diligence to read up the whole manual.