BinnewZ
Last Updated: Mar 04, 2021
BinnewZ France is a free French-language NZB indexer that allows downloading of NZB files directly from their site.
BinnewZ France is an NZB indexer specifically tailored to the French language. With a decent number of newsgroups crawled, BinnewZ France offers NZB files like films, series, music, console, applications and games. The site was previously declared a dead site but has been online again during the fourth quarter of 2020.
Features
BinnewZ is completely free when you register on their site. There are no options for VIP accounts that provide features upgrades. They have approximately 300 newsgroups in their system with roughly around 300 days of retention. Their indexer runs every 15 minutes, which means you can see files as quickly as it is uploaded. BinnewZ, however, does not provide an API but does offer RSS.
Pricing & Payment Methods
As mentioned, BinnewZ is a completely free NZB indexer. They do not have any VIP accounts, but they appreciate donations to be able to maintain and build a better community. You can donate between 5 to 50 Euros or Dollars via PayPal.
The free membership gives users forum access and 3 NZB grabs per day.
Retention
BinnewZ has a retention of up to 300 days from its 300 newsgroups crawled in their site.
Interface
BinnewZ runs on a community forum-based software. Files are categorized by apps, films, vo films, series, tv, console, nextgen or games, music and others. The site is easy to navigate and registration on forums can be done with just a few simple steps.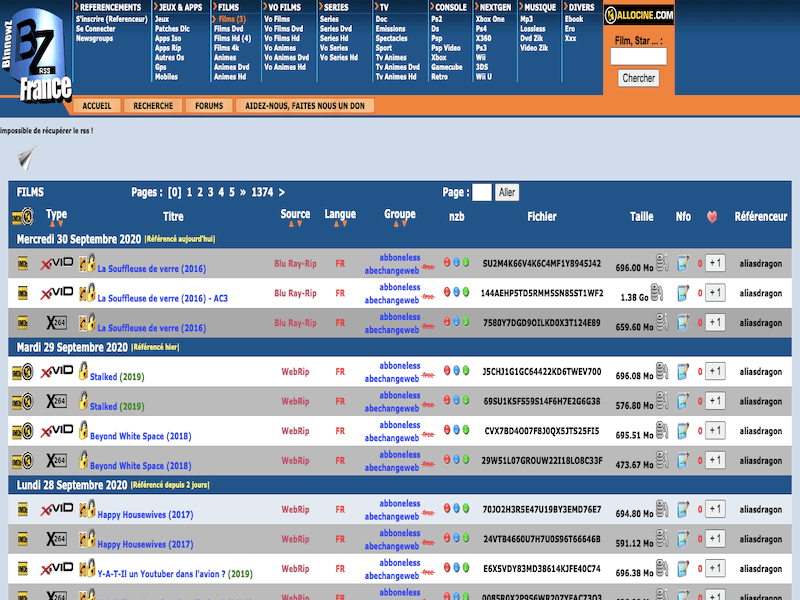 Technical Details
Although BinnewZ was previously considered a dead site, it is now fully online and active again. This NZB indexer has a current uptime average of 97% and a response time of about 4000 milliseconds. It is important to check the site once in a while to see if it is still running.
Summary
BinnewZ France is specifically catered to those who are looking for French-language NZBs. While it has a specific niche that it focuses on, they are a great option for those who are included in that niche. The site is very easy to navigate, and files can easily be accessed through their given categories and through search results. BinnewZ also has an active forum and shoutbox available for both old and new users.