SceneNZB
Last Updated: Mar 03, 2021
SceneNZB is a German NZB indexer that has an extensive number of German NZB files. However, they also have mainstream English files indexed in their system.
Note: As of October 2020, SceneNZB has decided to go offline due to some losses they've had. They are planning to give away the NZBs they have collected over time to smaller projects as a start-up aid.
SceneNZB is a decent option as far as indexers are concerned. They mainly have a lot of German files but also include mainstream English files that users can download. SceneNZB does not host any files and only indexes the contents of Usenet.
Features
SceneNZB is an open registration site but also allows invites through existing paying members. It has both a free tier membership, and a paid membership. Their free tier is limited in the number of API hits and NZBs per day. Users can access movies, shows, games, audio and books privately since the site runs with SSL encryption. Users can also choose RSS feeds from site categories and can enjoy access to the SceneNZB forum page where they can explore topics and questions and also post comments and inquiries.
The site provides constant updates on their services and has integrations with Radar and Sonar.
Pricing & Payment Methods
This indexer has 3 membership levels, each differing on the number of API calls and NZB grabs per day. Paid membership can be availed over a period of 1 month, 3 months or 6 months. Currently, only bitcoin payments are accepted.
| Plan | 1 mo price | 3 mo price | 6 mo price | NZB Grabs | API Calls | Invites |
| --- | --- | --- | --- | --- | --- | --- |
| Free | €0 | €0 | €0 | 5 | 10 | 0 |
| Professional | €3 | €8 | €15 | 400 | 400 | 2 |
| Unlimited | €4 | €11 | €21 | 10000 | 10000 | 4 |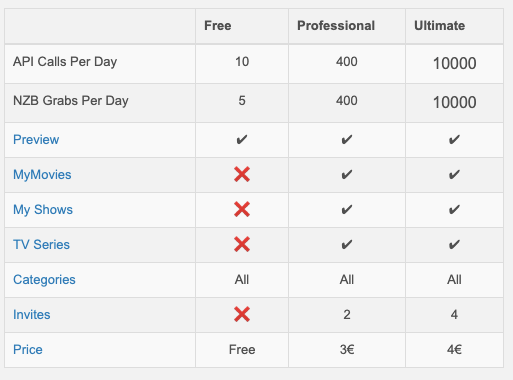 Retention
Retention information is not disclosed with this NZB indexer.
Interface
SceneNZB is a newznab-based indexer, which is a Usenet indexing application that makes building a Usenet community easy. Files on the SceneNZB site are categorized well and can be searched quickly and easily through a search box. Searches can be filtered according to genre and file type. The site also has intelligently grouped messages for user-friendly access. Their interface is clean and can easily be navigated even by new Usenet users.
Technical Details
There is no hardware information or other technical details disclosed by SceneNZB, but based on uptimerobot, the site has a response time of 4400 milliseconds and a 98% uptime average.
Summary
If you are looking for a variety of German-language files, then SceneNZB might just be right for you. They are a solid NZB indexer with a surplus of German files, and they have an easy-to-use interface that would be of great experience to all users. Their pricing, however, could be improved. While they have a free level membership that has a decent amount of NZB grabs and API calls per day for light users, their paid membership is priced higher if you compare them to their English-language competitors. You can get a yearly membership with other NZB indexers for the 3-month price you pay with SceneNZB. You may want to explore the site first and check out their content before committing to a paid membership and see if they are a right fit for you.