WtfNZB
Last Updated: Mar 02, 2021
WtfNZB is an open NZB site that is completely free. There are currently no plans for VIP accounts, but they are open to voluntary donations to support the site.
WtfNZB is a Usenet indexing community site that provides unlimited NZB downloads for free. The site currently has a hidden beta version, which has good integration with clients like SABNzbd and NZBGet. All features with this site may not be fully working since they are under heavy development.
NOTE:
On our most recent check, the web server of WtfNZB has been down and this occurs often. Please check out other NZB site with a more regular and stable uptime.
Features
This NZB site is free for browsing and provides good searching capabilities, tv/ movie information and forums. They include English, German, Dutch, French, Spanish, Italian and Polish releases on their website, as well as p2p like cam rips. Users have access to RSS feeds, and forums can be accessed through the beta version.
There are no invites required and you can freely browse through their site without an email registration.
Pricing & Payment Methods
WtfNZB is completely free and users can get unlimited NZB downloads without having to pay anything. The developers keep the site running through donations. Donors get more APIs compared to free users.
| Name | Price | NZBs | APIs |
| --- | --- | --- | --- |
| Free | $0 | Unlimited | no information |
| Donation | Undetermined | Unlimited | More APIs |
Retention
Retention information is undisclosed.
Interface
The website is still in development, so interface information is incomplete. Based on previous research, though, use of the site is pretty easy. Simple type in the keyword on the search box, and WtfNZB will quickly generate the results you may need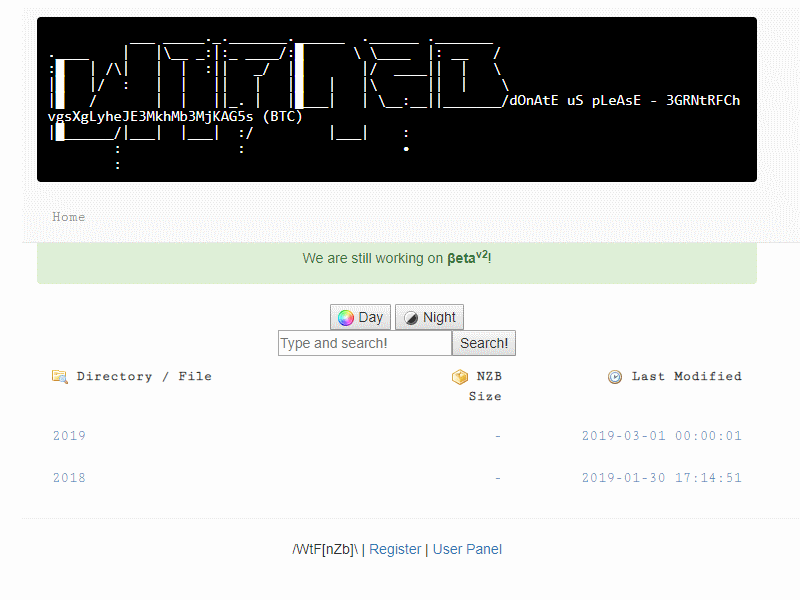 Technical Details
While their site is up, it is still in heavy development. But based on uptimerobot, their site runs actively with an uptime average of 99% and a response time of 44 milliseconds. Other technical details are not available.
Summary
The WtfNZB site is not running on its full capacity, but they promise to offer many improvements with the new version. And with no plans of having VIP accounts and sticking to just free and open access, WtfNZB would be of great use to a lot of Usenet users, especially since users can download unlimited NZB files at no cost. Let's wait for their upcoming improvements and see more good things about this NZB site.