Astraweb
Last Updated: Feb 09, 2021
Astraweb Review. Find the best Usenet Provider with UsenetReviews.org
Astraweb is a company based in Iceland that has been in the Usenet industry since 1997. The company was responsible for the vast increase of retention on almost all big Usenet services upon their announcement of a 270-day retention back in 2008. Since then, the company has increased their retention to 4000 and is providing access to unlimited speed and 50 connections.
Pricing
Astraweb offers 2 subscription plans: unlimited DSL plans and block accounts.
Unlimited plan prices cover 1, 3 and 12-month subscription. Regardless of the unlimited plan you go for, you get unlimited speed, 50 connections, SSL encryption and 3000+ days of retention. Pricing for the unlimited plans are: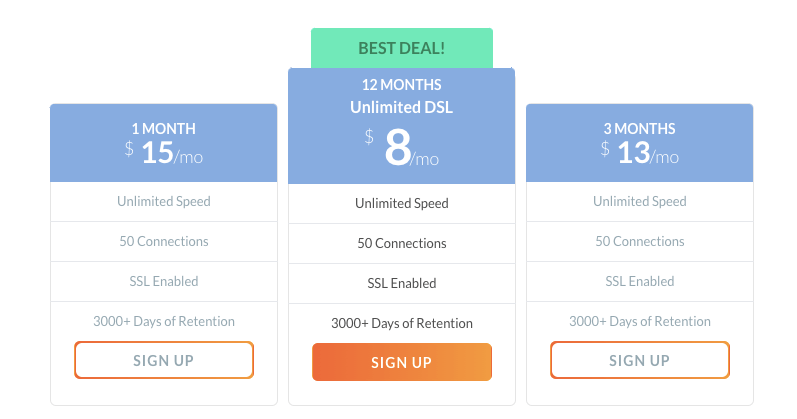 | Name | Price | SSL | Connections |
| --- | --- | --- | --- |
| Monthly | $15 | true | 50 |
| 3 Months | $13 per month | true | 50 |
| Yearly | $8 per month | true | 50 |
Meanwhile, block account plans do not expire, so having a chunk of bandwidth that you can use as needed is not a bad idea. You could use this block account as a backup in case other Usenet providers are missing parts. Astraweb block accounts cover 25GB, 180GB and 1000GB of bandwidth with unlimited speed and 50 connections and priced at:

| Name | Price | SSL | Connections |
| --- | --- | --- | --- |
| 25 GB | $10 | true | 50 |
| 180 GB | $25 | true | 50 |
| 1000 GB | $50 | true | 50 |
Retention
Astraweb has 4000 days of binary retention. They also have a completion rate of 99%.
Free Trial
Astraweb does not have a trial period but if you are unhappy with their service they offer a full refund if you cancel and request a refund within the first 24 hours of sign-up.
Special Offers
As of writing, Astraweb has no special offers available, but browsing online, there are some promo codes and coupons that you may want to try out. You may also want to check their website for possible sign up discount links.
Payment Options
Depending on the subscriber's country, Astraweb currently supports Visa, Mastercard, American Express, Debit Cards and Bitpay.
Configuration Information
As a Tier 1 provider, Astraweb runs their own servers. You can use general ports 119 and 23 on their news.astraweb.com server. SSL ports are 443 or 563. A full list of server addresses and ports are made available once you subscribe to their service.
Astraweb recommends that subscribers configure a few less connections than the maximum to allow for your newsreader to open threads to download headers. They do not count headers towards your download allocation.
Speed Test
With servers in both US and EU, Astraweb provides unlimited speed for its users, guaranteeing the best Usenet experience possible. Subscriber download speed is only limited by their own internet connection since Astraweb connects to multiple Internet backbones.
Privacy
Astraweb keeps personal data only for the purpose for which it was obtained, and these data are only used to process accounts, detect technical or security issues, provide customer support and marketing purposes.
Astraweb also does not monitor which newsgroups you post to or download from or what you put in articles you post. Although data is saved on their servers, this will only be released with a valid court order or any similar order from local authorities.
Customer Service
Astraweb has an online support center on their website where you can fill the contact form up with all the necessary information and submit your ticket. You may also reach them through support@astraweb.com.
Borgartuni 26
Reykjavik 105 Iceland
Additional Products
Astraweb does not have any additional products and is not affiliated with any other Usenet service.
Summary
With their years of experience in the industry, Astraweb shows that they are an exceptional Usenet provider with their solid service, great plans and high retention. Try out what they offer for a good 24 hours and you be the judge if they are the right fit for you.