BlockNews.Net
Last Updated: Feb 09, 2021
BlockNews.Net offers block account packages that cater to both light and heavy Usenet users.
BlockNews.Net provides access to almost all active newsgroups and use of their servers located in the US and Europe. Users have the ability to use up to 50 connections and SSL encryption for the Usenet activities.
Pricing
The provider mainly offers block account plans for their consumers. All plans are non-expiring until consumed. You pay only once for each account size and will not be rebilled unless you renew your account. For unlimited accounts, their website would redirect you to their sister company, UseNetNow.Net.
| Block Account Size | Price |
| --- | --- |
| 5GB | $1.99 |
| 10GB | $2.89 |
| 25GB | $3.79 |
| 50GB | $6.49 |
| 100GB | $10.49 |
| 200GB | $15.99 |
| 500GB | $33.99 |
| 1024GB | $63.99 |
| 3072GB | $179.99 |
Retention
As of July 2020, the retention time on their servers is at 4460 days for binaries and is increasing day by day and text retention is at over 10 years.
Free Trial
BlockNews.Net does not offer any free trial with their service.
Special Offers
As you increase the block account size you want to avail, you pay for less amount per gig. Starting plan comes out as $0.40 per gig and goes up to $0.05 per gig.
BlockNews.Net also offers 2 extra gigs for free if subscribers pay through cash or money order.
Payment Options
BlockNews.Net accepts Credit Cards, Cash or Money Order, PayPal and Crypto currency as payment. Select the option you want on their sign-up page and follow the instructions stated.
Configuration Information
With any account you purchase, you have access to the following servers:
usnews.blocknews.net
eunews.blocknews.net
eunews2.blocknews.net
For IPv6 access (your ISP and newsreader must support this option)
usnews-v6.blocknews.net
eunews-v6.blocknews.net
eunews2-v6.blocknews.net
All servers allow access to ports: 23, 119, 2000, 8080 or 9000.
For SSL connections, you could use either ports 443, 563 or 5563.
Speed Test
BlockNews.Net provides unlimited speed with all their block account plans so you can download as fast as your internet service provider allows. Upon testing, BlockNews.Net performs well on speed.
They allow you to connect to their servers with up to 50 connections. Keep in mind that using that many can actually slow your total speed. In most cases, 4-8 connections would suffice.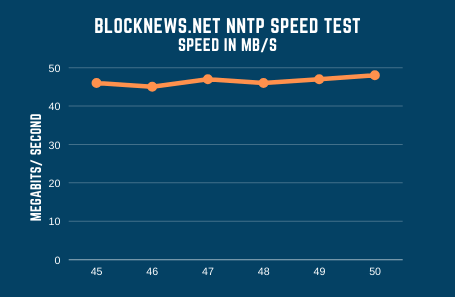 Privacy
BlockNews.Net offers 256-bit SSL encryption for increased privacy. While they monitor their servers to keep them optimized for everyone's use, they do not record or monitor downloading activities or what groups you post to. They are, however, vigilant with spammers and if found to be spamming, your account will be terminated with no refund given.
BlockNews.Net does not share customer information unless presented with a valid court order.
Customer Service
BlockNews.Net can be contacted only through a support ticket system or web form available on their website.
Additional Products
While BlockNews.Net does not provide any additional products or other packages, they do redirect consumers to their sister site, UseNetNow, for unlimited Usenet accounts. They also offer low cost, low retention unlimited account options through Frugal Usenet.
Summary
BlockNews.Net offers multiple block access plans with a wide range of account sizes that will appeal to both light and heavy Usenet users. A good thing about their plans is that as you avail of a bigger gig, you pay less in terms of a per gig amount. They also provide plenty of secure connections and access to both their US and European servers.
While this provider's plans are limited to block accounts, they do have other account options across their family of Usenet providers.