Easynews
Last Updated: Feb 09, 2021
Easynews provides solid service, high retention and an easy-to-use web-based interface to Usenet.
Easynews' built-in search engine allows Usenet access on your favorite web browser. There is no software or configuration needed to start your Usenet experience. And with their fast speed, a sizeable amount of connections, free SSL encryption and 5522 days of binary and text retention, Easynews is an impressive Usenet provider.
Pricing
Easynews offers three plans that all include unlimited download speed, 60 NNTP connections, web and mobile browser access to Usenet, SSL encryption and 24/7 customer support. The plans also have a gig bank rollover allotment, which means unused gigs are rolled into your next billing cycle. Easynews also provides loyalty gigs for each plan, for every year you are a customer.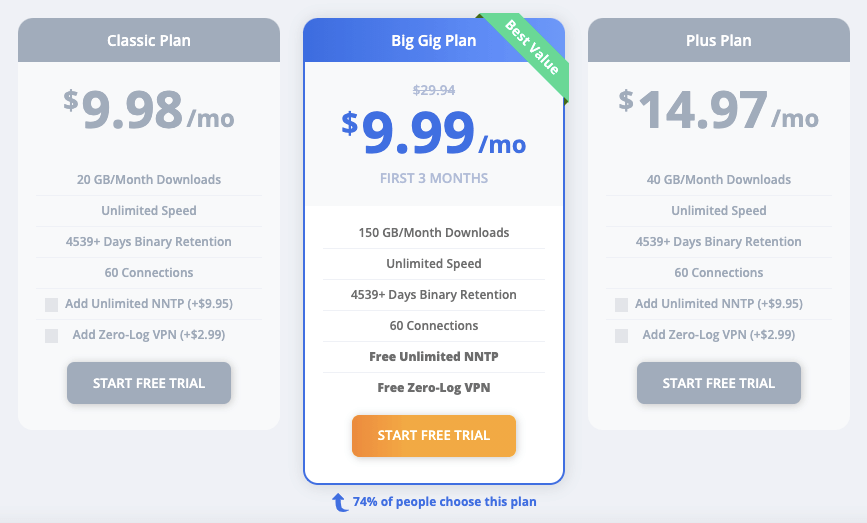 | Plan | Price | Download Limit | Gig Bank | Loyalty Gigs |
| --- | --- | --- | --- | --- |
| Classic | $9.98/mo | 20GB/mo | 500GB | 1GB |
| Plus | $14.97/mo | 40GB/mo | 1000GB | 2GB |
| Big Gig | $29.94/mo | 150GB/mo | 3750GB | 12GB |
An additional fee of $9.95 is included for unlimited NNTP access for their classic and plus plan and $2.99 if you wish to include VPN. You can also purchase an unlimited NNTP only plan for $9.95, if you don't want web access. Both VPN and unlimited NNTP access are included in their Big Gig plan.
Retention
Easynews has 5522 days of binary retention. They are constantly upgrading their server capacity to give users the best possible service.
Free Trial
New accounts include a 14-day free trial with a 50GB download limit. If either of these limits are exceeded, you will be billed, and your chosen subscription will begin.
Special Offers
Their Big Gig plan has a discounted rate of $9.99 per month for the first three months of subscription. Succeeding rates will be the original price of $29.94 per month.
Payment Options
Easynews currently accepts credit card payments and PayPal.
Configuration Information
Through their free web and mobile browser search, Easynews does not require any software to set-up or configure, but if you will use a newsreader all you have to do is enter your preferred Usenet server, port and log your username and password in. For a complete list of Easynews servers and ports, please see below:
Non-SSL Connections:
news.easynews.com
news6.easynews.com
news.us.easynews.com
news6.us.easynews.com
news.eu.easynews.com
news6.eu.easynews.com
Non-SSL Ports: 21, 23, 25, 53, 80, 110, 119, 8000 and 8080
SSL Connections:
news.easynews.com (port 563 & 993 only)
secure.news.easynews.com
secure6.news.easynews.com
secure-us.news.easynews.com
secure6.news.us.easynews.com
secure-eu.news.easynews.com
secure6.news.eu.easynews.com
SSL Ports: 21, 23, 25, 53, 80, 110, 443, 563, 8000, and 8080
Speed Test
Easynews controls their own servers and routers in the US and Europe right to the backbone which gives users fast, secure and direct access to Usenet. In testing for speed for both of their web interface and NNTP only connection, Easynews does well. Take advantage of their free trial for you to check out how they perform with your speed test.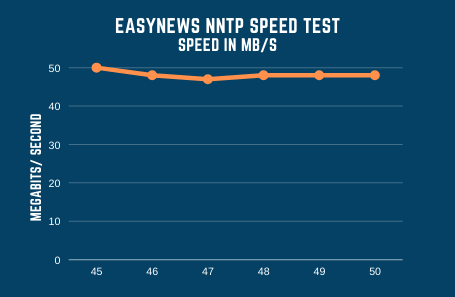 Privacy
Easynews includes SSL encrypted downloads and browsing on all of their plans, assuring customers of safe and secure Usenet access. Aside from that, a zero-log VPN is also included in their Big Gig plan for free and can also be purchased as an add-on to their 2 other plans.
While Easynews collects account information for service improvement and transaction processing, they do not share this information to others except with service providers who help them perform their service and are requested by any applicable law, regulation or legal process.
Customer Service
They have a customer service team available 24 hours a day, 7 days a week for any assistance that customers might need. They also have a comprehensive support section that has FAQs for easier information dissemination. Customers can also submit a ticket through their support center.
Additional Products
As mentioned, an unlimited NNTP only plan is available for those who would not need the web browser option. This can also be included as an add-on to their classic and plus plan. A zero log VPN can also be purchased with those two plans. Both VPN and unlimited NNTP access are included in their Big Gig plan for free.
Summary
Easynews is the perfect name for this provider. They offer an easy to use and economical Usenet service appealing to a lot of consumers. With their solid service, impressive features and add-ons, and web or mobile interface to Usenet, Easynews presents itself as a very competitive force in the Usenet business.