Fast Usenet
Last Updated: Feb 10, 2021
For almost a decade, Fast Usenet has been providing fast Usenet access with impressive features that they offer to users. Their good price plans include both web and mobile newsreader portals, an excellent retention rate along with secure connections and quick network, allowing great customer experience for their subscribers.
Pricing
Fast Usenet has plans that range in monthly download limits from 6GB to Unlimited—all of which include 50 SSL connections, access to their US & EU servers, and 3 of their easy-to-use newsreaders (Grabit, Web & Mobile newsreader). Their service also supports all popular newsreaders.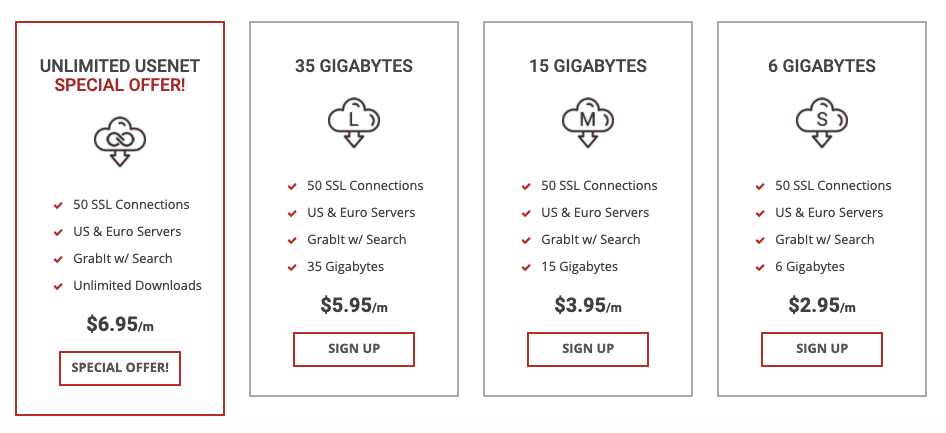 | Download Limit | Price | Connections |
| --- | --- | --- |
| 6GB | $2.95/mo | 50 |
| 15GB | $3.95/mo | 50 |
| 35GB | $5.95/mo | 50 |
| Unlimited Usenet | $6.95/mo | 50 |
Retention
Fast Usenet currently offers 4562 days of Usenet retention and is constantly growing.
Free Trial
The provider has an unrestricted free trial offer that gives you 14 days to test their service or 15GB of downloads. After 14 days or 15GB have been reached, your account will continue to the membership level you have selected.
Special Offers
Fast Usenet does not have any special offers currently, but you may check their blog page on their website for occasional special promos or discount announcements.
Payment Options
Fast Usenet accepts major credit cards and PayPal as payment options.
Configuration Information
Upon signing up for membership, you can access Usenet servers using the following addresses:
news.fastusenet.org
euro.fastusenet.org
secure.fastusenet.org
Their Europe server supports both secure and non-secure connections.
You may use port 119 for non-secure access and port 563 for SSL encrypted access.
Speed Test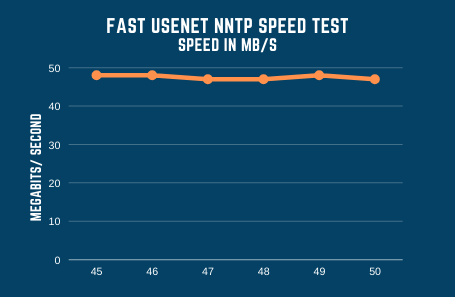 With servers both in the US and Europe, Fast Usenet performs well on speed. The content delivery network that the provider is part of can deliver multiple 10 Gigabits per second circuits. Their network maintains over 900 Gigabits per second of interconnection capacity with other Internet networks. You will only be limited with how fast your internet service provider is.
Privacy
Fast Usenet includes 256-bit SSL encrypted connections across all their plans. Encryption ensures that your information remains safe.
The provider collects all relevant information needed to subscribe to their service, and this information is only shared to affiliates that process subscription and payments. They also, from time to time, maintain a log of certain network information but in anonymous form, meaning any logged information is not associated with a specific subscriber. Any user information collected remains for business purposes only and is only shared if required by applicable law or regulation.
Customer Service
Fast Usenet has several options on how they manage customer concerns. You make submit a ticket through their contact page for any issues you experience. There is also a live chat support via their website and a phone support through 1-888-415-7781.
Mailing Address:
Usenet Services LLC
2 North Cascade Suite 1100
Colorado Springs CO 80903
Additional Products
Your Fast Usenet subscription comes with a customized version of Grabit newsreader which you can use to search and download content on Usenet news servers. Their customized newsreader comes in a web and mobile version.
Summary
Fast Usenet is a good service provider that offers decent benefits when you subscribe. The inclusion of a customized newsreader is a good feature to their plans. Not only is it a significant addition to their service but also makes setting up a little easier for users. Retention time is also great with Fast Usenet with over 4562 days. But while the provider has some impressive offerings, there is always still room for improvement in terms of more competitive features and additional payment options.