Last Updated: Aug 11, 2020
Giganews provides convenient Usenet access with 256-bit SSL encryption and 24/7 support team included in their unlimited and limited price plans.
Giganews has been in the Usenet industry since 1994 and unlike some providers, they operate their own server clusters, manage their own global network and have written 100% of the server software to deliver reliable Usenet service.
Pricing
Giganews offers 2 price plans that you can cancel anytime you need to. All of their plans include a 256-bit SSL encryption to improve security and download speeds and 24/7 support team to answer every request of problem.
Unlimited Usenet Plans
| Plan | Price | Access | Retention | Connections | Add On |
| --- | --- | --- | --- | --- | --- |
| Platinum | $19.99/mo | Unlimited | 3+ years | 20 | VyprVPN |
| Diamond | $21.99/mo | Unlimited | 3+ years | 50 | VyprVPN Premium |
Limited Usenet Plans
| Plan | Price | Access | Retention | Connections | Add On |
| --- | --- | --- | --- | --- | --- |
| Pearl | $4.99/mo | 5GB | 30 days | 20 | none |
| Bronze | $9.99/mo | 10GB | 3+ years | 20 | none |
| Silver | $14.99/mo | 50GB | 3+ years | 20 | none |
Retention
Giganews delivers 3+ years of binary retention and over 17+ years of text retention.
Free Trial
All new Giganews personal Usenet access accounts come with a 14-day trial run up to 10GB of total Usenet transfer. They do not allow trial users to post on Usenet, and this offer is only available once per member.
Special Offers
Giganews offers a discount for the first month of subscription to their Diamond plan. This $21.99 per month plan can be availed $10.99 for the first month.
They also have a referral program where you can earn credits up to $29.99 if a Giganews customer stays for one whole month. Anyone who signs up with your personal referral link generates credit to your Giganews account.
Payment Options
Giganews is open to credit card payment options such as Visa, Mastercard, Discover, American Express, Visa Electron, Eurocard, Mastercard International Debit and Visa International Debit. They also accept Paypal.
Configuration Information
Users may access Usenet through Giganews server: news.giganews.com. Authentication is required. Standard ports are 119, 23 or 80, while SSL enabled ports are 563 or 443.
Speed Test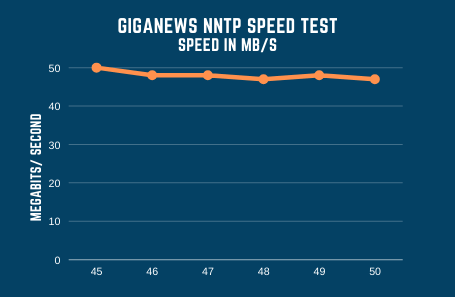 Giganews has server clusters in North America and Europe. Between their fast network and multiple server options, you are only limited by the speed of your ISP.
Privacy
All Giganews plans include SSL enabled ports which give users a safe and secure access to Usenet. Aside from that, their Diamond and Platinum plans have VyprVPN that encrypts your entire internet connection, keeping your online activities private without logging it.
Giganews does not monitor or record any user activity and only monitors their servers to the extent necessary to maintain high standards of service. Giganews holds personal data and usage data in the strictest confidence and will not release any member information unless ordered by a court of law.
Customer Service
A contact form and live chat support is available on the Giganews website. They provide fast response, 24/7 access to their support team and a network of systems engineers who can help you in any way they can.
Additional Products
Mimo Usenet Browser is included free in every Giganews account. It is a full-featured newsreader that can be easily used by anyone. Mimo is optimized for faster browsing, searching and downloads and features integrated search and advanced image viewing.
Giganews also includes VyprVPN in their Diamond and Platinum plans. While SSL is for encrypting NNTP traffic, VyprVPN helps you encrypt your entire internet connection when accessing different parts of the internet. This improves security and privacy, online streaming, and allows you to access geo-restricted content.
Summary
Giganews cost more than other providers, but you get value for your money. With a high retention rate, fast speed and unlimited access, 100% completion and an excellent support team, Giganews proves why they have lasted this long in the industry and why they are a great Usenet provider option.