MaximumUSENET
Last Updated: Feb 15, 2021
MaximumUSENET has been providing quality Usenet access since 2006. Their multiple server locations offer maximum speed and retention that is competitive with industry standards. With MaximumUSENET, you get access to 107,000 active newsgroups, unlimited speed, 24/7 customer support, 99% completion and 4564 days of retention.
Pricing
MaximumUSENET has multiple plans which vary in monthly download limit and they also have non-expiring block plans. All their monthly plans include 4564 retention days, SSL connections, uncensored downloading, and 24/7 live support.

Their block plans also have the same inclusions, but they will charge you an additional $2.00 if you enable SSL encryption. The table below shows cost without SSL encryption.

Retention
This Usenet service provider has a retention of 4564 days.
Free Trial
There is no free trial that's being offered by MaximumUSENET.
Special Offers
There are no current special offers from MaximumUSENET, but you can sign up for their newsletter on their website for the future promotions and service upgrades. Make sure you also check back with us for other offers from this provider.
Payment Options
MaximumUSENET accepts credit cards and PayPal as payment options.
Configuration Information
MaximumUSENET has servers both in the US and Europe. You can access these servers by configuring your newsreader setting to the provider's host name.
Standard routing ports for their US servers are:
useast.maximumusenet.com (ports: 119, 443 and 8080)
us-secure.maximumusenet.com (SSL ports: 563, 80 and 81)
Standard routing ports for their European servers are:
europe.maximumusenet.com (ports: 119, 443 and 8080)
europe-ssl.maximumusenet.com (SSL ports: 563, 80 and 81)
Please be reminded that SSL encryption is only available for those who signed up for SSL enabled accounts.
Speed Test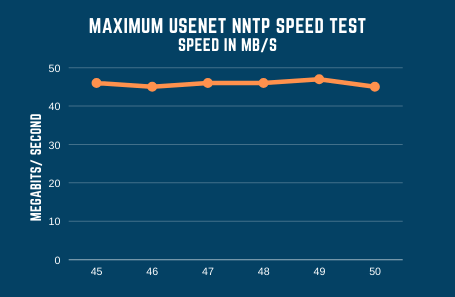 While MaximumUSENET generally is a fast service, the speed of the connection greatly depends on the internet connection of the user. But upon testing, MaximumUSENET can max out broadband connections like other Usenet providers.
Privacy
While SSL encryption is not included in all of MaximumUSENET's plans, subscribers do have the option to include them as an add-on on their block accounts. SSL helps secure login and password information, as well as other private information being sent.
Regarding their privacy policy, MaximumUSENET reserves the right to use your email address for internal communication and internal promotional purposes. However, they do not and will not sell or share your contact information to anyone outside of the company.
Customer Service
MaximumUSENET has an online support center where you can submit a ticket regarding your concern and they usually respond within 24 hours from submission of a ticket. They also have a live support option on their website. Customers can also reach them through support@maximumusenet.com.
Address:
MXU Services, Inc.
3504 Highway 153,
Box #14,
Greenville, SC 29611
USA
1-800-495-6046
Additional Products
This provider does not have any additional offerings.
Summary
MaximumUSENET is not as well-known as our top Usenet providers, but the company has some significant features with their service. They have a decent amount of retention and have both US and European servers, which is a plus for some users. Their non-expiring block plans are also great for sporadic Usenet users.
While it would be better that SSL encryption is included in all of their plans without having to pay an additional cost, MaximumUSENET still provides a good enough service that is worth considering. All that said, MaximumUsenet would not be out top choice.