Newsdemon
Last Updated: Feb 09, 2021
Newsdemon has tools for header compression and offers VPN protection for free. NewsDemon has been in the service of providing Usenet connection since 2001. NewsDemon is dubbed as America's premium Usenet provider.
Pricing
NewsDemon offers flexible pricing plans to users. They offer unlimited, metered and block plans that subscribers can choose from. All plans include NewsDemon's premium retention, unlimited speed, access to 50 connections, Slick VPN protection, and 24/7 customer support.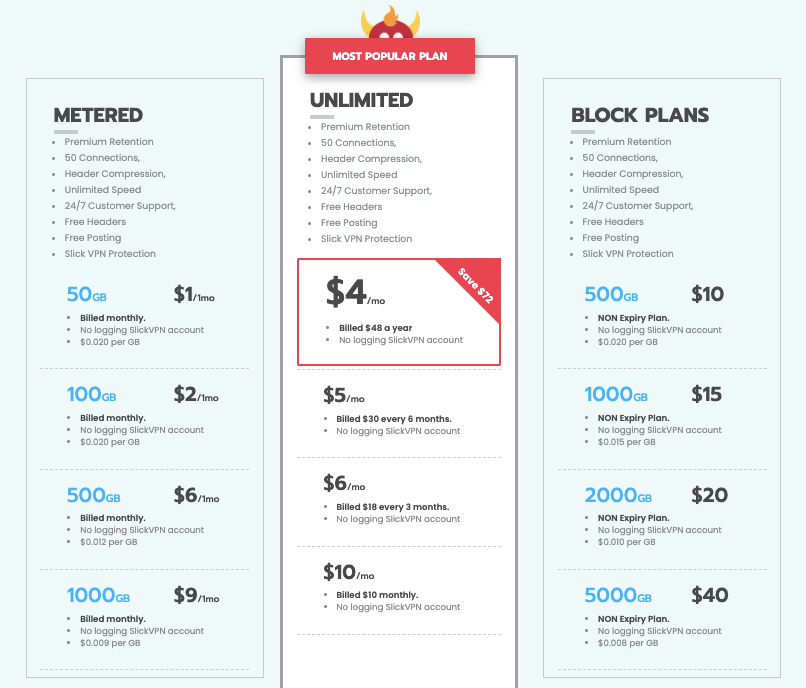 Retention
NewsDemon allows for 5522 days of retention. Such retention applies to both binary and text. Users can rely on the availability of files that will last for over eleven years. This makes NewsDemon a competitive and robust provider in the market. NewsDemon also has a 99.9%+ completion rate. We can verify this claim as we had NewsDemon tested. We experienced a solid 100% completion rate for every NewsDemon download.
Free Trial
If you're still deciding on which Usenet provider to choose, you should be on the lookout for offered free trial periods. NewsDemon offers a 15-day free trial to users. Users can choose from five unique plans that allow for unlimited speed and 500 GB of downloads. Users on free trial will also enjoy 24/7 support, 50 connections, 4,374+ days of retention, and even free headers. The five plans to choose from are: Beginner (50 GB), Basic (75 GB), Veteran (100 GB), Elite (200 GB), and Pro (500 GB).
NewsDemon does not automatically charge credit cards. NewsDemon will only require payment once the trial period expires and users opt to continue with a selected plan.
Special Offers
NewsDemon has a discounted special offer where users can have access to unlimited download speed, no-cap Usenet usage, 50 SSL connections, and free VPN for only $6.
Payment Options
Users can pay via credit cards, PayPal, Ideal Payments, and SEPA Express. NewsDemon also accepts payment in Bitcoin.
NewsDemon offers a 30-day money-back guarantee to users who opt to subscribe and find themselves not satisfied. This makes NewsDemon a totally risk-free choice as it has a no-strings-attached policy. This policy allows for users to be free in exploring their Usenet provider options.
Configuration Information
The following settings are necessary to configure NewsDemon:
News server host name: news.newsdemon.com

Ports (non-SSL): 119, 23, 443, 3128, 7000, 8000, 8080, 9000
Ports (SSL): 563, 80, 81, 9119

Username: NewsDemon will email to provide this info.
Password: Users set-up their own passwords.
Speed Test
Upon our testing, we can verify that NewsDemon has a satisfactory speed.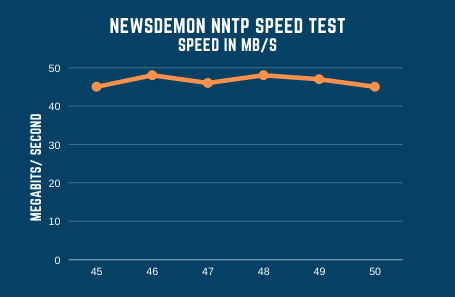 Privacy
All NewsDemon plans allow for SSL encryption. NewsDemon has a strict privacy policy. So much so, it only requires a user's email upon subscription to their service.
NewsDemon does not monitor, track, or record its users' activities. The provider gives so much value to user privacy that it even offers VPN tools for ultimate liberty in user download and upload activities.
NewsDemon will only need a user's email address for service-related communication. NewsDemon does not sell customer data to third-parties.
Customer Service
NewsDemon offers many support pathways to users via live chat and email. Users can also reach out via phone and fax. We tested its live chat support, and we received a reply in an instant. We also sent a message outside office hours and still received an instant reply. This time, however, it was canned and asked for an email address to reach us.
The company has two headquarters, one in America and one in England. The address and contact numbers are:
USA Office:
Newsdemon.com
3504 Highway 153
Box #14,
Greenville, SC 29611,
USA
Phone: 888.308.4272
Fax: 888.549.3675
UK Office:
Newsdemon.com
Scott Lyda – President / CEO
72, High Street
Haslemere, Surrey
Gu27 2LA
UK
Additional Products
All NewsDemon plans come with a free SlickVPN account that requires no logging. It does not come with its own Newsreader.
Summary
NewsDemon is a superb choice for users that want a Usenet provider that really delivers. It truly offers unlimited download speed to users through soundly priced subscription options. Users that prefer privacy will find it ideal as it offers free VPN tools and features. Its 5522 retention days and reliable customer support make it a strong Usenet provider. It is recommendable. Users are on the fence with trying Usenet should try it, as it comes with a 30-day money-back guarantee that secures risk-free service sampling at no cost.