NewsGuy
Last Updated: Feb 10, 2021
NewsGuy is a provider that offers Usenet access with block accounts
NewsGuy offers a wide variety of Internet services from Usenet newsgroup access, email service, web hosting and spam protection.
Note: NewsGuy is a pretty outdated service provider. No updates have been done on their website and their services since 2016.
Pricing
NewsGuy has a pretty straightforward pricing model with a monthly cost of $10 for 15GB of download limit. Availing of their 12-month package would give you up to 33% discount depending on your selected download capacity. All plans include SSL encryption and up to 32 simultaneous connections.
| Plan | 15GB | 50GB | 500GB |
| --- | --- | --- | --- |
| 1 month | $10 | $12 | $18 |
| 12 months | $80 | $99 | $145 |
Retention
NewsGuy currently offers 1300 days retention in binary newsgroups and several years retention in text groups. The provider also has a 99.9% completion rating.
Free Trial
Upon signing up for their service, NewsGuy offers a 14-day free trial period for all its users. Cancellation of account should be done within the trial period to not be charged with anything. Failure to cancel would automatically charge your credit card.
Special Offers
NewsGuy does not have any existing special offers except for their free trial period.
Payment Options
NewsGuy accepts Mastercard, Visa, American Express and Discover cards as payment options.
Configuration Information
You can access your favorite newsreader by typing in your NewsGuy username and password and using the server: news.newsguy.com. Standard ports are 119, 80 & 8080, while SSL enabled ports are 563 and 443.
Speed Test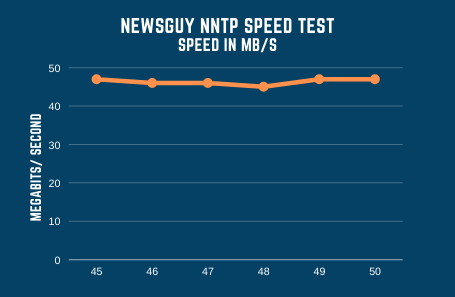 Like other Usenet providers, NewsGuy performs well on speed. They do not limit connection performance, so members are able to access NewsGuy as fast as their internet connection allows.
News guy also offers alternate ports that allow NNTP newsreader users to circumvent throttling restrictions.
Privacy
All NewsGuy accounts include SSL encryption, which gives users safety and security on their Usenet access and activity.
Personal information about a user will not be disclosed unless required to do so under applicable State and Federal laws. And like most services, the provider does not monitor user activity except for tracking download bandwidth consistent with metered accounts.
Customer Service
You may reach NewsGuy through a contact form available on their website. Service inquiries and support questions are answered 7 days a week.
Additional Products
NewsGuy has their own newsgroup search engine called, Direct Read Search and Usenet web browser called Direct Read News that allows you to read, post, and download newsgroup content with your favorite browser.
In addition to newsgroup access, they also offer free email service (Direct Read Mail) and a spam defense system (SpamHippo).
Summary
NewsGuy offers pretty good features and inclusions in their plans from unlimited speed, SSL encryption and a good amount of connections. They also have other multiple offerings like their own newsgroup search engine, free email service and spam protection. But while they have a decent number of features, what gives other Usenet providers the edge is their pricing. At $10 for 15GB of bandwidth, they are not able to compete well with other providers in the market. You can get more value for your money with other Usenet companies.
All in all, NewsGuy's service seems a bit dated, and this is also quite evident on their website. You'd get better information, excellent contact options, and great service from other vendors. But as a provider that has a lot of experience and history to back them up, NewsGuy still is able to provide satisfactory service to their users.