Ngroups.NET
Last Updated: Aug 18, 2020
Ngroups.NET services include complete Usenet newsgroup access, fast downloads, security via SSL encryption, over 3000 days of binary retention with 99.9% completion and multiple connections. The company offers a wide variety of account options that subscribers can choose from depending on the Usenet usage that fits them well.
Pricing
Ngroups.NET has unmetered download accounts or accounts with a total download limit of 10GB per month. Depending on the plan you select, the system allows 20 or 60 connections.
Unlimited Accounts
Plan
Price
Connections
VPN Service
Transfer Limit
Light
$5.99/mo
30
Not included
10GB
Unlimited Eco
$10.99/mo
30
Included
Unlimited
Unlimited Extra
$19.99/mo
60
Unlimited
Unlimited accounts are auto-renewal, but you have the option to go for a manual renewal plan for a bit of price difference.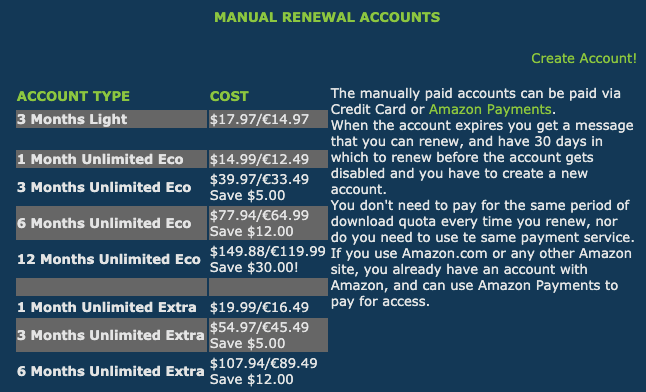 They also offer block accounts of various sizes for users who have no need for unlimited access. There is no time limit or recurring fees for block accounts.
Block Accounts
| Block Size | Price | Connections |
| --- | --- | --- |
| 2 GB | $2.00 | 50 |
| 5 GB | $3.00 | 50 |
| 10 GB | $5.00 | 50 |
| 20 GB | $8.00 | 50 |
| 30 GB | $10.00 | 50 |
| 50 GB | $12.00 | 50 |
| 100 GB | $15.00 | 50 |
| 200 GB | $22.00 | 50 |
| 500 GB | $52.00 | 50 |
| 1024 GB | $92.00 | 50 |
Retention
Ngroups.NET has over 3000 days for binaries and over 10 years for Usenet text groups.
Free Trial
The provider offers a 3-day free trial or 5GB of access.
Special Offers
There are currently no special offers, discounts, or coupons from Ngroups.NET.
Payment Options
You can pay via credit card or Amazon payments for service from this provider.
Configuration Information
Ngroups.NET has server systems in the US and Europe. Both can be accessed via standard connection and SSL. There are no separate SSL servers.
us.ngroups.net
eu.ngroups.net
Standard ports: 119, 20, 23, 53, 443, 2000, 8080, 9000, 9001, 9002
SSL ports: 563, 80, 81, 465, 993
Ngroups.NET requires an SSL enabled news client. If you are using an old unsupported newsreader and want to connect via SSL, you can use an SSL proxy software to accomplish that.
Speed Test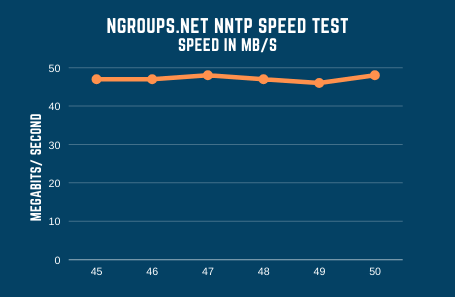 With two massive data centers in both US and Europe, Ngroups.NET provides high speed and performance to its users. While they generally perform well on speed, you will only be limited by how fast your internet service provider is.
Privacy
They include SSL encryption in all of their service plans. VPN service is also included in all Unlimited traffic plans. Both provide security to its users and provide privacy.
Ngroups.NET does not monitor or record user activities online or which newsgroups you post to or download from.
While they collect certain information to set up user accounts, this information is not released to others unless they are ordered by a court of law.
Customer Service
To contact their support team, you may submit a ticket through their Q-support system, which can be found on their support page. Their support team is available 18 hours a day, 7 days a week.
Address: @Space Enterprises, LLC 5348 Vegas Drive 800 Las Vegas, NV 89108 US
Additional Products
Ngroups.NET includes VPN service in their unlimited plans. Unlimited Eco accounts have 5 Mbps VPN speed limit, Max of 50GB VPN traffic per month. An Unlimited Extra account has no VPN speed or traffic limit.
Summary
Ngroups.NET has been in the business for a long time and has been offering reliable and competent service for its subscribers. While their subscription plans seem complicated and confusing for some, they actually present good features which includes a good amount of connections, fast download speeds, secure access via SSL and VPN and a competitive retention rate - most of which are part of their impressive multiple packages from unlimited options to block accounts.