PowerUsenet
Last Updated: Feb 09, 2021
PowerUsenet's unlimited access plans work as a great alternative to newsgroup providers with short retention, slow download speeds and an overall unreliable service.
Pricing
PowerUsenet offers 2 plans that users can choose from. Both plans have unlimited access, unlimited speed and 3+ years days of binary retention.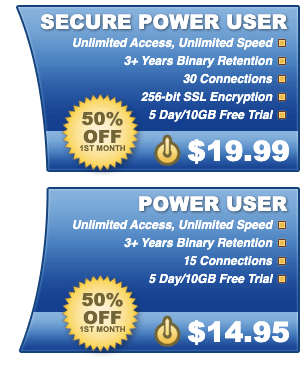 | Name | Price | Connections | SSL |
| --- | --- | --- | --- |
| Power User | $14.95/mo | 15 | none |
| Secure Power User | $19.99/mo | 30 | 256-bit SSL |
Retention
PowerUsenet has 3+ years days of binary retention and 17+ years of text retention.
Free Trial
When you sign-up, you receive 5 continuous days of uncensored access with 10GB of usage. The free trial is only available for new customers. Headers are not counted against your 10GB trial. The transition from free trial to full membership is automatic. If you wish to cancel your account before you have completed the 5 days of free service, just log in to their member center. Non-cancellation will automatically bill your credit card for a full membership.
Special Offers
PowerUsenet offers a 50% discount on the 1st month of subscription on any of their two plans.
Payment Options
PowerUsenet only has Visa and Mastercard as payment options.
Configuration Information
You can make use of the server: news.powerusenet.com. Default port is 119, but PowerUsenet also allows connections on port 23 and port 80 (NNTP only). For encrypted Usenet access, you will need to select a checkbox enabling SSL and change your port to 443 or 563 depending on your preference.
You will also need to download a new list of newsgroups from PowerUsenet's servers if you have been using a different one previously. You should also delete old headers and download new ones.
Speed Test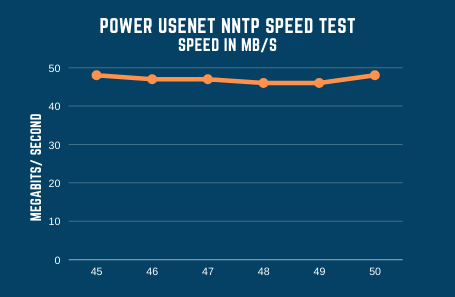 PowerUsenet has servers in the US and Europe, and they are capable of filling your broadband pipes. This means you should only be limited by how fast your internet connection is.
Privacy
The provider offers secure and safe access to Usenet via a 256-bit SSL encryption with their Secure Power User plan. They also do not monitor or record what newsgroups subscribers use or what articles are being downloaded. The company highly respects customer privacy and does not release or sell any account information unless ordered to do so by a court of law with appropriate jurisdiction.
Customer Service
PowerUsenet only provides customer support via contact forms available on their website. No live chat or telephone support is available.
Additional Products
PowerUsenet has no additional products or offerings.
Summary
While PowerUsenet has competitive inclusions in their encrypted plan, their price point is higher than some providers who offer either the same package or a better one. You do have the option of going with their Power User plan, which has more than enough connections at 15, but there is always a risk in going for an unencrypted package.