Pure Usenet
Last Updated: Feb 09, 2021
With Pure Usenet, you can get up to 20 connections and unlimited Usenet access. You are assured to have a safe and secure experience with SSL encryption included in all of their plans.
Price
Pure Usenet has one of the lowest prices available in The Netherlands. You can avail of their service either monthly or yearly. You get a better deal with their yearly plans, which gives you about 20% savings. And by choosing to auto-renew their plans, you get an additional 10% discount. All their plans include 4100 days of retention and free SSL.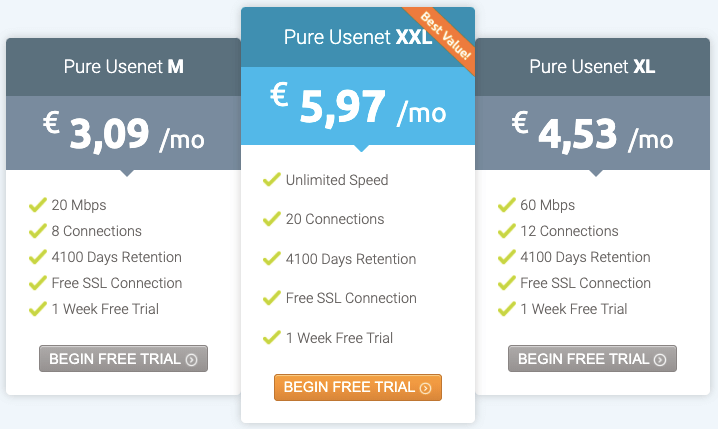 | Plan | Monthly | Annual | Speed | Connections |
| --- | --- | --- | --- | --- |
| Pure M | €3,87/mo | €3,09/mo | 20 Mbps | 8 |
| Pure XL | €5,67/mo | €4,53/mo | 60 Mbps | 12 |
| Pure XXL | €7,47/mo | €5,97/mo | Unlimited | 20 |
Retention
Pure Usenet service includes 4100 days of retention.
Free Trial
All Pure Usenet plans include a 7-day free trial. If you like their service, you can automatically start your subscription as soon as the trial period is up. You may also cancel at any time during that period to avoid paying a subscription fee.
Special Offers
As mentioned, you can get 20% savings by going for their annual subscription. You also get an additional 10% off when you choose auto renewal of their plans.
Payment Options
Pure Usenet accepts the following payment options:
Mastercard
Visa
iDeal
Sofort
Paysafecard
Bitcoin
Configuration Information
Once you've subscribed, use your Pure Usenet credentials on your selected newsreader. Configure the settings with the following details:
Server: news.pureusenet.nl
Standard Port: 119 or 80
SSL Port: 563 or 443
Speed Test
Aside from the connection of your internet service provider, your speed would depend on the plan you subscribe to. You can choose among 20, 60 and unlimited mbps. Make sure you select a plan that would not exceed the bandwidth of your internet service.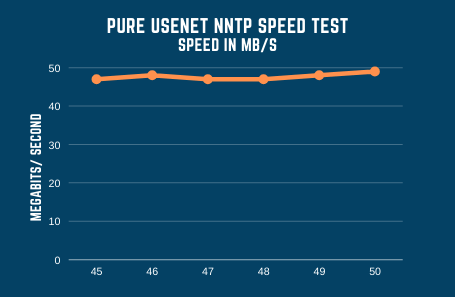 Privacy
Pure Usenet servers are located in Europe, which would make them a good option for those who want to stay off US-based servers due to privacy concerns. The provider collects and uses account, location, log and usage information to provide, protect and improve their services. While they may share this information with processors who help in their business, they do not share them with others except if required by applicable law.
Customer Service
The provider has a customer support form and an FAQ section available on their website. Customers can also reach them at support@pureusenet.nl.
Address:
Lakahraun EHF
Sudurlandsbraut 18
Reykjavik 108 Iceland
Tel. No. +1-602-715-1650
Additional Products
Pure Usenet does not offer any additional products.
Summary
Pure Usenet has one of the lowest prices in The Netherlands. They deliver on speed, high retention rates, secure access via SSL encryption with their flexible pricing plans. Their multiple payment options and being able to provide a free trial with their subscription also makes them a great option for Usenet users. Test out their service for free to see if Pure Usenet is for you.