RhinoNewsgroups
Last Updated: Feb 09, 2021
RhinoNewsgroups provides Usenet access with unlimited speed, retention of 200 days, 99% completion rate and up to a maximum of 8 connections. Their plans and features are dated when comparing with other Usenet providers.
Pricing
RhinoNewsgroups offers three packages that differ in download limits and the connections you can get. You get the same amount of speed, retention days and completion rate across all their plans.

| Plan | Price | Download Limit | Connections |
| --- | --- | --- | --- |
| 20GB Rhino | $9.99 | 20GB/mo | 8 |
| Unlimited | $16.99 | Unlimited | 6 |
| Unlimited Rhino | $18.99 | Unlimited | 8 |
Retention
RhinoNewsgroups offers 200 days of binary retention and 1000 days of text retention. Comparing it to most providers in the industry, this is low.
Free Trial
RhinoNewsgroups does not have a free trial offering.
Special Offers
This Usenet provider does not have any special offers.
Payment Options
RhinoNewsgroups only accepts payment via major credit cards.
Configuration Information
All newsreader clients need the following information for configuration:
Server name: news.rhinonewsgroups.com
Username and Password: as it appears on subscribers' welcome email
Ports: 119, 23 and 80
Speed Test
Your primary limit would be the speed provided by your own internet service. Download speeds rely heavily on this. But upon testing, RhinoNewsgroups can max out the speed of broadband connections.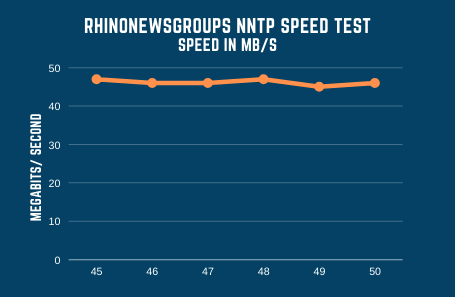 Privacy
RhinoNewsgroups does not have SSL encryption included in their plans, which is a big downside with their service. Most providers these days include this security feature and some that offer VPN options.
Regarding their privacy policy, RhinoNewsgroups does not monitor or record what newsgroups their customers use or what articles they view or download. They never release or sell information about their customers. Any customer information will only be released by the order of a court with proper jurisdiction.
Customer Service
Their support staff is available 24 hours a day, 7 days a week to assist with any problem that may come up. RhinoNewsgroups has a technical support and billing questions form available on their website. They also have a contact page for any other inquiries.
Additional Products
RhinoNewsgroups is not offering any additional products.
Summary
While RhinoNewsgroups can provide reliable and fast Usenet access and have been in the industry for quite some time now, their service is outdated. They are priced higher compared to other providers who offer more for the same price or even less. RhinoNewsgroups has a low number of retention days and could be more competitive by providing a higher retention rate and free security features like SSL encryption like most Usenet providers. But while this provider may have some flaws, their message completion is very good, and they offer unlimited speed with their service. Plans are simple enough to understand which might appeal to some consumers.