Tweaknews
Last Updated: Feb 09, 2021
Dutch Usenet provider, Tweaknews, has affordable account options that users can choose from based on what they need. You can download files over 4200 days after they are posted, and they guarantee completion of 99%. You get fast downloads and safe and anonymous Usenet access regardless of the plan you select.
Pricing
Tweaknews give customers the option to choose between a flat fee or block account. Flat fee account is perfect for those who download a lot of data and are not into thinking about exceeding download limits. All flat fee accounts include SSL encryption and a free newsreader.
Flat Fee Account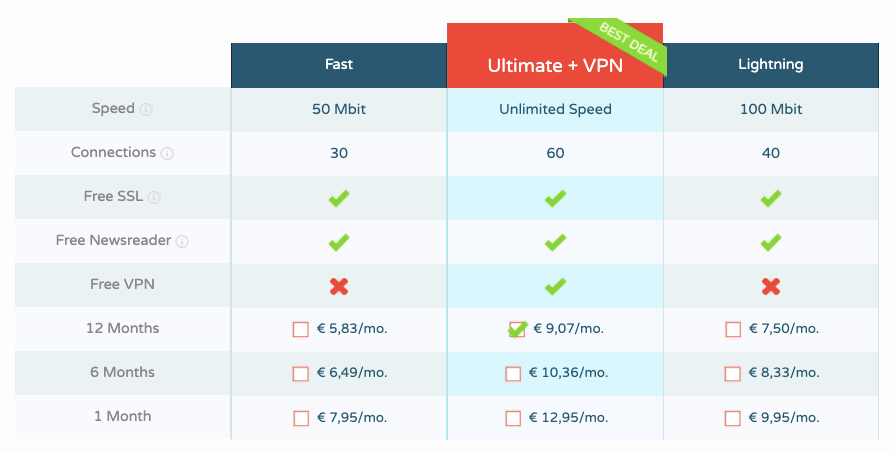 | Plan | Price | Speed | Connections |
| --- | --- | --- | --- |
| Fast | €5,83/mo | 50 mbit | 30 |
| Lightning | €7,50/mo | 100 mbit | 40 |
| Ultimate + VPN | €9,07/mo | Unlimited | 60 |
Block accounts are for those who want to control their downloads or have a specific idea what they want to download. You have no speed limit, no unexpected costs, no expiry until you've reached your download limit.
Block Account

| Block Plan | Price | Speed |
| --- | --- | --- |
| 10 GB | €2,00 | 100 mbit |
| 50 GB | €7,00 | 100 mbit |
| 100 GB | €13,00 | 100 mbit |
| 250 GB | €30,00 | 100 mbit |
| 500 GB | €45,00 | 100 mbit |
Retention
Tweaknews has a retention of 4200 days and a completion of 99% assuring users that you'll be able to find what you are looking for.
Free Trial
All of Tweaknews' recurring or flat fee plans come with a 10-day risk-free trial with unlimited data and unlimited downloads. Once you're done with the 10 days, you would be started with the regular subscription that you've chosen. This would be the perfect time to gauge their service and features.
Special Offers
If you sign up through the UsenetReviewz website, you get a discount from Tweaknews' Ultimate+VPN 1-month or 12-month plan. Instead of paying for €9,07/mo for their 12-month plan, you only pay €7,50. And for the 1-month plan, you only pay €9,99 instead of €12,95.
Payment Options
Tweaknews accepts multiple payment options like credit cards, Sofort, Giropay, PaySafeCare and PayPal.
Configuration Information
Tweaknews server address is news.tweaknews.eu. They use the standard ports for Usenet connections, 119 and SSL port 563.
Speed Test
Download speed max out at 50 mbps without any problem in making the bandwidth perform at its maximum level. While Tweaknews has no download limits, your internet service provider might have their own set of limitations. Bear this in mind when you are planning to download large quantities.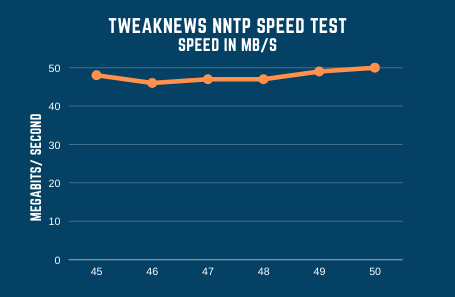 Privacy
Tweaknews has SSL encryption included free in both their flat fee and block accounts. This gives subscribers anonymity because downloads are completely stealth. You can also get another layer of security by choosing their Unlimited + VPN plan, which includes a zero-log VPN service.
Tweaknews believes that they need personal information of the users just for the company's use, such as for the purpose of billing, and they do not share your data with any third party without seeking your permission.
Customer Service
You can take a look at their websites FAQs for common issues that may have been answered in regard to general services issues, newsgroup software, Usenet techniques, connection speed and using newsgroups. If you have other concerns or questions, you may fill up a form found on their contact page or email them at support@tweaknews.eu. Messages will usually be answered within 5 business days.
Additional Products
Upon subscribing to Tweaknews, you get a free newsreader, Usenet Wire. This newsreader gives you unlimited search, previews and downloads from Usenet. Usenet Wire is pre-configured with your Tweaknews account for easy set-up and fast speeds.
A VPN option is also offered on their Ultimate + VPN plan. You safeguard your online data and privacy with their free, zero-log VPN service.
Summary
Tweaknews is one of the most popular providers in the Usenet market, mainly because of the quality of their service and their competitive pricing. With flat-fee and block account options, consumers have more flexibility on what plan would best work for them. To find out why Tweaknews is one of the best around, give their service a shot through their free trial period.