UnlimiNews
Last Updated: Feb 10, 2021
UnlimiNews provides up to 100 Mb/s of speed along with secure access via SSL encryption. They have a 99.8% completion rate with 1,250 days of binary retention. Their self-developed cluster technology allows perfect load balancing on all their servers to give users the best speed per connection.
Pricing
The price you pay with UnlimiNews determines your maximum speed and total number of connections. All of their plans include 256-bit SSL encryption, uncensored access to 95,000 newsgroups, 24/7 email support and a decent amount of retention.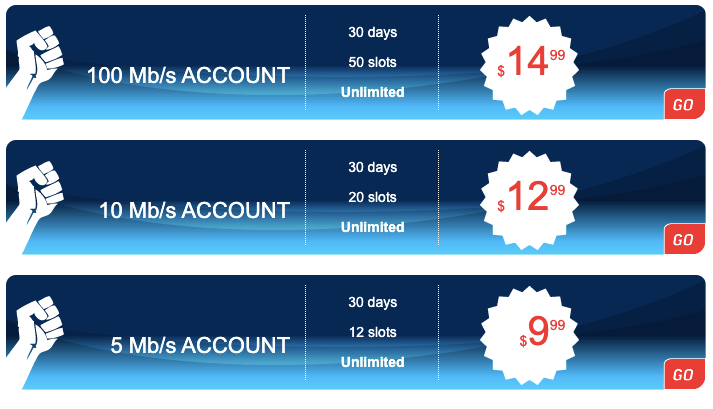 | Price | Connections | Speed |
| --- | --- | --- |
| $9.99/m0 | 12 | 5 Mb/s |
| $12.99/mo | 20 | 10 Mb/s |
| $14.99 | 50 | 100 Mb/s |
There is no automatic charging after each month of subscription. You can reactivate your subscription after each period.
Retention
UnlimiNews currently offers up to 1000 + days days of binary retention and 1,350 days of text retention.
Free Trial
The provider does not have any free trial option.
Special Offers
Despite not having a free trial, they have a limited account offering that you can try for 30 days at $0.99. With this package, you can try out their service with all the regular features except the data limit which is capped at 1GB.
Payment Options
UnlimiNews accepts PayPal with existing PayPal account and Credit or Debit Card via PayPal for subscription.
Configuration Information
UnlimiNews server address is: news.unliminews.com.
Unencrypted port: 119 Encrypted port: 563
Their website also has a tutorial link on how to use and set up their recommended newsgroup client.
Speed Test
UnlimiNews delivers on the speed they advertise. Choose your plan well and eventually you will only be restricted by how fast your internet service providers maximum speed is.
Privacy
A 256-bit SSL encryption is provided across all of UnlimiNews' packages regardless of the price point you choose. Users are assured of the safety and security of their downloads and uploads.
UnlimiNews is also committed to not sell or give away user information to anyone except if imposed by a court of law. And while they monitor servers to ensure high-quality service, UnlimiNews does not monitor or log any user activity on the Usenet network.
Customer Service
A support form can be found on their website for any technical concerns, payment or sign up clarifications or need for other information. No direct email is provided, but you may also reach them through the contact information below:
Z51 L.L.C.
2915 Ogletown Road
1354, Newark, DE
19713, USA
Phone: +1 (302) 294 0 248
Additional Products
UnlimiNews offers its own newsreader, PureNZB, on all their subscription plans. The newsreader comes pre-configured with UnlimiNews, making it easier to set up and use. It comes with integrated and simplified search, automatic repairs and decompression for downloads, video streaming and is automatically updated which allows users to enjoy new functionalities right away.
Summary
UnlimiNews makes Usenet more affordable and more accessible with the package they offer. Their limited speed account is perfect for people who use Usenet a lot for downloading and cannot get by with using block accounts.
The inclusion of their own newsreader is also a great addition to their service. Having PureNZB as a pre-configured software lessens the hard work of setting up for Usenet access. Users also aren't limited to their offered software. UnlimiNews lets you use other newsreaders or applications on their service. They even have other recommended software on their website where they also give instructions on how to set them up.