Usenet Newsfeed
Last Updated: Feb 15, 2021
Formerly known as Uncensored Newsfeed, Usenet Newsfeed assures its customers their best service through their years of experience. They offer no bluff, no commitments to any of their clients, and they welcome cancellation anytime.
With servers in the United States and Europe, Usenet Newsfeed promises to always provide fast, unthrottled and secure Usenet access through its 256 bit SSL private connection. In addition, they have the following features:
Completion up to 99%
Over 110,000 uncensored newsgroup
Free headers
Free posting
Private and secure browsing
Pricing
Usenet Newsfeed comes with two packages - Recurring SSL for recurring payment until you cancel it, and One Time Block Purchase good for 365 days.
Recurring SSL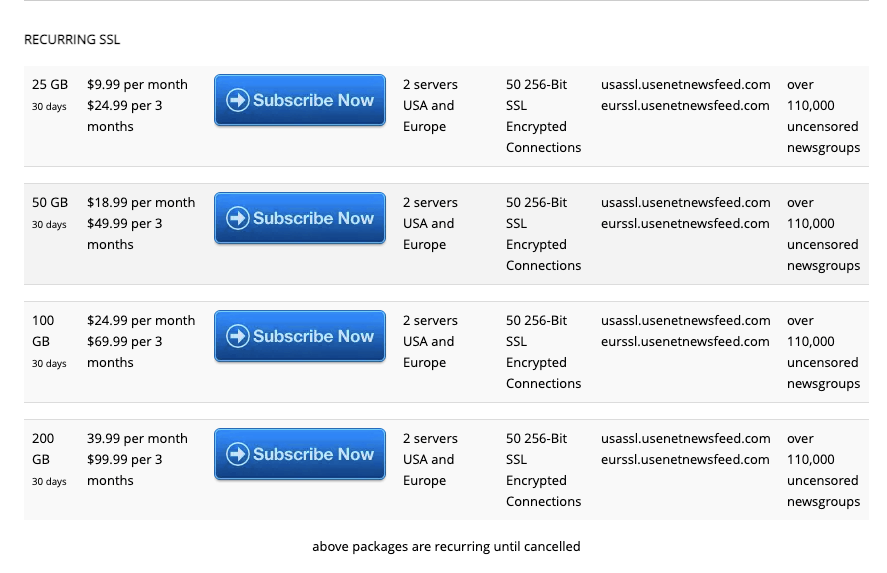 One Time Block Purchase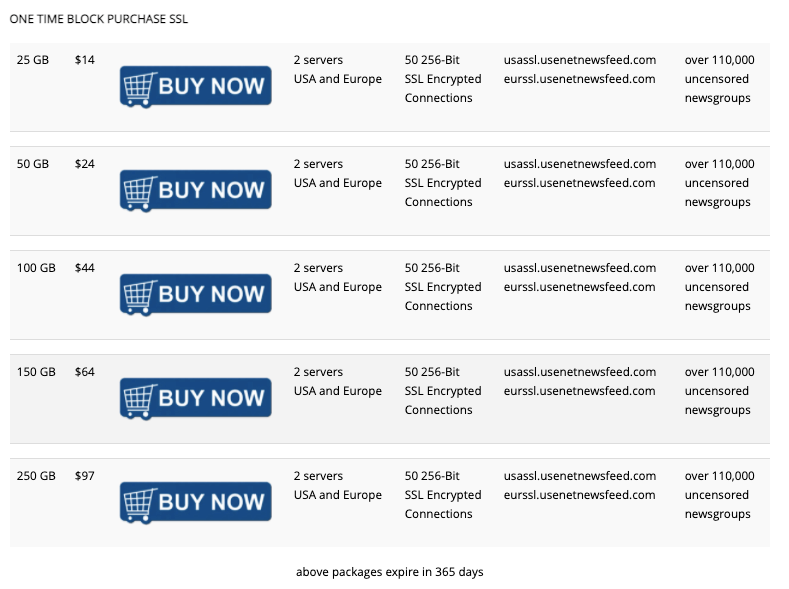 Both have access to Europe and the United States server, with a maximum of 50 connections simultaneously, 256-Bit SSL encrypted connection, and over 110,000 newsgroups to explore.
Retention
The website claims that Usenet Newsfeed has an excellent retention for binary of up to 1100 days, and 15+ years for text. But in comparison with other Usenet providers, 3 years is relatively low.
Free Trial
They do not offer a free trial with any of their plans, which is unfortunate as you can't test the service before you use it, and you might end up paying for a service that doesn't satisfy you at all.
Special Offers
They have no special offers at the moment.
Payment Options
They accept payment Credit Cards through the CC Bill.
Configuration Information
Please note that all packages include SSL connections. To connect to Usenet Newsfeed, configure your selected newsreader with:
usassl.usenetnewsfeed.com
eurssl.usenetnewsfeed.com
both with ports 563, 80, or 81.
For old accounts:
usaextra.usenetnewsfeed.com
eurextra.usenetnewsfeed.com
both with ports 563, 80, or 81.
Another option is:
usa.usenetnewsfeed.com
eur.usenetnewsfeed.com
both with ports, 119, 443, and 8080.
If you are not sure of what server to use, you can always message the service provider in their website online form.
Speed Test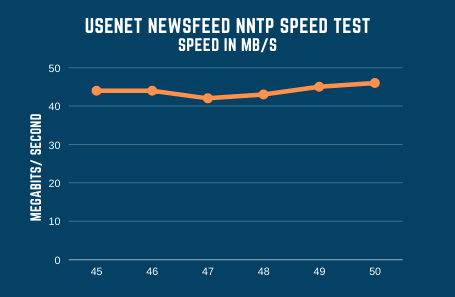 Usenet Newsfeed provides a fast and reliable service through its robust network of servers across the world. The service has servers both across Europe and the United States with direct peering connections.
Privacy
With its 256-Bit SSL encrypted connection, Usenet Newsfeed assures its clients private and secure browsing.
Customer Service
There were no contact details provided on their website. However, you can leave a message on their online contact support form.
Additional Products
Usenet Newsfeed has a free web-based newsreader in every account. You can download sAbnzbd, thunderbird, and NZBGet, which have their own unique features.
Summary
Usenet Newsfeed is a service provider that has been operating since 1999. While this provider offers excellent features like its reliable speed and service provider allowance up to 50 connections, there are still significant flaws. There is no free-trial period for any plan and it does not provide the retention rate. In addition, customers will have more confidence if they can provide contact information on their website.
We should also note that connection speed for accessing the Usenet Newsfeed newsgroup is based on your proximity to the newsgroup servers provided.