Usenet.nl
Last Updated: Feb 15, 2021
Founded in the Netherlands in 2009, Usenet.nl is another subscription provider that offers fast and easy access to Usenet to over 199,000 newsgroups and with over 30,000 of terabytes available.
It comes with four free newsgroups (Momentum, Tanysoft, SAbnzb, Holmez.com) compatible with any device for your full experience with Usenet.
Pricing
The company offers two packages for its customers- Compact and Relax. The compact package is the basic subscription of Usenet.nl, which charges every month. The Relax package, on the other hand, charges for a yearly subscription.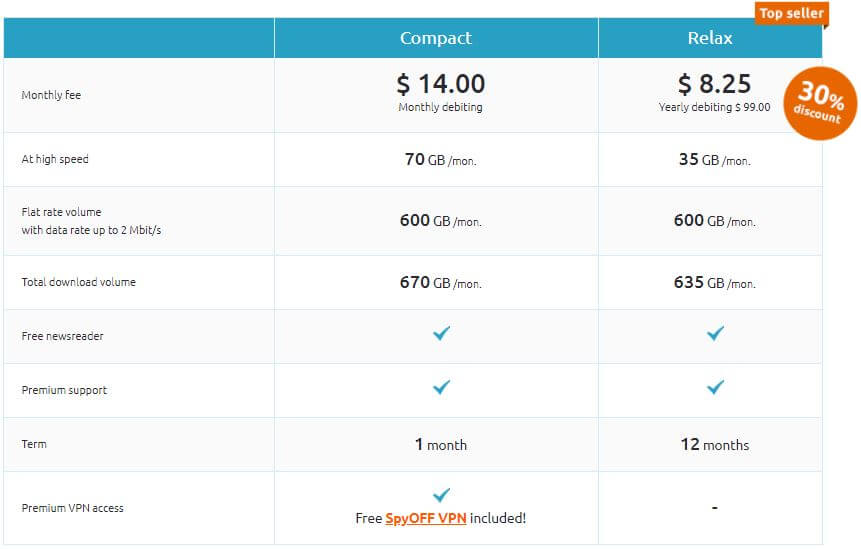 The Compact package will be entitled every month to the following features:
$14.00 per month
Up to 70GB high speed per month
600GB flat-rate volume per month with data rate up to 2Mbit/s
670GB total volume download per month
Free Newsreader
Premium Customer Service Support
For Relax subscription, you will save at last 30% discount for a 1-year subscription while enjoying the following benefits:
$8.25 per month
Up to 35GB high speed per month
600GB flat-rate volume per month with data rate up to 2Mbit/s
635GB total volume download per month
Free Newsreader
Premium Customer Service Support
Retention
Usenet.nl offers the retention of binary and text up to 3,800 days, which is just sufficient for starters.
Free Trial
You are free to use Usenet.nl for 14-days with a limited 10GB volume download. However, if problems arise regarding cancellation and the quality of their service, they provide you with support within the free trial period. Email info@usenet.nl for more details.
Special Offers
None at the moment.
Payment Options
They welcome payments from Single Euro Payments Area, iDeal, and credit cards. Please note, however, if you do not cancel your registration before the trial period expires, it will automatically extend to their relax subscription of $8.25 per month.
Configuration Information
Configure your selected newsreader to the Usenet.nl server: power.usenet.nl and port: 119/443 for encrypted connection and 563 for SSL connection.
Speed Test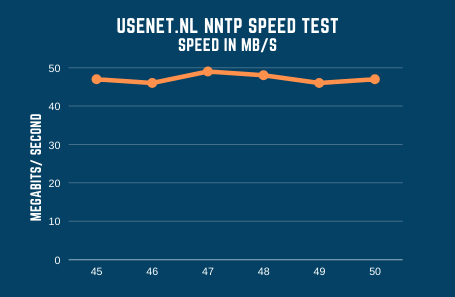 Having five (5) server farms within Europe and America, Usenet.nl guarantees maximum speed up to 16 simultaneous connections.
However, high speed is limited, you will only get high speed for the first 35-70GB depending on your plan and will only get 2 Mbit/s speed after.
Privacy
Usnet.nl promises not to collect any data and offers 256-bit SSL encryption every time you connect to the server, making it more secure when browsing.
Customer Service
Post your questions and concerns through info@usenet.nl and Tel.: (+39) +49 (0) 211 41 76 87 68 every Mondays-Fridays at 10 AM- 8 PM (CET) and Saturdays at 10 AM-6 PM (CET).
Please also note that they only cater to queries written in English and in German. You can also contact them online through their available contact forms.
For personal transaction, refer to the following address:
USENET.NL. S.R.L.
Piazza Enrico Enriquez 22/c, 47891 Dogana,
San Marino, C.O.E. SM 22403.
Additional Products
Free newsreader for its clients.
Summary
Usenet.nl has been in the industry since 2009. Like many of its competitors, it offers us preferences we can't refuse. Usenet.nl is one of the Usenet providers that include their own newsreaders in their subscription plans. However, most of its reviews are concerned with their slow response to customer service, the vagueness of their terms and conditions, and their right of customers to cancel the plan without paying for the free-trial charges. It is always good to remember that you have the right to cancel the service that doesn't satisfy you at all- and it applies to all providers.
We advise you to read reviews like this before subscribing to any providers if you are hesitant or not familiar with their terms.