Usenet.org
Last Updated: Feb 15, 2021
This provider is committed to give users uncomplicated service that provides their subscribers with access to over 200,000 newsgroups. With unbraked speed without restrictions, maximum security, and dedicated customer support, Usenet.org is a reliable service.
Pricing
Usenet.org only has a straightforward and simple pricing plan. You can either subscribe to their service for one month for €8.33 or one year for a one time charge of €99.96.
Retention
Usenet.org provides 3400 retention days.
Free Trial
When you sign up for a Usenet.org service you are automatically directed to their 14-day free trial. You will only be billed if you decide to continue using their product after the trial period. If you are unsatisfied with their service, make sure you cancel within the trial period by contacting their support via live chat, email or phone. You can find those details on their members' area.
Special Offers
Usenet.org does not have any current special offers. To get updated with possible promotions or discounts, check back with us or visit the Usenet.org website.
Payment Options
Credit cards and Paypal are the only current payment methods accepted by Usenet.org.
Configuration Information
Usenet.org provides details on how to configure your newsreaders with their service once you've signed up with their service. Unfortunately, host name information and ports that can be used are not supplied via the Usenet.org website.
Speed Test
You can enjoy unlimited speed with Usenet.org. They can maximize the speed of your internet service provider.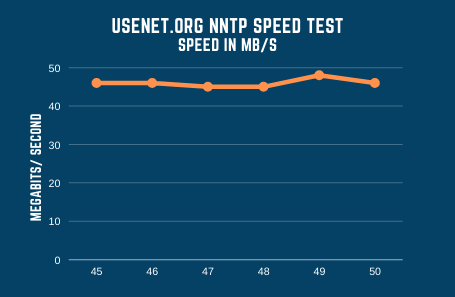 Privacy
From log in to connection, Usenet.org offers a 256-bit SSL encryption which makes Usenet access safe and secure. They also guarantee that they do not pass any information to third parties.
Customer Service
Usenet.org has a professional support team that can be reached via phone, email or live chat. They also have an online contact form available.
Contact details:
Phone: +41 44 508 3255
Email: info@usenet.org
Address: Usenet.org
Hallenstrasse 15
8008 Zurich CH
Additional Products
With their proclaimed simplicity and uncomplicated service, Usenet.org does not offer any additional service or products.
Summary
While simplicity is good, sometimes options are also a good way of enticing consumers to go for your service. In the case on Usenet.org, their simplicity may be something that could be improved with a few more pricing options or even different account offerings for users to choose from. They could also benefit from giving additional features and providing more information on their full service.