Usenet4u
Last Updated: Feb 16, 2021
Usenet4u provides 1,900 days for retention and up to 18 connections simultaneously. Any of its plans are not via subscription and not contract-based, so you will not worry about the automatic reductions and renewals on your account. In addition, they have the following features:
Free headers
Free SSL security
Free check of data usage
Safe and easy payment
Offers prepaid and unlimited package
Pricing

Usenet4u recommends their two types of packages: the unlimited and the prepaid. The prepaid lets you use your purchase product or amount of GB indefinitely with a maximum speed until you use up all the quantity of data. While the unlimited package is valid for up to 12 months depending on your choice while using a fair use of service of up to 50 or 250+ Mbit.
Unlimited package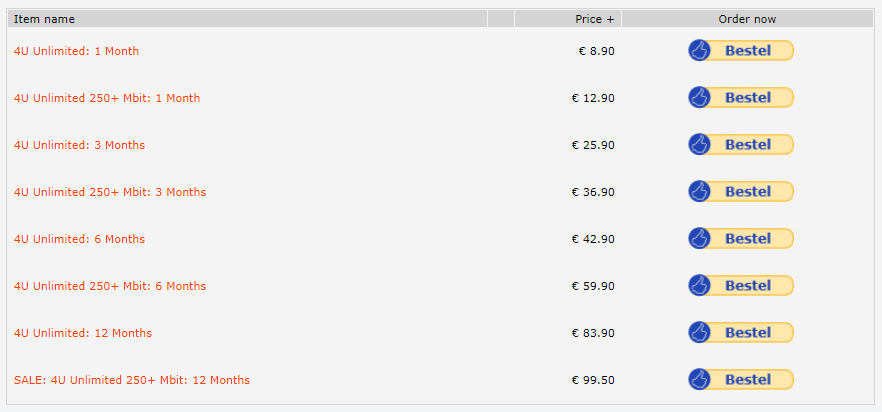 | PLAN | DOWNLOAD SPEED | PRICE |
| --- | --- | --- |
| 4U Unlimited a month | 50 Mbit | €8.90 |
| 4U Unlimited a month | 250+ Mbit | €12.90 |
| 4U Unlimited 3 months | 50 Mbit | €25.90 |
| 4U Unlimited 3 months | 250+ Mbit | €36.90 |
| 4U Unlimited 6 months | 50 Mbit | €42.90 |
| 4U Unlimited 6 months | 250+ Mbit | €59.90 |
| 4U Unlimited- 12 months | 50 Mbit | €83.90 |
| SALE- 4U Unlimited 12 months | 250+ Mbit | €99.50 |
Prepaid Small- Large Package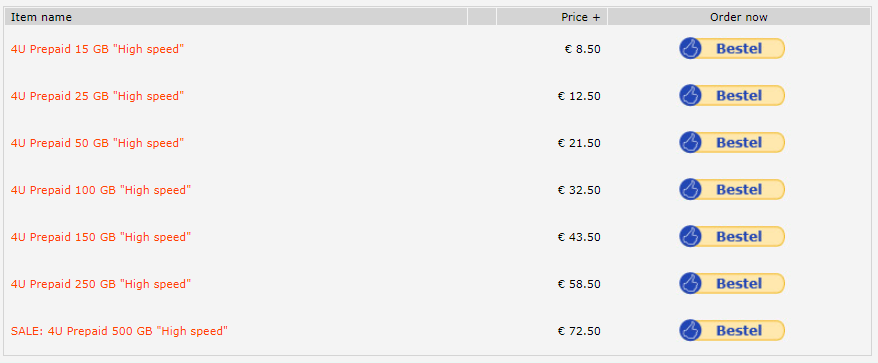 | PLAN | PRICE |
| --- | --- |
| 4U Prepaid 15 GB "High speed" | €8.50 |
| 4U Prepaid 25 GB "High speed" | €12.50 |
| 4U Prepaid 50 GB "High speed" | €21.50 |
| 4U Prepaid 100 GB "High speed" | €32.50 |
| 4U Prepaid 150 GB "High speed" | €43.50 |
| 4U Prepaid 250 GB "High speed" | €58.50 |
| SALE- 4U Prepaid 500 GB "High speed" | €72.50 |
| 4U Prepaid 1000 GB "High speed" | €139.50 |
All plans include 400 Mbit+ or unlimited download speed, free headers, and 1,900 days retention.
Retention
Usenet4u offers its client 1,900 of retention to their data for all its packages.
Free Trial
There is no free trial to any of their service.
Special Offers
Usenet4u gives a discount if you purchase some of their highest plans.
Unlimited 250+ Mbit 12 months- from €110.90 to €99.50
Prepaid 500 GB "High speed"- from €87.50 to €72.50
Both are temporary and may be subject to change.
Payment Options
Uenet4u offers multiple payment methods for its customers. You can pay using online banking or Credit cards, bank transfers, iDEAL, Paypal, and Bancontact.
Configuration Information
Connect through their servicer via:
Standard ports: 119
SSL secure ports: 563
Speed Test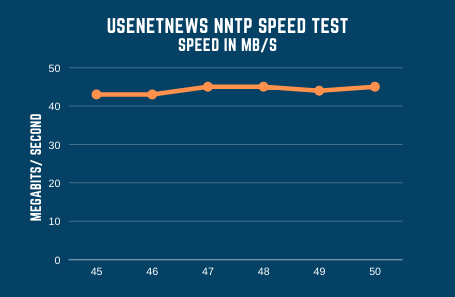 Usenet4u promises not to have any hindrances for high-speed browsing in Usenet through their service.
For downloading capacity, please remember that this depends on what service and package you purchased. For unlimited package, you can enjoy 50 up to 250 Mbits, and less than 500 for the prepaid package.
Privacy
Usenet4u claims to protect your data with their SSL encryption technology, having you the confidence to browse and download anonymously. While they keep your data indefinitely, they only do this to either send you a newsletter, inform you about any changes to your account, or new services and products offered by Usenet. Usenet4u will share none of your data without your consent to any third party. They assure you to answer your concerns four (4) weeks if you send them through info@usenet4u.nl.
Customer Service
Usenet4u responds to any query submitted via support@usenet.nl email address.
For sales-related concerns: sales@usenet4u.nl
For general questions info@usenet4u.nl.
However, before you contact them, Usenet4u wishes you to visit the forum discussion available on their website first as it may contain the most common, most updated news regarding using the provider.
Usenet4u address is at: Hertenweide 4, 6463 PA Kerkrade, Netherlands KVK: 14083809
Additional Products
None at the moment.
Summary
For over 15 years, Usenet4u has been working to deliver excellent service to its clients by offering smart and "money-saving" packages. They say that quality, service, and good price are their three principles practiced over the years. While this might sound true to some, it is always inviting if the service offers a free trial or at least a 24 hours test account to see how Usenet4u differs from others.
Also, please be advised that all purchased items will include 21% VAT. Read the terms of service before purchasing unfamiliar services.