UsenetNews
Last Updated: Feb 16, 2021
UsenetNews allows its clients to access multiple and independent Usenet servers with only one subscription.
UsenetNews provides access to the best independent Usenet provider through combining its services into one with convenient and more budgetary options.
Like other providers, UsenetNews offers SSL encryption, private and secure browsing, and average retention to your data.
Pricing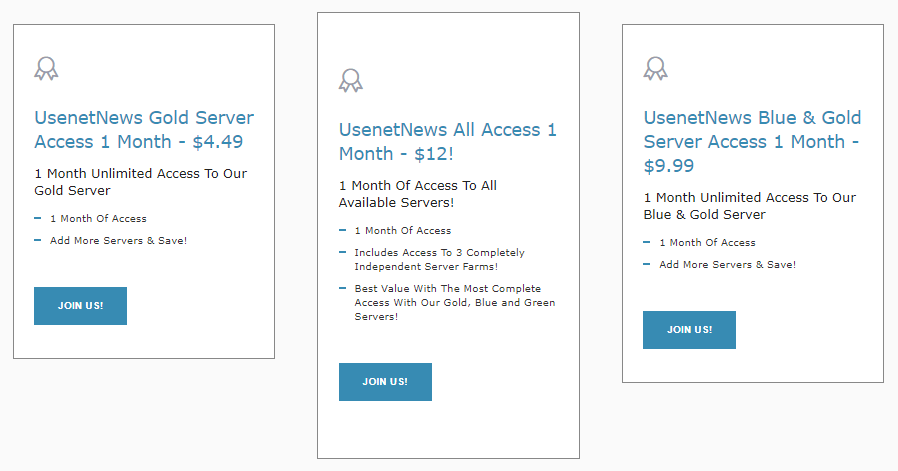 | PLAN | PRICE | RETENTION | CONNECTIONS | SERVERS |
| --- | --- | --- | --- | --- |
| Gold Server | $4.49/mo | 1,500 | 40 | EU |
| Blue & Gold Server | $9.99/mo | 3,000 | 50 | EU |
| All Access | $12.00/mo | 2,000 | 50 | US & EU |
Retention
Each server and plan has its own retention.
For gold package- 1,500 days
All Access- 2,000 days
Blue and Gold- 3,000 days
Free Trial
There is no free trial for its service. However, if you are not satisfied upon purchase of service, you can request a refund within 24 hours or 5GB of download, whichever happens first.
For unlimited accounts, you may cancel your membership within 48 hours or 2GB from the time your account was activated.
Special Offers
They have no special offers at the moment.
Payment Options
UsenetNews accepts payment through Paypal, Credit Cards, and Cryptocurrency (for non-subscription service).
Configuration Information
Configure your server through the following address:
For Gold- Server Address / Hostname: gold.usenetnews.net with up to 40 connections
For Gold and Blue- Server Address / Hostname: blue.usenetnews.net
For All-Access- US Server Address / Hostname: green.usenetnews.net. For EU Server Address / Hostname: green-eu.usenetnews.net.
Non-SSL Ports: 23, 80 or 119
SSL Ports: 443 or 563
Always enable the SSL in your newsreader before browsing the Usenet. For the Fair Usage Policy (FUP) of All Access package, they offer up to 2TBs per month.
Speed Test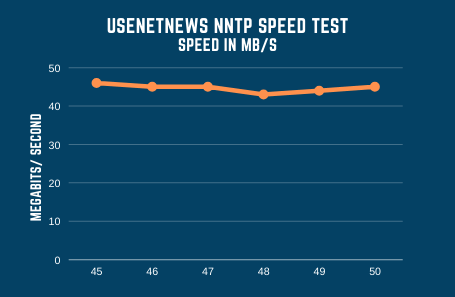 There are no restrictions or limits with the speed of your server. The only hindrance is your computer's internet speed.
Privacy
UsenetNews promises not to store any of your data from the time you subscribe to their plan. They claim that all their servers provide 100% safe and secure access. However, they have the right to modify these settings if found guilty of some guidelines and violation from terms of service of any of their products.
UsenetNews asserts to take fraud seriously. If you happen to experience your contact details used on this website, you can send a copy of the police report to them and they will refund the charges used from your credit cards.
Customer Service
UsenetNews provided Frequently Asked Questions (FAQs) in which you can refer to the usual concerns without reaching the team. If it does not satisfy you, you can send your concerns through their email at support@usenetnews.net
Additional Products
There are no additional products offered by UsenetNews at the moment.
Summary
With its vision to become a Usenet marketplace, the UsenetNews ended up getting the best Usenet servers in the market while putting it together as one service to give the best client experience possible. They claim to offer the best solution to different and complicated packages other providers offer, but while the site provides an opportunity to maximize your connection from any servers, a retention of 1,500 days for basic package is outdated and not competitive compare to what they promise.