UseNetNow.Net
Last Updated: Feb 10, 2021
UseNetNow.Net provides Usenet access with fast speeds, up to 50 connections, 4532 days of retention and free SSL encryption in all of their plans. Their account types allow users to have a 7-day, one month or 3-month access with the option to go for a recurring or non-recurring plan.

Pricing
Their pricing is pretty simple and covers most of the basic necessities that come from a Usenet service provider. You may opt to go for a recurring or non-recurring plan except for their 7-day package, which is non-renewing.
| Plan | Price | Connections | Renewal |
| --- | --- | --- | --- |
| Unlimited 7 Days | $3.99 | 50 | Non-renewing |
| Unlimited Monthly | $7.99 | 50 | Subscription or non-renewing |
| Unlimited 3-month | $16.99 | 50 | Subscription or non-renewing |
Retention
Binary retention of this provider is currently at 4532 days.
Free Trial
There is no free trial information for this provider.
Special Offers
UseNetNow.Net does not have any existing special offers, discounts or coupons. They do, however, offer 2 extra days free if you purchase any of their plans via cash or money order payment.
Payment Options
UseNetNow.Net accepts major credit cards, PayPal, Cash or Money Order and crypto currencies.
Configuration Information
The addresses for the news servers are:
usnews.usenetnow.net
eunews.usenetnow.net
eunews2.usenetnow.net
usnews-v6.usenetnow.net
eunews-v6.usenetnow.net
eunews2-v6.usenetnow.net
You may connect to standard non-SSL connections through ports 23, 119, 2000, 8080 and 9000. SSL connections are at ports 443, 563 and 5563.
Speed Test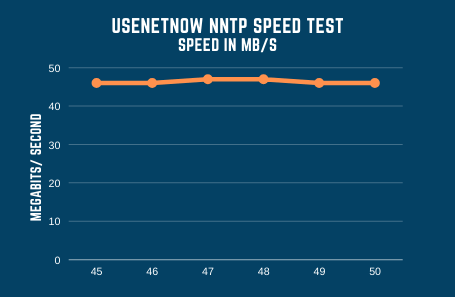 UseNetNow.Net has one server in the US and two in Europe (Amsterdam and Germany). They perform well in terms of speed. Like other Usenet providers, they offer speed that will most likely only be limited by the speed provided by your internet service provider.
Privacy
SSL Encryption is included in any of the plan users select from UseNetNow.Net. This provides a secure and safe access to Usenet.
The provider does not monitor any user activity in their system. The newsgroups you visit or what you download is not logged. Account information is also not shared with any third party except for processors who help in the subscription process. Any information about a user is not released to law enforcement unless presented with a valid warrant.
Customer Service
A UseNetNow.Net support ticket system is available at on their website or you may email them directly at support@usenetnow.net. They also have a contact form available at their FAQ page.
Address:
Blocknews
PO Box 824
Alfred, Maine
USA 04002
Additional Products
UseNetNow.Net is not offering any additional products included in their plans or any other Usenet-related service.
Summary
UseNetNow.Net provides basic features included in the plans they offer. While their pricing and features aren't bad, they are not as competitive as other Usenet providers. Their subscription and non-renewing packages are very simple and straightforward which may seem appealing at first but there are other Usenet providers out there who would offer additional features like newsreader inclusion or VPN add-ons. Some even have block account options, which might be better than UseNetNow's 7-day plan. Plus, these other providers would even have a free trial period or money-back guarantee that would allow users to initially experience their service.
Overall, UseNetNow.Net's simple price plan may be their best asset. It has no frills, no complicated information and very basic offerings. But what may be their greatest asset, might be what would make some subscribers go for other Usenet providers.