Usenet Prime
Last Updated: Feb 09, 2021
Usenet Prime is a reseller of Tier 1 provider, UsenetExpress, that offers Usenet users with unlimited speeds, SSL encryption, high retention rates along with a reliable customer service. Usenet Prime uses the backbone of Usenet Express to provide good service to their subscribers. This Usenet provider has both unmetered and block plans that users can choose from depending on how heavy of a Usenet downloader they are.
Previously, Usenet Prime only had servers in the United States. However, recently they have been using EU servers as well to provide optimal connectivity with access to about 104,000 newsgroups.
Pricing
Usenet Prime has three plans available for its customers. They have one unlimited access and speed plan priced at $10 per month, and two block access plans priced at $20 and $35. These plans have access to 50 simultaneous connections and free SSL encryption.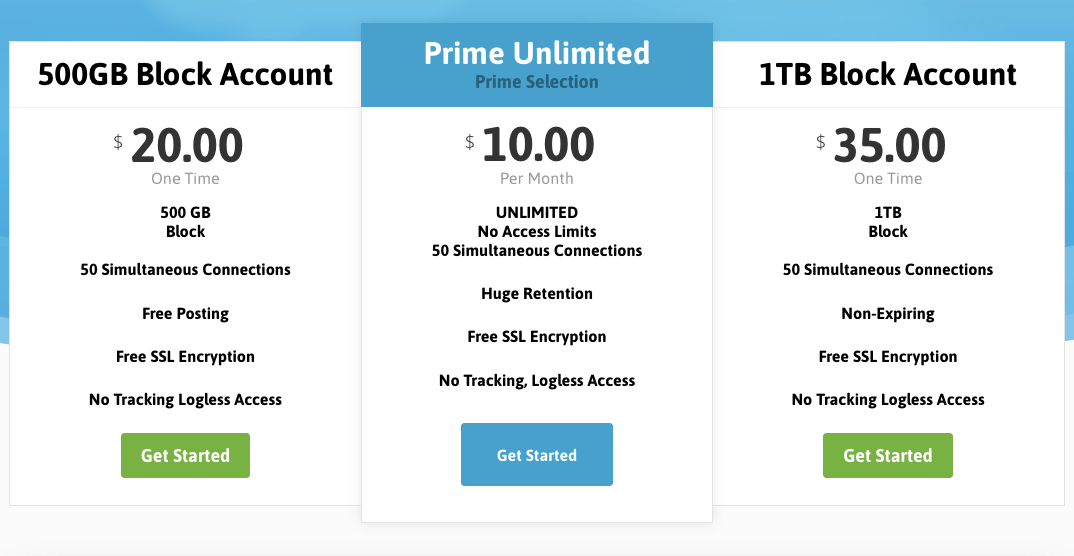 Retention
While the Usenet Prime website does not blatantly mention their current retention rate, they claim they have a high number of retention days. From what we've gathered from our research and other sources, Usenet Prime currently has 1100 days of binary retention.
Free Trial
Users will not be able to test out Usenet Prime's service since the provider does not offer any free trial. You would have to subscribe to their service right away to be able to find out if they are a decent Usenet service provider.
Special Offers
Currently, Usenet Prime does not have any special offers for customers. However, they do offer some good discounts and coupons every few months. Visit the Usenet Prime page once in a while to find out if they have special offers or check back with us for updates.
Payment Options
Usenet Prime accepts major credit cards as payment options, including Mastercard, Visa, American Express and Discover. You can also use PayPal as an alternate payment method.
Configuration Information
You should configure your favorite newsreader settings to the Usenet Prime server:
Server: news.usenetprime.com
Standard port: 119 and 80
SSL port: 563 and 443
To keep your Usenet activity safe and secure, we recommend always using an SSL port.
Speed Test
As mentioned, Usenet Prime has servers located in both the US and EU. If you live near the areas of the server locations, then your speed should be quick. However, it is important to note that the speed of your Usenet activity from browsing to downloading would depend greatly on how fast your connection is as provided by your internet service provider. But based on our tests, Usenet Prime should be able to maximize the speed of your ISP.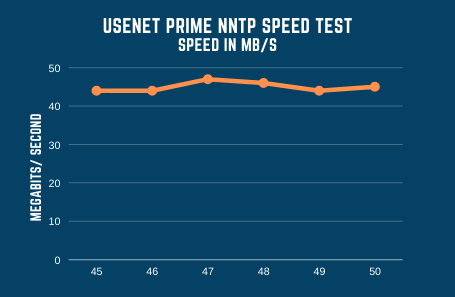 Privacy
Like other Usenet providers in the market, Usenet Prime values the privacy and security of its customers. They provide 256-bit SSL across all their plans to keep Usenet activity safe and anonymous. They also apply firewalls on their website to have a high-level of security. And while they collect payment information from their users, they have security solutions in place to keep this information private.
Usenet Prime also does not log any user activity in their system. As mentioned on their account plans, they provide "no tracking, logless access".
Customer Service
In terms of their customer support, Usenet Prime has a pretty consistent track record for having a reliable and efficient support team. There are several ways users can contact them, from email or through the contact form available on their website.
Additional Products
Usenet Prime has a very straightforward service and does not have any additional products or features for its users. However, you can check out the provider they are reselling, UsenetExpress, for VPN inclusions.
Summary
Usenet Prime provides almost the same service as that of the Tier 1 provider they are reselling. They have similar retention and completion rates and speed. However, it lacks some of the premium features that UsenetExpress offers like its VPN inclusion. Nonetheless, Usenet Prime is still a decent choice as far as Usenet providers are concerned. And although they may not be considered currently as one of the top Usenet services in the market, Usenet Prime still has a lot of positives going for them from their competitive pricing and outstanding customer support. However, Usenet Prime could benefit from offering free trials for its potential users. This would alleviate the possible apprehensions of other Usenet users on subscribing to their service. With all those being said, Usenet Prime could either be a decent primary Usenet service for you or a solid back-up provider.