UsenetServer
Last Updated: Feb 09, 2021
UsenetServer is a US-based Usenet provider that has been in the business since 1998. They provide high quality service, excellent speed at low prices. They are a Tier 1 provider, meaning they run their own network, so you expect to have stable connections and high-completion rates.
Pricing
UsenetServer plans are pretty straightforward. They all include unlimited downloads, free unlimited Usenet search, 20 SSL-secured connections, access to over 100,000 discussion groups, 5522 days of binary retention with 99% completion. The only difference is a zero-log VPN inclusion on their 12-month plan. Also included in all their plans is a Global Search feature that allows you to search for articles and create as many NZBs as you like into your newsreader.

| Plan | Price | Speed | Connections | VPN |
| --- | --- | --- | --- | --- |
| 1 month | $14.95/mo | Unlimited | 20 | Available at $4.99/mo |
| 3 months | $8.95/mo | Unlimited | 20 | Available at $4.99/mo |
| 12 months | $7.95/m0 | Unlimited | 20 | Zero-log VPN Included |
Retention
UsenetServer maintains a big storage architecture to provide customers with over 5522 days of binary retention. This is among the best there is in the industry. You will be able to access articles posted from 11+ years ago. Some providers only offer just a few months or a few years.
Free Trial
All of UsenetServer's plans include a 14-day / 10GB free trial. It ends in 14 days or once 10GB has been used. This free trial gives you access to their servers with full retention, unlimited speed and secure connections. Should you want to cancel your subscription, make sure to cancel before the 14-day period ends or before you consume all the 10GB limit.
Special Offers
As mentioned on their website, you save 60% if you purchase their 12-month subscription.
Payment Options
UsenetServer allows payments through credit cards and PayPal. You can also pay with a money order, but there is a 3-month minimum and should be paid in USD. All non-US funds will be rejected and may be returned to the sender.
Configuration Information
On your chosen newsreader setting, enter the server address: news.usenetserver.com along with your UsenetServer username and password.
Unecrypted Ports: 20, 23, 25, 119, 3128, 7000, 8000 and 9000
SSL Ports: 563, 443, or 8080
For other server options:
Autoselect:
IPv4: news.usenetserver.com
IPv6: news6.usenetserver.com
US:
IPv4: news-us.usenetserver.com
IPv6: news-us6.usenetserver.com
EU:
IPv4: news-eu.usenetserver.com
IPv6: news-eu6.usenetserver.com
Speed Test
UsenetServer's network backbone connects to over 800 broadband access providers around the world in addition to multiple Tier 1 bandwidth providers which translates to blazing download speeds for you! With any of their plans, you are guaranteed to have fast downloads, your only limit is your own internet service provider.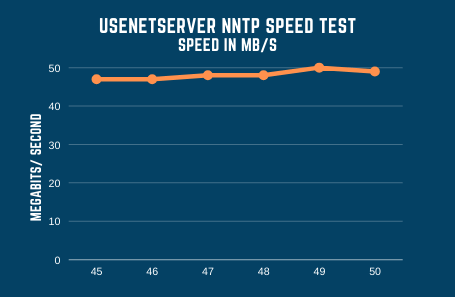 Privacy
UsenetServer offers free 256-bit SSL connections in all of their subscription plans. They also have a zero-log VPN software included in their 12-month plan. You can also avail of this for $4.99.
UsenetServer does not monitor which newsgroups users post to or download from. They also do not release any customer information unless required by a court of law.
Customer Service
Their support page has a comprehensive list of FAQs that consumers can go through for easily answerable inquiries. They also have a contact form available on their support center for technical concerns or other issues.
Other contact information:
UNS Holdings, Inc.
120 22nd Ave S. #146
Brookings, SD 57006 USA
Tel No: (602) 715-1636 (billing issues only)
billing@usenetserver.com
Additional Products
One of UsenetServer's best features is Global Search 2.0 which is a search engine that allows you to search for files on Usenet and create your own NZBs. All of UsenetServer plans, including the free trial period, includes Global Search.
The provider also includes PrivadoVPN in their 12-month plan and can be purchased as an add-on with their 1-month and 3-month plan. Privado VPN protects your entire Internet connection with a personally encrypted VPN.
Summary
With their years of experience in the Usenet industry and their track record, UsenetServer proves to be a very reliable Usenet provider. The company does not only provide impressive basic features needed with Usenet access like SSL connections or unlimited downloads and speed, but they also have a high retention rate, great additional features and competitive price points.