UsenetStorm
Last Updated: Feb 10, 2021
UsenetStorm has been in the industry for a long time. Formerly known as AltBinaries, the company previously gave free unlimited access to Usenet straight through your web browser. Now the provider offers several plans that include fast downloads, privacy protection, uncensored Usenet and up to 50 connections. UsenetStorm carries thousands of newsgroups, has a 99.9% completion rate and over 4 years of retention. All their plans also include the Newsbin Pro newsreader.
Pricing
The UsenetStorm plans include security and privacy via SSL encryption, unlimited speed and 50 connections. The only variation in their packages are the download limits.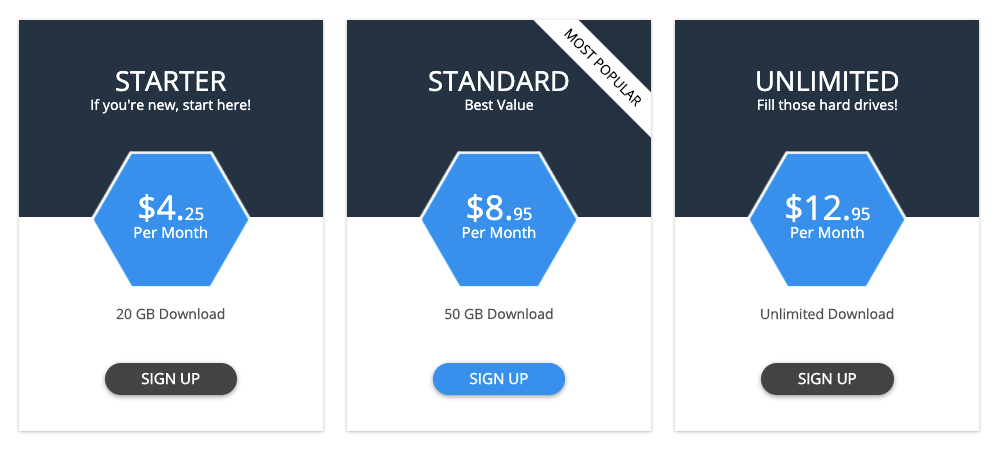 | Name | Price | Download Limit |
| --- | --- | --- |
| Starter | $4.25 per month | 20 GB |
| Standard | $8.95 per month | 50 GB |
| Unlimited | $12.95 per month | Unlimited |
Retention
UsenetStorm has a retention time of over 4 years, which is competitive with other providers.
Free Trial
There is no free trial with this provider.
Special Offers
UsenetStorm provides the full retail version of Newsbin for free as long as you have an account with them. Newsbin Pro is one of the longest running and most popular Windows newsreaders. Its basic function is to browse through, read, or post to individual newsgroups.
Payment Options
The provider only accepts Visa, Mastercard and Discover cards as payment options.
Configuration Information
UsenetStorm provides a reliable and fast service through their network of servers in the US and Europe. With UsenetStorm, you can use up to 50 simultaneous connections, which is more than most people need. Below is the list of both their encrypted and unencrypted servers.
Unencrypted:
east.usenetstorm.com, port:119
west.usenetstorm.com, port: 119
europe.usenetstorm.com, port: 119
Encrypted:
ssl.usenetstorm.com, port: 563
europessl.usenetstorm.com, port: 563, 80
Speed Test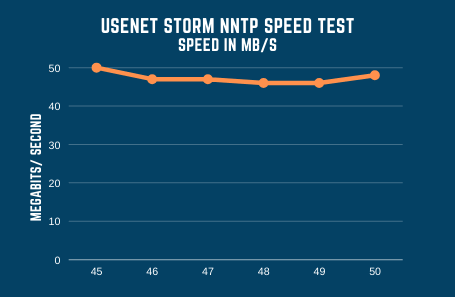 Their connection has been tested to have a download speed of 1.8 Gbps with just 30 streams, which is more than enough for most users.
Privacy
UsenetStorm has support for encrypting connections through 256-bit SSL. Although there are unencrypted server addresses for this provider, it is recommended that subscribers use SSL servers to protect user privacy. SSL prevents anyone from seeing what you're downloading or searching for.
Regarding subscriber data collected by UsenetStorm, the provider only uses account information for subscription processing. Only when requested by a court of law or when presented by a legal requirement will the provider disclose any information.
Customer Service
A contact support form is available on the Usenet Storm website. You may also reach their technical support directly via support@usenetstorm.com or if you have billing concerns, you may email them at billing@usenetstorm.com.
Address
Information Couriers, Inc.
1765 E. Nine Mile Rd. 1-201
Pensacola, FL 32514
USA
Additional Products
As mentioned, a full retail version of Newsbin newsreader comes standard with all their subscription plans. No other additional products mentioned.
Summary
UsenetStorm presents a lot of positive things with their service. They have a safe and secure system, great connection speeds, excellent privacy policy, access to thousands of newsgroups and a high completion rate. However, some of their competitors have the edge of offering a free trial period and a higher retention rate. And while their UsenetStorm's packages cater to different subscribers from newbies to heavy users, their unlimited package is a little higher in price point than most preferred providers. Their starter and standard plan, on the other hand, cost less but is limited in download speed.
And upon comparing this to competitors, other providers offer more or less the same block access but without connection limitations and expiration at the same price. Overall, UsenetStorm delivers decent service that may appeal to intermittent Usenet users, but they have yet to competitively match up their price points with that of other providers.