UseNeXT
Last Updated: Feb 15, 2021
Coined as the "Next Generation of Usenet", this service provider might have the answers to our preferences.
Although it was founded early in 2004, UseNeXT offers an upgraded and improved kind of service compared to regular providers.
It gives you the freedom to gain access to 30 petabytes of data worldwide
Unlimited speed with its access to Europe and America data centers
Up to 30 simultaneous connections allowed
14-day free trial period (Cancel anytime!)
10GB DSL bandwidth download
2,000kbit/s flat rate
User friendly and offers 9 languages
free SpyOFF VPN across all plans
Pricing
UseNeXT provides two options based on your budget. The Savings plan offers fast speed with the lowest price, while their Entry Level plan is for a shorter duration but for more flexible service. Their plans might not be the cheapest, but their free trial period and cancel anytime feature allows users to know if this provider works for them.
Savings Plan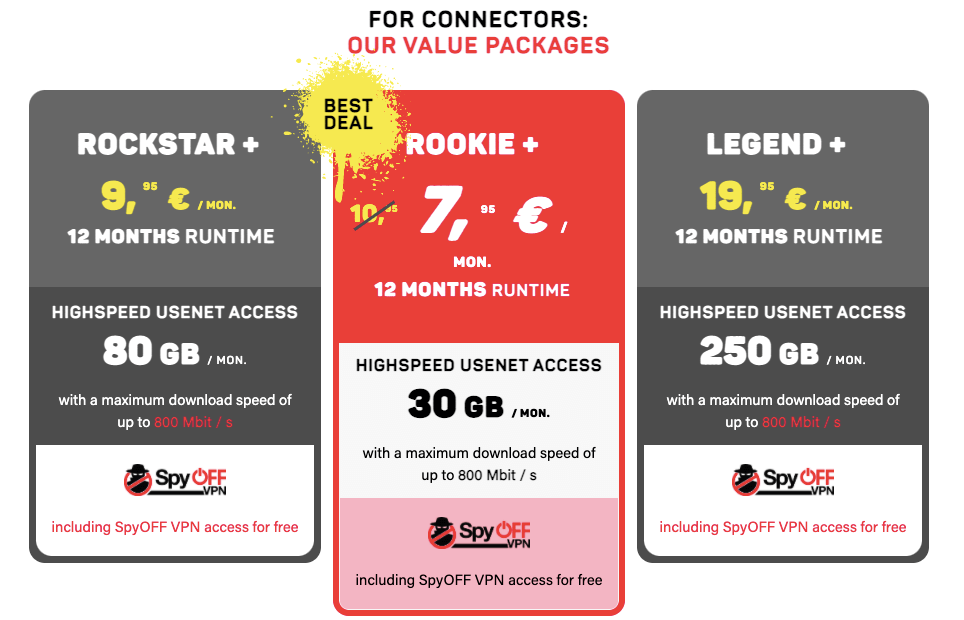 | Plan | Label | Price | High-Speed Access per month | Download Speed |
| --- | --- | --- | --- | --- |
| Rookie+ | Savings (12 months) | €7.95/mo | 30GB | 800Mbit/s |
| Rockstar+ | Savings (12 months) | €9.95/mo | 80GB | 800Mbit/s |
| Legend+ | Savings (12 months) | €19.95/mo | 250GB | 800Mbit/s |
Starters Plan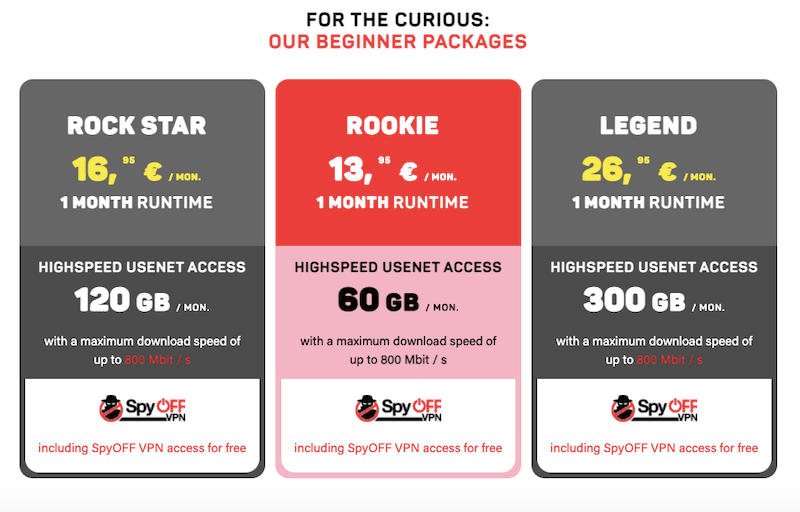 | Plan | Label | Price | High-Speed Access per month | Download Speed |
| --- | --- | --- | --- | --- |
| Rookie | Entry Level (1-month) | €13.95 | 60GB | 800Mbit/s |
| Rockstar | Entry Level (1-month) | €16.95 | 120GB | 800Mbit/s |
| Legend | Entry Level (1-month) | €26.95 | 300GB | 800Mbit/s |
Retention
UseNeXT has a binary retention of 2300 days days and text retention of 3800 days.
Free Trial
Enjoy unlimited access to UseNeXT with 300GB download for the next 14 days upon registration. This will enable you to review the platform and decide if you would continue using it. Choose the best plan suited for you, or cancel before the risk-free trial period. After the trial period expires, you will automatically subscribe to their Smart+ plan.
Special Offers
They currently offer a discounted rate for the first 3 months of service with 30GB of data volume and connections of up to 800 Mbit/s. This 3-month rate is at 40% discount, allowing subscribers to only €14.95 instead of €23.85.
Payment Options
UseNeXT accepts payment through PayPal, iDeal, Single Euro Payments Area, and credit cards.
Configuration Information
One of their most recommended newsreaders for UseNeXT is SABnzbd. Connect to UseNeXT through port 563 to ensure the most secure Usenet experience possible, and 119 for standard connections. The host is news.usenext.com.
Other newsreaders are also available, and free to download to any of your devices.
Holmez.com
Momentum
Phantom
Unison
Speed Test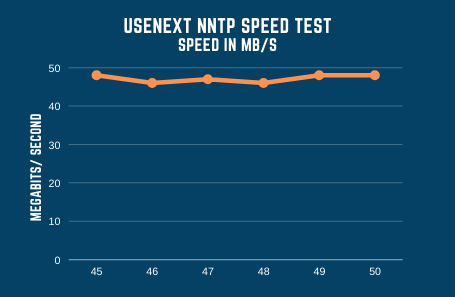 Downloading over Usenet is fast and with UseNeXT's maximum speed of 800 Mbit/s, you will only be limited by the service or connection of your internet service provider.
UseNeXT connects and operates its six (6) server farms which are strategically positioned worldwide to give you the best Usenet experience with 30 connections per account.
Privacy
UseNeXT is known for valuing its clients' trust. They promise to not store your IP address by providing you a 256-bit SSL encryption protection for your data - keeping you secured with every log-in.
The services provided by UseNeXT are all legal, and it was approved by Hamburg Regional Court. No need to worry about any exchange of ideas, but be informed that DMCA takedown requests are honored by all providers.
Customer Service
As stated on their website, USeNeXT is available to a limited extent because of the security issue that made them take all the systems offline. The UseNeXT team advises to contact them through the following contact details below:
089 20172022- emergency Mondays-Fridays from 10 AM- 8 PM Saturdays from 10 AM to 6 PM (except on public holidays)
German: 0049 89 20 17 20 17
French: 0049 89 20 17 20 15
English: 0049 89 20 17 20 16
The main office is at: Aviteo GmbH
Josephspitalstraße 15
80331 Munich, Germany
Phone: 0049 89 - 20-17-20-16
info@usenext.de
Additional Products
UseNeXT Newsreader Software is provided free with every account. SpyOFF VPN is also included across all their plans.
Summary
Since its inception, UseNeXT has been growing constantly and making improvements from left and right. We applaud its high connection, privacy feature, and most importantly its retention time for data that makes this platform one of the most competitive Usenet service providers in the market for over 10 years. Some customers may have concerns with their free trial period and its terms and conditions regarding the use of the service, but it is always important to contact your providers as soon as problems arise.