Xennews
Last Updated: Feb 15, 2021
Xennews provides unrestricted Usenet access at relatively low prices.
Xennews has multiple plans that cover high download speed, 2100 days of retention with a completion of 99%. Users also have access to both standard and SSL ports for security.
Pricing
They offer 3 different plans with 3 different speed limits. You can choose to credit your account anywhere from 1 month to up to one year. They use a prepaid system for their accounts—no recurring fees and no surprises. When your subscription is about to expire, you will receive an email reminder. You can either decide not to continue or renew your subscription by reactivating your account.

Retention
Xennews has a retention of 2100 days with a 99% of completion.
Free Trial
You can try Xennews service for 3 days free of charge. It is unrestricted with no obligations whatsoever. Xennews has a specific trial setting available.
Special Offers
Xennews currently does not have special offers, discounts or coupons available.
Payment Options
Bank transfer, Credit card and PayPal are accepted payment methods. If you use bank transfer, they will only activate your account once they have received the payment. Details for bank transfer are as follows:
IBAN: NL87RABO0132752301
BIC: RABONL2U
Bank: Rabobank Groningen
For the account of:
RSP Sales LLC
USA
Configuration Information
Xennews has three settings to configure the use of their service to your newsreader of choice.
Standard Settings
Server Address: news.xennews.com
Port: 119
Connections: 20
SSL Settings
Server Address: ssl.xennews.com
Port: 563 or 995
Connections: 20
Trial Settings
Server Address: free.xennews.com
Port: 119
SSL Port: 563
Connections: 20
Speed Test
Xennews provides high download speed for its subscribers. Your download speed depends on the plan you select. Like other Usenet providers, Xennews can max out the speed of a user's broadband connection.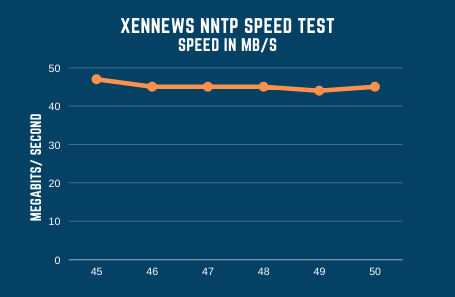 Privacy
Xennews has SSL encryption included in their plans, which allows users to have a private and secure Usenet experience.
Regarding their privacy policy, the company collects general contact information about users, and these are only shared to 3rd parties who aid in their service and account processing. Xennews also monitors and collects information about use of their website through IP address, computer settings and most recently visited URL.
Customer Service
Xennews has a basic help section on their website. For inquiries unanswered on that section, you may reach them through support@support.xennews.com.
Additional Products
There are no additional products available with Xennews.
Summary
Xennews is a reliable Usenet service that has decent features included in their accounts. These accounts are straightforward and easy to understand, even for first-time users. Their pricing may not be lowest in the market, but they compete well with other Usenet providers. There is still room for improvement with Xennews. Their retention rate, although decent enough, could be higher for the price subscribers will pay for and a standardized period across all their plans would be a good option for future customers.