Last Updated: Feb 24, 2021
BinTube is one of the popular Usenet clients that offers both Usenet search engine and newsreader functions. BinTube Usenet reader offers Ultimate and Pro versions which are both good for downloading all kinds of Usenet content including audio, images, and video.
BinTube Usenet Reader is coined as the "next generation of Usenet reader" that supports all kinds of file formats, as well as merging and encoding methods. It enables us to open and download NZB files from our computer and Usenet newsgroups, and most of all, it is known for its ability to stream and preview files, especially video and audio while being downloaded.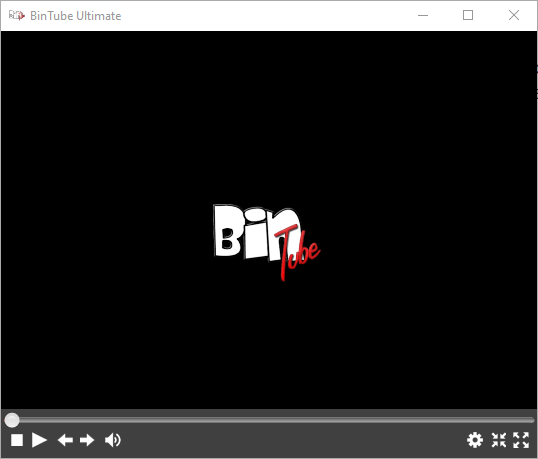 BinTube newsreader has a "free" version so you would have the opportunity to try out their service before you purchase the Pro version.
Features
Supports yEnc, UU-encoding, and base64 to properly transmit the files from Usenet;
One-click NZB downloads feature;
It has a free newsreader to try on;
Adware / Spyware Free;
Multiple languages, available;
Supports SSL connection;
Advanced streaming which enables you to skip and preview any section of the file before downloading;
Image gallery to see thumbnails of downloaded files;
Automatic NZB repair and verification;
Smart part prioritization that reorganizes and downloads files in order;
NZB watch folder for automatic download;
General Features
One of the popular features of BinTube is it can stream and play videos while downloading it. You do not need to finish downloading the file to know the content and quality of it. With this feature, you could save time and bandwidth by checking it upfront. For pictures, you can view images via slideshow with zoom capabilities.
BinTube, as mentioned, works with any Usenet Service. In addition, it has integration with Binsearch, NZBIndex, Kleverig, and Google Groups to help you have a wide variety of Usenet search.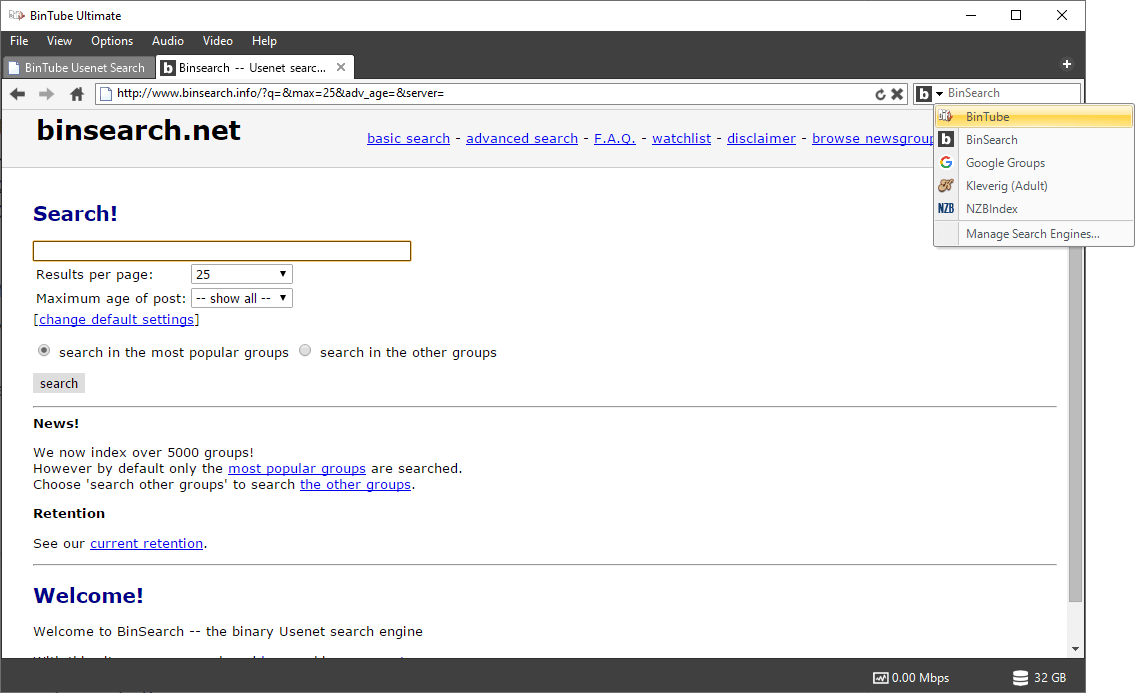 You can select and change your location to have a faster download speed. Connections included are Americas, Europe, Oceania, Asia (Western and Eastern), and Africa.
Like other newsreaders, it has an automatic verification and extraction of RAR and ZIP archives. You can configure these settings to 'File Processing' tab of Option settings.
You can display BinTube newsreader by checking 'Always On the Top' in the View settings. You can also see and close the status and time of command of your download.
When the download is finished, you can have the option to suspend, or shut down the PC. Download scheduler, limit speed, and other options for your downloads are also available to be configured.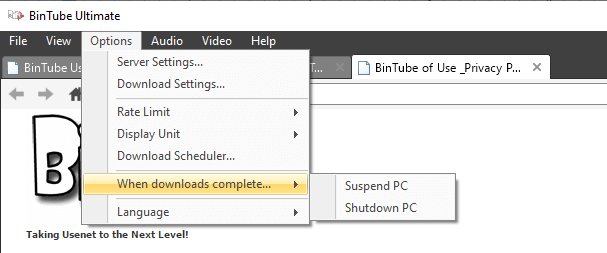 BinTube also comes in different languages. It supports English, Netherlands, Dutch, and French.
Security
BinTube provides security and privacy when downloading from Usenet. It supports SSL connection and the payment method is through Bitcoin, which is a more secure way of paying for a service.
Pricing
BinTube Usenet reader has a free and paid version. These two plans have almost shared the same features presented in the features section. What differs are the following:
| Plan | BinTube Premium | BinTube Pro |
| --- | --- | --- |
| Progressive streaming which limits the speed necessary for the stream; | Available | N/A |
| Does not require a BinTube Usenet membership | N/A | Available |
| Supports multiple Usenet servers and third party Usenet providers (fill servers). | Available | N/A |
| Price | Free | $59.95/year |
They accept payment through Bitcoin.
Please note that a BinTube Usenet Membership is required to be able to enjoy the free and full features of a BinTube Premium service - making this premium service a supplementary feature when you subscribe to a BinTube Usenet Access plan.
Usage Information
BinTube newsreader is compatible with Windows 98, ME, 2000, XP, and Windows Vista and higher.
Installation
For you to download and use the BinTube Premium (free) you must at least register for a BinTube Usenet membership.
Download the .exe file from the BinTube website
Allow to make changes to your device.
Select the language you want to choose.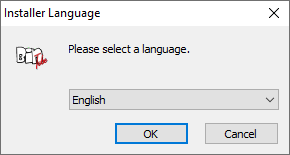 Set-up the Wizard to install the program.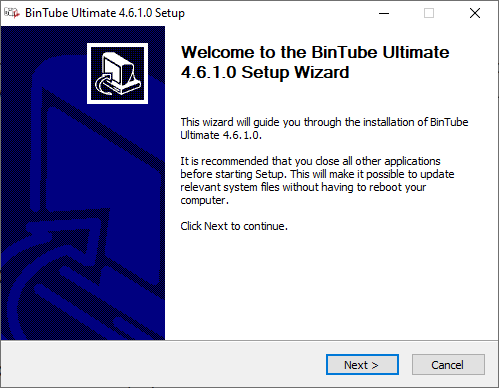 Read the license agreement and then click 'I Agree' to proceed.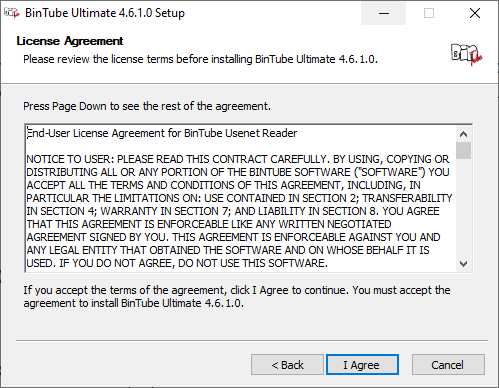 Choose which feature of BinTube you want to install.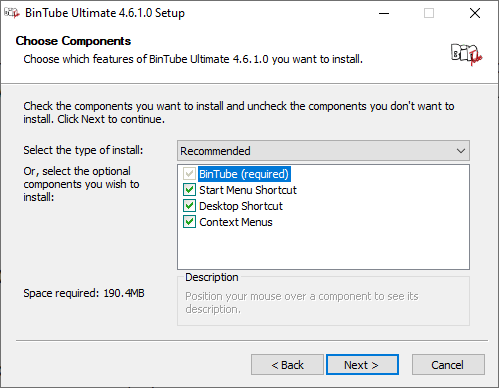 Choose the location destination of the file.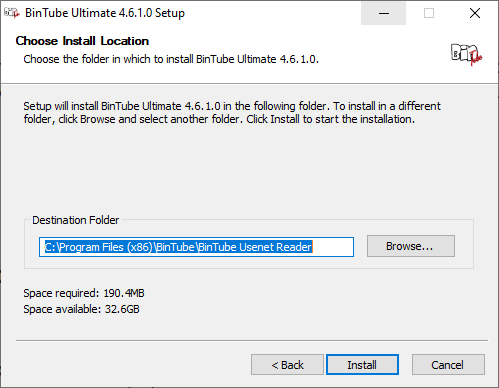 Finish the installation by clicking the 'Run BinTube' box, then Click 'Finish'.
The homepage of BinTube will be displayed, and you can now start downloading NZB files.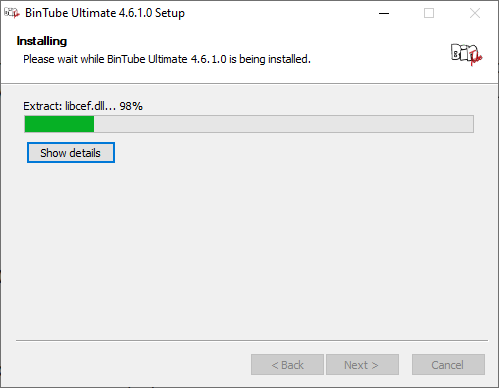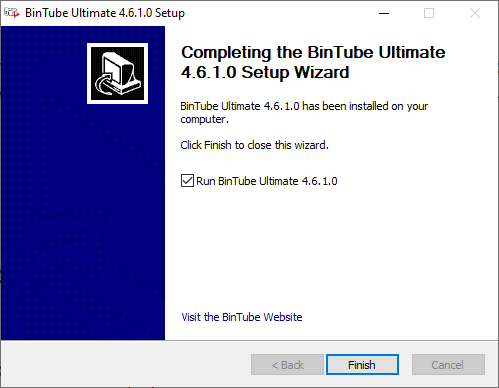 Configuration
To configure and log in your server information, go to Options > Server Settings> Connections Tab and enter the information to connect to your news server. To add other Usenet servers, go to 'Usenet Servers' at the bottom of the same window and click 'Add'.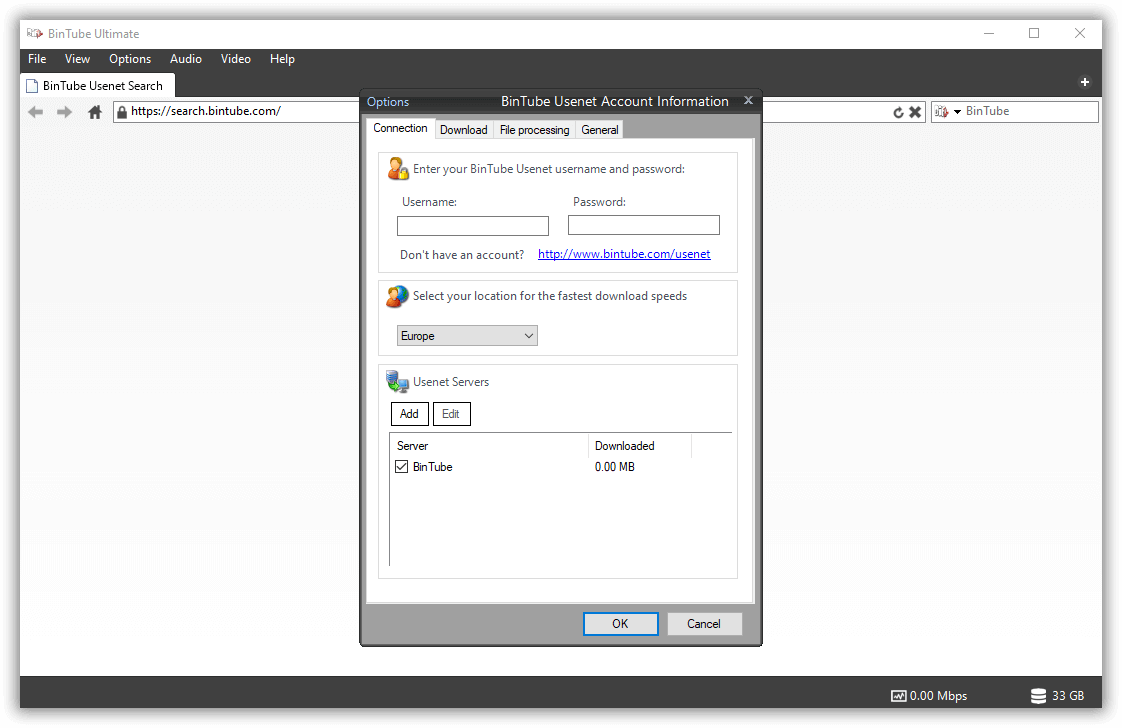 For manual log-in:
US- us.bintube.com EU- eu.bintube.com World- world.bintube.com
Standard ports: 23, 80, 119, 1818, 8080 Secured ports: 443, 563
Ease of Use
BinTube is easy to install. There is nothing special and different from it compared to other newsreaders. Its functions and terms are basic, and it has a clean interface.
To support its customers, BinTube has dedicated pages for Support, Feature Requests, and Frequently Asked Questions (FAQs). For faster transactions, you may send your concerns to support@bintube.com. You may also help BinTube by sending error reports.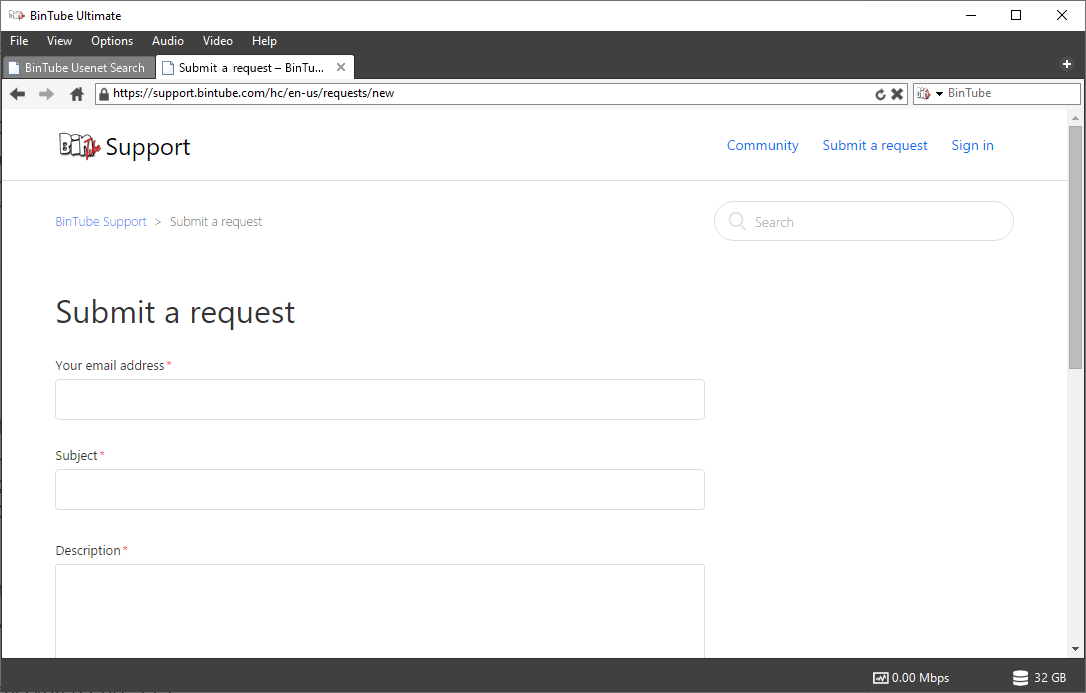 As mentioned, BinTube supports multi-languages to cater to the most commonly used languages and a wide variety of Usenet users.
Summary
BinTube has gained popularity in the Usenet community for its search and newsreader capabilities. Its Usenet reader has some good features that allow it to compete well with other newsreaders in the market. It has a clean and friendly interface and has functions that are easily navigable and comprehensible even by beginners. It also supports any type of files and can even preview them while downloading.
The non-pro version of BinTube is only available via BinTube servers. This means you would have to subscribe to a BinTube Usenet Access plan to fully enjoy the features of this newsreader. However, you do have the option to purchase a BinTube Pro plan that does not require to have a BinTube Usenet membership. That being said, this newsreader is not free but is a supplementary feature that comes with a paid Usenet access plan.