Eweka
Last Updated: Feb 09, 2021
Eweka manages their own backbone and therefore is able to provide excellent internet connection. You always have the shortest routes, very low ping times and the highest possible speed. Should a connection fail, an alternative route will automatically be chosen since all connections are redundant. On their Usenet platform, you get the highest possible quality of newsgroups and connects you to over 125,000+ newsgroups.
Pricing
All Eweka plans provide users with unlimited access with speeds up to 300 Mbps. They also include 256-bit SSL encryption free across all their plans. Availing of their subscription high speed plan, gives you a 27% discount if you subscribe for an annual service.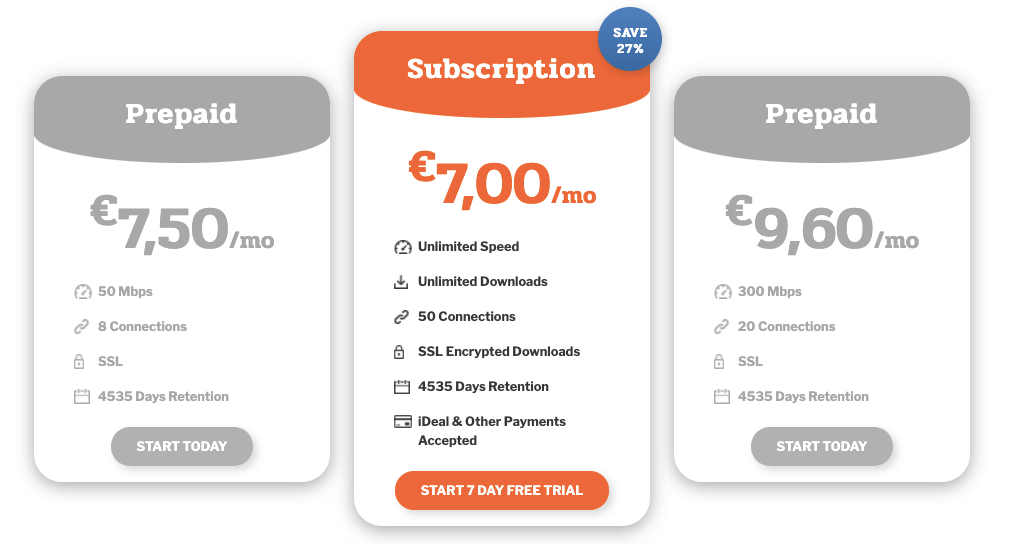 | Plan | Price | Download Speed | Connections |
| --- | --- | --- | --- |
| Prepaid Standard | €7,50 | 50 Mbps | 8 |
| Subscription High Speed | €7,00 | Unlimited | 50 |
| Prepaid High Speed | €9,60 | 300 Mbps | 20 |
Retention
Eweka currently has 5591 days retention.
Free Trial
While their prepaid options do not come with a free trial offering, their subscription high speed plan has a 7-day free trial
Special Offers
Eweka offers a special lifetime discount through several Usenet related sites.
Payment Options
You can pay via credit card, iDeal, PayPal, bank transfer or SMS. An additional fee is involved when paying through SMS and this is only available if you live in The Netherlands and have a Dutch provider.
Configuration Information
You should configure your newsreader settings to the Eweka server:
Server: news.eweka.nl
Ports: 119 (no SSL), 563 (SSL) and 443 (SSL).
To be able to post in a discussion group, use the server post.eweka.nl.
Speed Test
Eweka has servers in the Netherlands. The speed is only limited by your own ISP and the connection between your ISP and their servers. If you live in the Netherlands and use their service, your speed will be quick.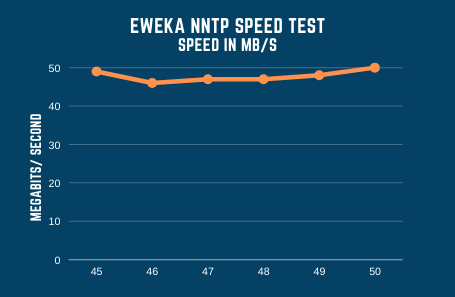 Privacy
Eweka has SSL encryption included in their plans to give subscribers safe Usenet access.
The company also respects the privacy of their customers and does not sell or rent any user information. Customer information is only released if presented with a court order from an entity with Dutch jurisdiction. If you are a resident of the European Economic Area, they maintain your personal data within the scope of the General Data Protection Regulation (GDPR).
Customer Service
Their FAQ page provides information and solutions for the most frequent problems. If you have other concerns or if you are in need of technical support that were not answered by their FAQs, you may go to their technical support form page and provide them with the type and amount of information you need or email them at support@eweka.nl.
Their support desk is available during business hours from Monday to Thursday, 9:30 to 13:00 and 13:30 to 17:00 (CET). On Fridays between 10:30 and 13:00 and 13:30 and 17:00. They have Dutch, English, German and French customer support to help you out.
Address:
Staten Bolwerk 1
2011 MK Haarlem
Niederlande
Additional Products
A Newslazer newsreader is included for free for all Eweka customers regardless of the plan you choose. Newslazer is a high-quality Usenet newsreader supporting both Windows and MacOSX. This newsreader is easy to use and allows you to search and filter in various ways.
Summary
Eweka is a good Usenet provider for its quality of service and impressive features. The Dutch company has a good backend infrastructure, provides great speed and retention and is priced competitively. With their years of experience in the Usenet business, Eweka proves to be a very reliable and high-quality Usenet provider that consumers can really depend on.