Newshosting
Last Updated: Feb 09, 2021
Newshosting provides a high quality of service coupled with a high level of binary retention.
Newshosting has been in the Usenet business for over 10 years. Their experience in the industry makes them one of the best Usenet providers in the market. They offer unlimited speed and data transfer, 5522 days of retention, secure Usenet access via 256-bit SSL encryption, use of their server farms in North America and Europe and they provide a free newsreader across all their plans.
Pricing
They offer a variety of plans for specific needs of different Usenet users. Each plan comes with a good amount of connections, unlimited speed, SSL encryption, 5522 retention days with 99% completion and a free newsreader. You have a choice of monthly or annual subscription.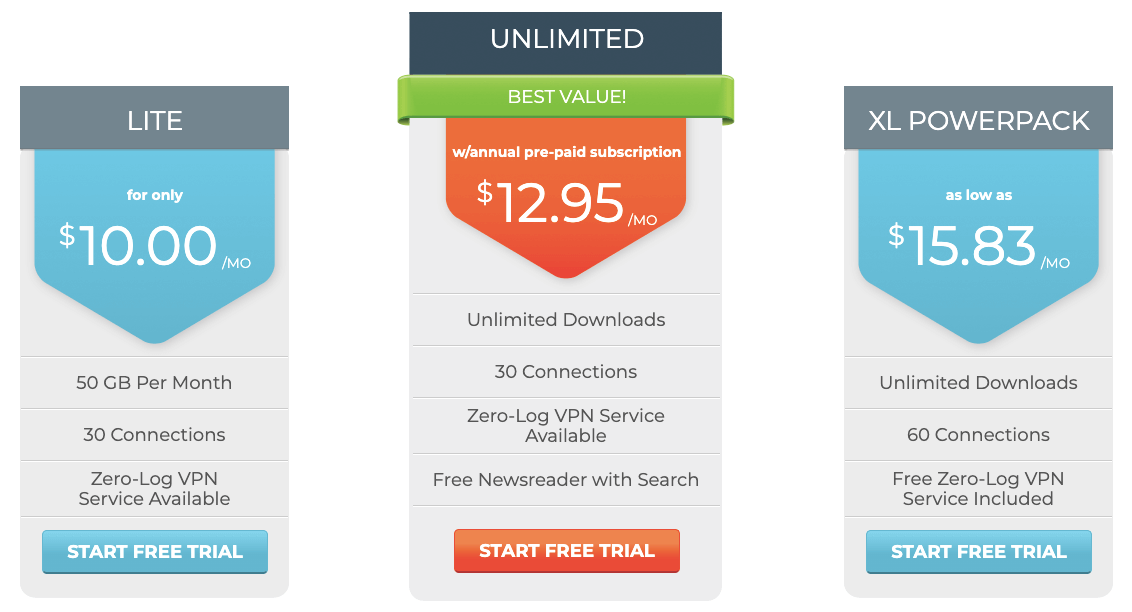 | Plan | Monthly Fee | Annual Fee | Data Transfer | Connections |
| --- | --- | --- | --- | --- |
| Lite | $10/mo | n/a | 50GB w/ rollover | 30 |
| Unlimited | $14.95/mo | $12.95/mo | Unlimited | 30 |
| XL Powerpack | $19.95/mo | $15.83/mo | Unlimited | 60 |
Retention
Newshosting has an impressive retention rate of 5522 days with 99% completion.
Free Trial
A 14-day or 30GB free trial is offered for new customers. Free trial expires once 14 days are over or if 30GB has been used, whichever comes first.
Special Offers
Newshosting has sign-up discount links available through a handful of Usenet related sites.
Payment Options
You can subscribe to Newshosting service by using your credit cards or PayPal account.
Configuration Information
Newshosting's newsreader is configured for every plan type so there is nothing to configure or set-up. But if you won't be using their newsreader, you will need to configure your newsreader of choice with this server settings:
Hostname: news.newshosting.com Port: 119 Additional NNTP Ports: 23, 25, 80, 3128 SSL Ports: 563, 443
Newshosting also offers other server options depending on what users think would work best for them:
Geographic auto-select hostnames
IPv4: news.newshosting.com
IPv6: news6.newshosting.com
United States hostnames
IPv4: news-us.newshosting.com
IPv6: news-us6.newshosting.com
Europe hostnames
IPv4: news-eu.newshosting.com
IPv6: news-eu6.newshosting.com
Netherlands hostnames
IPv4: news-nl.newshosting.com
IPv6: news-nl6.newshosting.com
Germany hostnames
IPv4: news-de.newshosting.com
IPv6: news-de6.newshosting.com
Speed Test
Newshosting is a Tier 1 provider with servers in the US and Europe. They have multiple redundant connections to the internet, so speed is only limited by your own internet service provider. Upon testing, there was no time that we found Newshosting to be slow.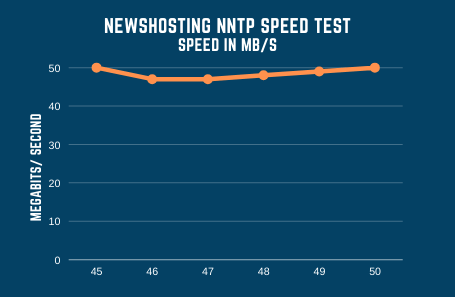 Privacy
Newshosting plans include 256-bit SSL encryption, which gives subscribers safe and secure Usenet access. In terms of their privacy policy, Newshosting does not sell or rent user information to other parties. They do not release customer information unless ordered by a court of law.
Customer Service
All Newshosting users have access to their support team 24 hours a day, 7 days a week. You can get help from their professional agents in a matter of seconds through their online support center.
Their website also has a comprehensive support page where you can check out frequently asked questions. For billing concerns, you may reach them at (602) 715-1629 or billing@newshosting.com.
Address:
301 Thelma Dr. #186
Casper, WY 82609-2325 USA
Additional Products
As an added security feature, Newshosting also offers a zero-log VPN to keep your online data completely private and secure and allows you to change your virtual address to be able to view content only available in a specific location. You can include this feature on their Lite and Unlimited plan for $4.99 a month. Their XL Powerpack already comes with this additional feature for free plus 10GB of Usenet access through your web browser via Easynews.
Summary
Newshosting's years of experience in the Usenet business and their constant service improvements have made them one of the top Usenet providers in the industry. Their plans are not only competitive in terms of pricing but also offers features that would work best for any type of user.