Last Updated: Feb 24, 2021
NZBDrive is a free newsreader developed by ByteFountain that is known for its ability to stream audio and video files while downloading NZBs.
NZBDrive is an open-source project that is available in both Windows and Linux operating systems. Based on some sources, this newsreader is owned and affiliated with NZBKing.
The process of installing NZBDrive is complex and requires several other programs to be compiled to be able to run this newsreader. It is also important to note that NZBDrive has not been updated in several years.
Features
General Features
NZBDrive is best known for its ability to stream audio and video files while downloading NZBs. You can share files with your media center and even play it on your TV. You can also skim and preview the file without having to download the whole file. NZBDrive lets you emulate a drive on your computer and enables you to mount NZB files on it.
Like other newsreaders, NZBDrive has automatic repair for missing and damaged files. It supports RAR and ZIP archives. It sees and understands split files based on its filenames and automatically requests the parts needed when it is not complete.
NZBDrive supports SSL encryption and multiple server connections that can be configured in the server settings. Adding another server increases the bandwidth of the download and lets you have more options to look for the files that are not available with the other servers. NZBDrive supports any Usenet provider.
In addition, the NZBDrive has a smart downloading feature also known as 'download on-demand'. Only a few segments of the file will be downloaded to know the filename and size of the content. Other parts will be retrieved when needed.
However, NZBDrive does not support encrypted and compressed files. They claim that most media files are not compressed in the archive.
Security
NZBDrive supports SSL connections. This means that your download activities are kept secure and anonymous.
Pricing
NZBDrive is free. They also do not require donations, but if you want to support the developers of this software, you can sign up for a Newshosting Usenet account through their link.
Usage Information
NZBDrive, as mentioned, is an open-source project. You can find and follow the codes for installation from GitHub. Both Windows and Linux instructions are provided. The installer determines which version is more suitable for your version of Windows.
Installation
As of writing, NZBDrive's latest version is 2.0. A lot of the newsreader's review is from the older version of the software where it is quite manageable and easy to install.
We noticed that former versions of the newsreader are not provided on the website. There are also security issues with the installer provided on their website. Oftentimes, this newsreader is searched under scamadviser, and many downloaders are hesitant if it's safe.
The website itself does not provide support, and tutorials on how to install the newsreader, but we found some guides on its extended site on GitHub, where complex steps and multiple programs are necessary to download to run the newsreader.
(Instructions are from GitHub):
How to compile on Windows
If you do not already have Visual Studio 2017 or later then download and start a developer virtual machine from:
Start "Visual Studio Installer" and add the following components:
Visual C++ MFC for x86 and x64
C++/CLI support
Install Dokany from:
Install git:
Launch git-bash and clone NZBDrive repository:
Clone tinyxml2 repository:
Follow the clone- and build instructions for boost:
Clone the OpenSSL repository: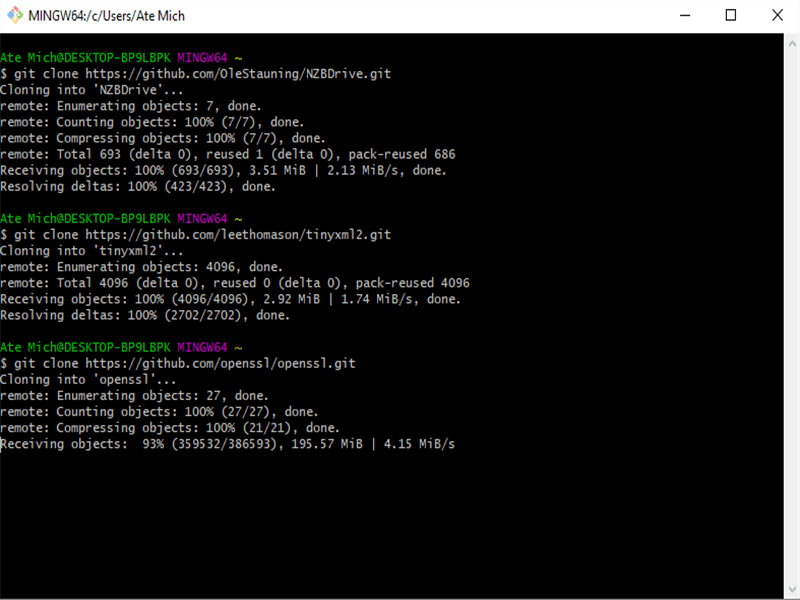 Follow the notes that come with the OpenSSL source to build the libraries (requires installation of Perl and NASM) and install with prefix ./openssl/x64 and ./openssl/x86.

Start Visual Studio and batch-build all in NZBDrive.sln. The binaries are now located in x86/x64.

Download and install InnoSetup if you want to make an installer:
Download the files:
To the folder "NZBDrive\Source\Windows\NZBDriveInnoSetup". Start Inno Setup Compiler and compile the file "NZBDriveSetupScript.iss".
For the 2.0 version that is available on the website, some screenshots are taken for customers to be familiar with its process.
Donwload the file from the website and run the wizard set-up.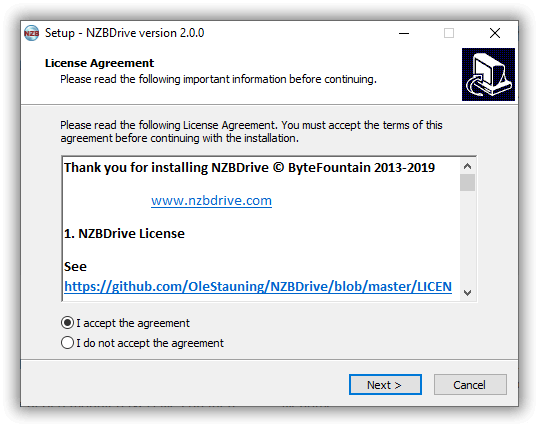 Select the tasks you want to be performed.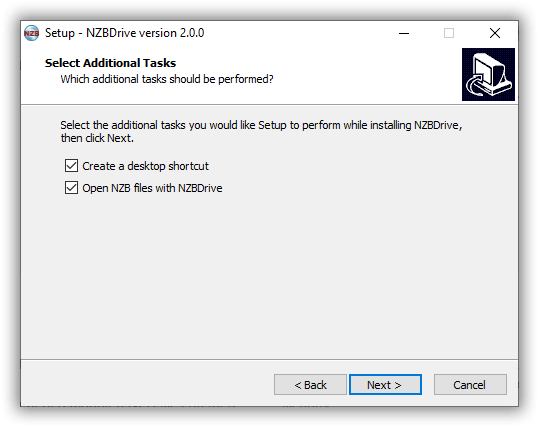 Review the task that you want to install, and click 'Install'.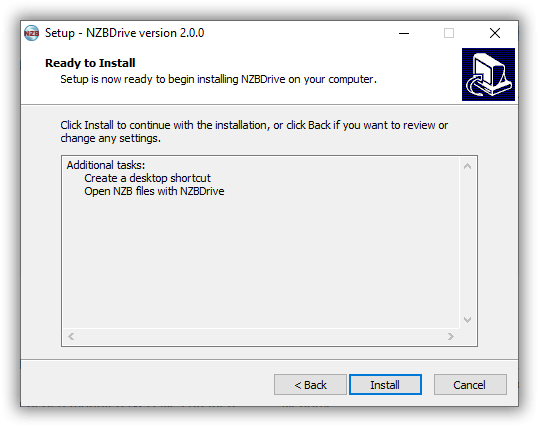 Complete the download by clicking 'Finish'.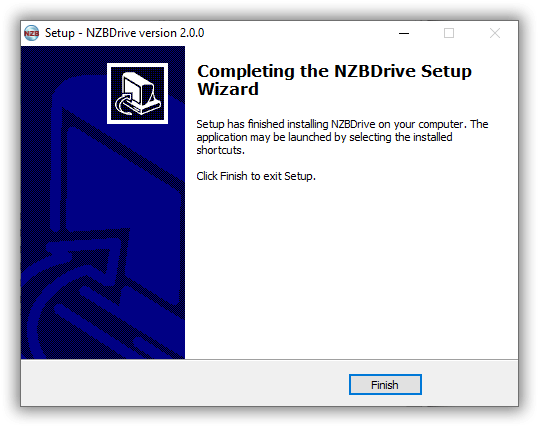 Microsoft Visual C++ 2017 will pop-up to be installed. Read the license, and agree to it. Click Install.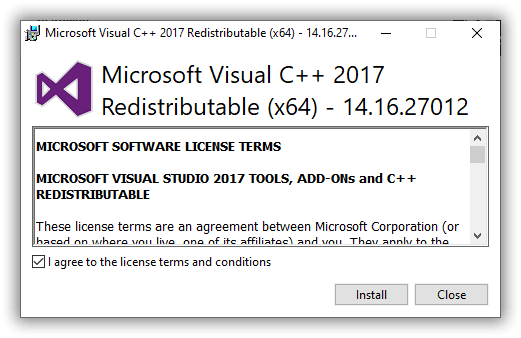 Configuration
To configure the server information, go to Settings > Options, and enter the Usenet servers you are using.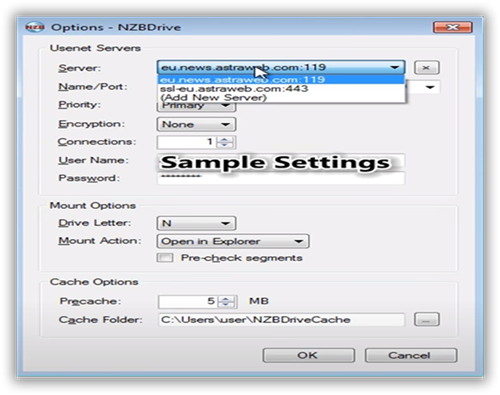 Ease of Use
NZBDrive is a complex newsreader to install. This alone can cause users to go for a different newsreader. While NZBDrive offers nice and useful features, it is good to note that they do not support encrypted and compressed files which are normally supported and is one of the standard functions of a basic newsreader.
There is also no support from its developers, which is very essential for a newsreader service.
Summary
NZBDrive is considered one of the best solutions to stream audio and video files while downloading them. It has a smart downloader feature, and it recognizes split and damaged files to automatically repair.
While there are several good things about NZBDrive, we'd like to note that the installation processes via GitHub and installer from the website have issues that need to be resolved.