Althub
Last Updated: Mar 01, 2021
Althub is an NZB indexer based in South Africa that users can use to search for content and download NZB files.
Althub was initially on nMatrix.co.za, which was launched in late 2012. They then migrated to its current domain in 2015. The website is built on Newznab, which is an indexing platform used by most leading NZB sites to properly index files and give users the best experience possible when searching content and downloading files.
Features
Althub is an open site where users can register for free and enjoy a sizable amount of NZB downloads and API calls for 14 days. The site has safety and security features via SSL encryption, integrations with SABnzbd, NZBGet and NZBVortex, and an active forum. There are no ads running on the site which makes the user experience more pleasing than that of other sites that have constantly running advertisements.
For unlimited APIs and NZB downloads, you can upgrade your account to an altUNLIMITED level.
Pricing & Payment Methods
This NZB indexer offers a trial period of 14 days for those who register for free. The free membership level comes with an impressive 5000 API calls and 5000 downloads. To upgrade and get an unlimited number of APIs and NZBs, you can pay $10 per year. If you'd like to renew your account for more than a year at a time, you just need to check out twice.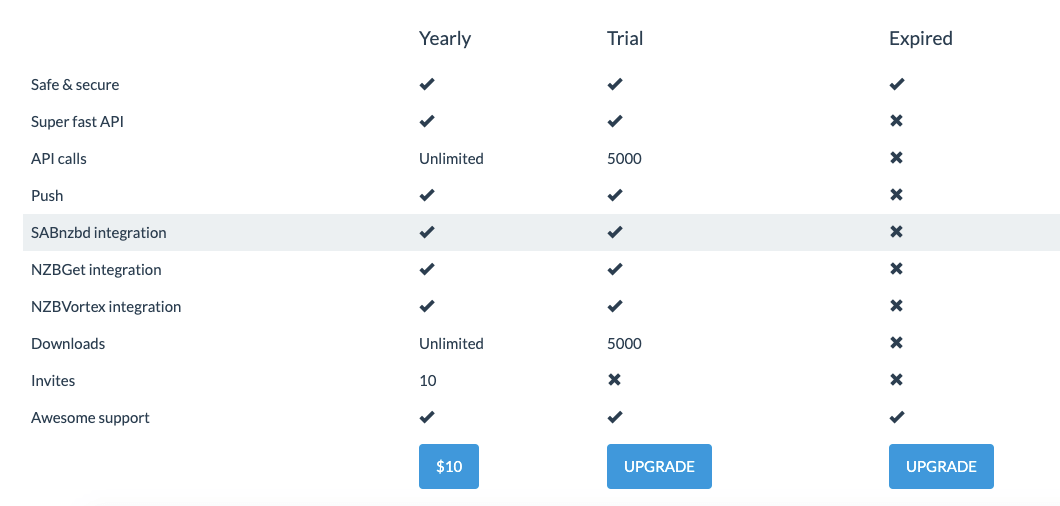 | Plan | Price | NZBs | APIs | Invites |
| --- | --- | --- | --- | --- |
| Free | $0 | 5000 | 5000 | 0 |
| AltPRO | $5 | Unlimited | Limited | 0 |
| AltUNLIMITED | $10/yr | Unlimited | Unlimited | 10 |
Retention
Althub has indexed over 900,000 NZBs coming from 80 different newsgroups. However, retention information is undisclosed.
Interface
This indexer is based on Newznab, which is a platform that most NZB sites use for their indexing. Newznab is open source and available to anyone who wants to use it. The Althub interface will be pretty self-explanatory for all users since it has a clean look and easy to find links and tabs. The search bar is immediately present on the homepage once you've signed in and files are categorized well according to type.
Technical Details
Althub has an uptime average of 98% over a span of a month and a response time of 771 milliseconds. While most hardware details are undisclosed, we found that the site uses regex to figure out what files to show to the end user.
It is also important to note that although they generally have a good uptime average; they have a problem with being offline at random times.
Summary
Althub offers membership levels at industry standard rates that come with an exceptional amount of downloads and API calls, regardless if you are a free account holder or a paid one. They have good features that come along with the use of their site, including privacy through SSL, and easy-to-use interface, integrations with multiple newsreaders when you upgrade to a paid account and an extensive collection of NZB files. With all of those in mind, Althub definitely competes very well with NZB sites.