Binsearch
Last Updated: Mar 02, 2021
Binsearch is a binary newsgroup search engine that crawls the most popular Usenet newsgroups and makes the information available for users to find.
Binsearch is an advertiser supported site, which means users can explore and search for files over Usenet for free. They generate fast search results from across 400+ popular newsgroups. It is also noteworthy that Binsearch is the most popular Usenet search engine on Alexa.com, which is Amazon's website popularity database.
Features
With Binsearch, you can quickly create NZB files. You will also be able to search and file downloads safely and securely since the site is SSL encrypted. The site provides RSS support, a quick search of top 400 groups and a watch release feature which allows users to see upcoming releases.
Pricing & Payment Methods
As mentioned, Binsearch is funded by advertisements so users can use the site for free. While they do not accept donations, they do recommend donating to Amnesty International or Unicef.
Retention
You can search for files with up to 1100 days of binary retention across 3,000 newsgroups or 400+ popular groups by default.
Interface
Binsearch has a custom-based interface that allows you to search for NZB files by filtering them according to results per page and the maximum age posts. You can opt to search only the most popular groups or other newsgroups. Alternatively, you can also browse individual newsgroups to see what they offer through their browse newsgroups page. Once results have been generated, you can select the files or collection of files you need and click on the "create NZB" button to download the NZB file.
The site also provides users a choice between basic search and advanced search. Basic search has filters previously mentioned above while advanced search includes more filters including specific newsgroup, sorting by date, poster or subject, experimental options, customization of font size and appearance.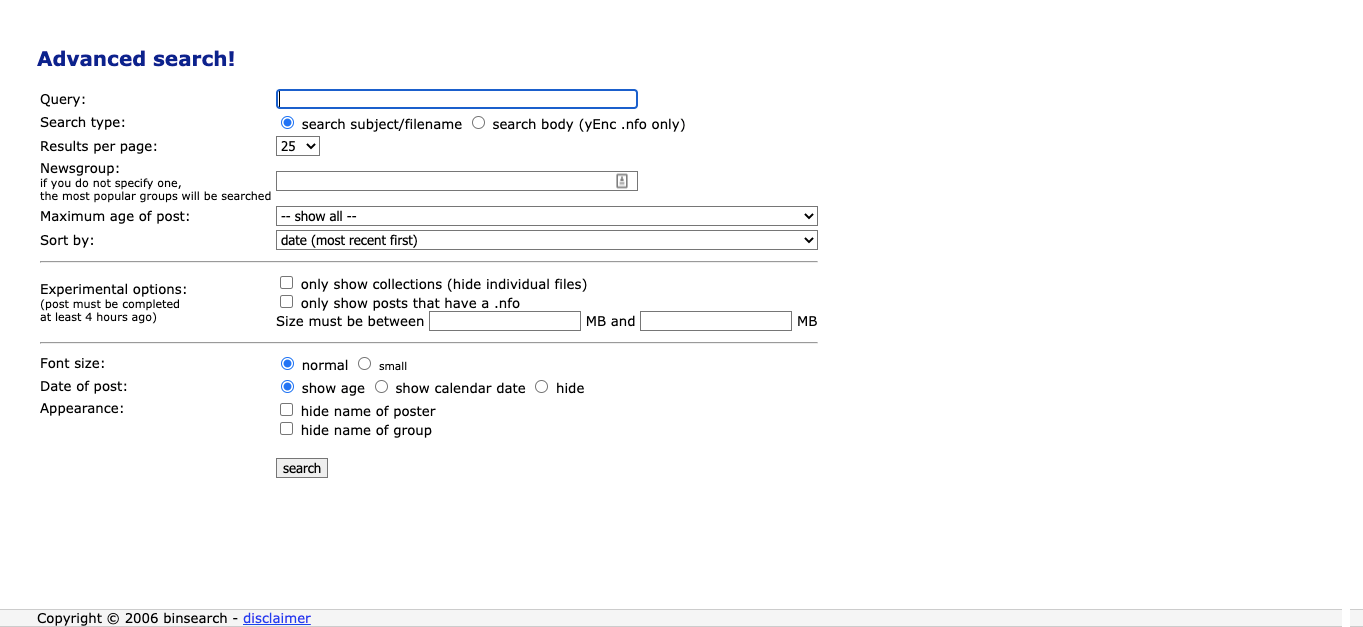 Technical Details
Binsearch has an average response time of 622 milliseconds and an uptime average of 99.8%. There is no other technical information disclosed by Binsearch.
Summary
With their easy-to-use site, options for both basic and advanced searching and free platform, Binsearch has become one of the most popular Usenet search engines around. Their search filters allow users to customize their download experience according to what they specifically want, and with access to a large number of newsgroups and a decent retention rate, users will most likely find what they are looking for.
It is important to note, though, that Binsearch has not changed its platform in years. Possibly because of the advertising-only formula they use and non-existent options for donations or VIP membership. With this in mind, Binsearch does have certain limits that other NZB sites or Usenet search engines may be able to address.