NZBCat
Last Updated: Mar 01, 2021
NZBCat is an invitation only NZB indexer that has over one million NZBs indexed. For its full features, consider having a VIP or Contributor account.
NZBCat is an nZEDb based indexer that provides service to its VIP and Contributing customers. They are an invitation-based service, meaning you need to be invited by a user to be able to access their site. Once in a while, you will be able to register with NZBCat through a free invite link on their main site.
Features
You can use the web-based front end to search and browse for a specific NZB. Once downloaded, you can add it to any number of Usenet download applications to get the content the NZB refers to. They recommend using SABnzbd and integrate it with NZBCat so they can directly send NZBs instead of users downloading them and then uploading them. You can also integrate NZBCat to Sonnarr, Sickrage and CouchPotato.
Invites and forums are also only open to paying members, but SSL encryption is available to any member registered regardless if you're using a paid account or a free membership.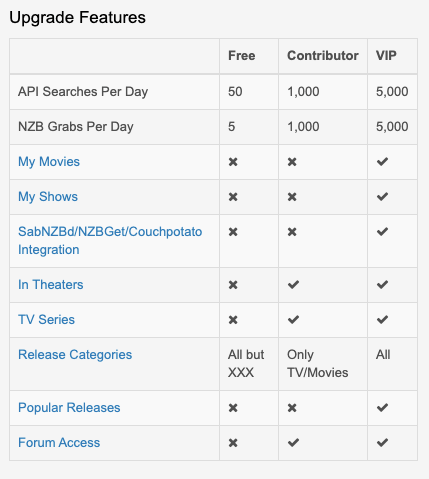 Pricing & Payment
NZB Grabs and API searches differ for VIP and Contributor upgrades and on what users can access.
They accept PayPal, Credit Cards via Stripe, any Cryptocurrency supported by ShapeShift.io and Amazon.com Gift Cards as payment options.
| Level | 1-month Fee | 3-month Fee | 6-month Fee | 1-year Fee | NZB | API |
| --- | --- | --- | --- | --- | --- | --- |
| Free | $0.00 | $0.00 | $0.00 | $0.00 | 5 | 50 |
| Contributor | $3.00 | $8.00 | $14.00 | $20.00 | 1000 | 1000 |
| VIP | $6.00 | $16.20 | $28.80 | $43.20 | 5000 | 5000 |
Retention
There is no retention information on the NZBCat website but upon research, we found that NZBCat has a retention of 500 days.
Interface
NZBCat has a nZEDb based interface which is easy to use and navigate. NZB downloads are categorized well and can either be downloaded right away, put on cart or sent to the queue.
Technical Details
NZBCat has an uptime average of 98% and an average response time of 141 milliseconds.
Use https://nzb.cat as the URL for API use.
Summary
Although NZBCat is not an open use website and requires an invitation from current users, they occasionally offer free invites when you try to register. The site has a high number of NZBs, 1000 downloads and API calls for contributors and 5000 downloads and API calls for VIPs, which makes them a site worth joining.